Five things Tennessee needs to do to beat Missouri
The Vols broke their recent five-game losing streak by beating Southern Mississippi on homecoming. Here are five things they need to do in order to beat Missouri.
The Tennessee Volunteers are coming off a homecoming win over Southern Mississippi, snapping a five-game losing skid. The Vols have not won a conference game since beating the Missouri last season. Looking to get back on track in conference play and pick up a win, here are five things Tennessee will have to accomplish to beat the Tigers once again on Saturday at 7:30 p.m.
Keep Trey Smith planted at left tackle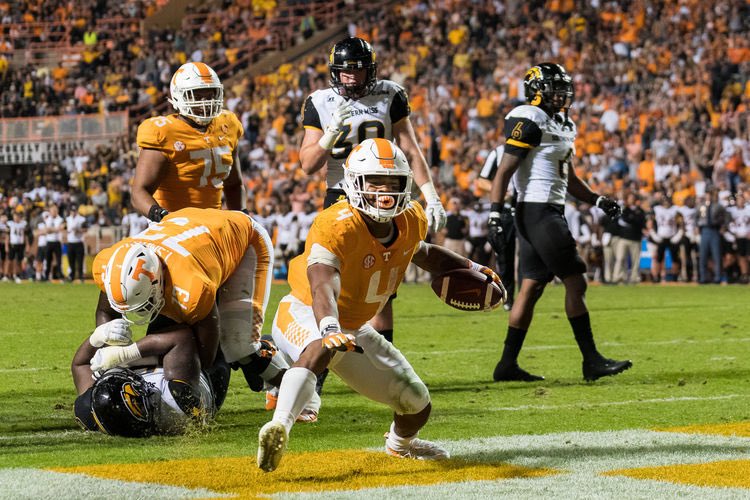 Photo courtesy of Adrien Terricabras
Trey Smith is an absolute dog. After surrendering seven sacks against Kentucky last Saturday, along with tons of injuries on the offensive line, Vols head coach Butch Jones finally decided to move Smith back to left tackle.
This was the best decision Jones has made all-year long, as this is Smith's natural position. Smith makes the offensive line better as a whole, as Tennessee only gave up two sacks against Southern Mississippi with a backup quarterback. Smith plays to the whistle every play and has been one of the grittiest players in all of college football this season.
Contain the Missouri passing game
Drew Lock has been carving up defenses the past three weeks. Lock leads the NCAA with 31 passing touchdowns on the year, and has thrown 14 touchdowns through his last three games. In order to have success, the Vols do not necessarily even have to sack Lock.
In a 35-3 loss to Purdue earlier in the year, Lock only completed 12 of 28 passes and threw for a lackluster 133 yards. The odd statistic here is that Lock was never sacked against Purdue.
Purdue contained vertical passes and made sure they weren't beat deep in the game. Lock threw two interceptions, and as long as Shawn Shamburger, Justin Martin and Emmanuel Moseley can go Saturday, the Vols could have the same success Purdue did.
Let John Kelly loose 
Getting John Kelly the football in several different ways will be important for Tennessee. Kelly is the most explosive player Tennessee has, and instead of running him 20-25 times-per-game, Tennessee needs to get Kelly the ball in various ways.
One way to get Kelly the ball in open space could be to motion him to the slot and match him up with a linebacker. The Tennessee coaching staff could take a page out of Penn State's book.
Penn State has a Heisman front-runner in Saquon Barkley, and he is in that situation because James Franklin lets his star running back loose.
With Evan Berry out for the year, putting John Kelly on kickoff return wouldn't be the worst decision for the team if they are looking to make a bowl game. Barkley lines up for kickoff returns, and it proves to NFL teams how durable he is. Especially when he doesn't even get touched.
Control the ball
The more the Missouri offense gets the ball, the more vertical passes the Volunteers will face. Tigers head coach Barry Odom has dedicated himself to running a run-and-gun offense since week one.
Tennessee needs to move the ball three- or four-yards at a time and make sure it controls tempo in this game. There was a lot of under center as well as pro-style offense versus Southern Mississippi, and the Vols were able to control the tempo and let the defense rest because of this.
Force turnovers
In order to control the tempo and keep Missouri from scoring points, the Vols need to log several interceptions against Lock.
Missouri only has two games all season where they scored under 30 points. Even in losses this year, Lock has performed well. In order to beat the Tigers, Tennessee must force turnovers to shake Drew Lock.
Missouri will throw the ball up and down the field all game long. This falls right into Tennessee's lap, as they ranked No. 1 against the pass in the SEC and dead last against the run.
Featured image courtesy of UT Sports
Edited by Seth Raborn