NBA Awards for 2016-2017 season
The incredibly entertaining 2016-2017 NBA season ends on Wednesday, which means it's time to hand out the awards.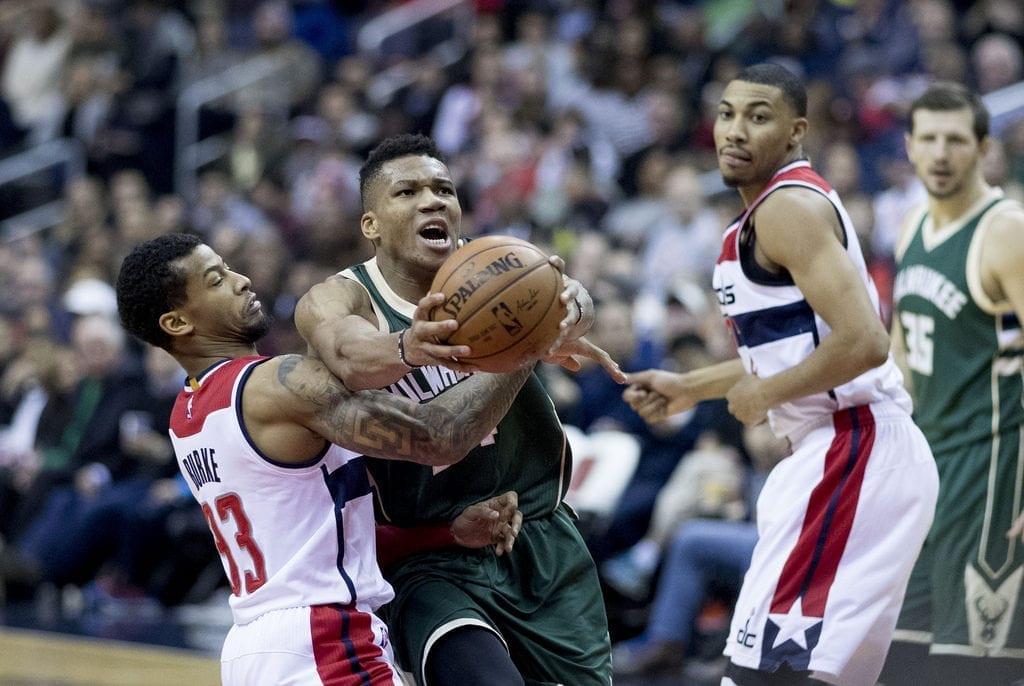 MVP: James Harden (Houston Rockets)
Of the top four candidates, all of them are extremely deserving of this award. Despite Russell Westbrook's ridiculous stretch to end the season, which included two 50-point triple doubles in his last seven games, my pick for this reward remains James Harden. Yes, Russ averaged a triple double and yes, he led the league in scoring. But when dissecting the numbers of both Russ and Harden, the differences are microscopic. At the end of the day, Harden led his team to a 50+ win season while averaging 29 points, 8 rebounds and 11 assists. Despite only a two-point per game difference, Russ averaged five more shot attempts per contest and his 41.8 usage rating was seven points higher than that of Hardens. Again, this race is so close that it ultimately comes down to an individuals personal preference.
Ultimately, Harden led his team to a top three seeding in the West, posted historically impressive numbers and proved to be a more dynamic playmaker in D'antoni's system than former two-time MVP Steve Nash.
Another thing: 54 wins > 46 wins.
In a race this close, that means something. The last time an MVP winner won less than 50 games during an 82 game season? Moses Malone for the Houston Rockets in 1981-1982. Given what Russ has accomplished this season, this could certainly get overlooked by a number of voters. Not here, though.
Runner ups:
Russell Westbrook (Oklahoma City)
Kawhi Leonard (San Antonio)
Most Improved Player: Giannis Antetokounmpo (Milwaukee Bucks)
The Greek Freak was expected to make a big jump during his fourth year as a pro. Yet, Giannis managed to exceed those expectations by a pretty hefty margin. He posted career highs in points, rebounds, assists, steals, blocks, field goal percentage, PER, true shooting percentage, win shares, etc. Despite injuries suffered by Khris Middleton and Jabari Parker at different points of the season, Giannis led the Bucks to his first winning season as a member of the team. Plus, he was named an All Star starter, in his first ever appearance!
Giannis is set to lead Milwaukee in points, rebounds, assists, steals and blocks while finishing within the top 25 in the league for each category. On the season, he totaled 32 double doubles along with eight triple-doubles. After Kobe told the Greek Freak he "didn't know how unbelievable" he was, maybe the 22-year-old is starting to figure that out. It won't be long until Giannis' name enters the MVP conversation.
Runner ups:
Nikola Jokic (Denver Nuggets)
Rudy Gobert (Utah Jazz)
Defensive Player of the Year: Draymond Green (Golden State Warriors)
There's a very good chance Rudy Gobert ends up winning the award, especially given the fact he leads the league in blocks and defensive win shares. But with the versatility Draymond Green brings, he's ultimately the most deserving candidate. After finishing second in the league in steals (2.0) and 11th in blocks (1.38), Draymond anchored the second best defensive team in the league. Despite early criticism of the Warriors defensive play, their 104.72 defensive rating ranks second in the NBA.
A lot of that success is due to Draymond and the variety of ways he contributes on that end of the floor. One possession, he's locking down a team's best perimeter scorer. The next, he's bullying a big man in the post. There's no player in the NBA who can match Draymond's ability to defend positions 1-5. On the season, Draymond allowed opponents to shoot only 39.9 percent on the 15.8 shot attempts he defended this season. In fact, his -6.3 difference on opponent's field goal percentage tied Anthony Davis for the best mark among players who defended at least 10 shots per game. Simply put, Draymond is the best and most valuable defender in the league.
Runner ups:
Rudy Gobert (Utah Jazz)
Kawhi Leonard (San Antonio Spurs)
Rookie of the Year: Dario Saric (Philadelphia 76ers)
Joel Embiid was the clear front runner for this award before injuries limited him to only 31 games. Can he really qualify for an award? With that being said, Dario Saric was the most exciting player of the 2016-2017 rookie class. He proved that during his February-March stretch of averaging over 17 points, 7 rebound and three assists. These were the only two months he averaged over 25 minutes a game (30.9). On the season, Saric averaged 12.8 points per game while grabbing 6.3 rebounds and dishing out just over two assists. Granted, Malcolm Brogdon had a more efficient season, but some of that credit goes to his superior supporting cast. Also, Brogdon scored at least 20 points in just two games. On the other hand, Saric totaled 13 such games, including a 32-point game late in March against the Bulls. Oh yeah, 12 of these came during that two-month stretch! With Embiid and Saric, Philly fans are finally on board with "The Process."
Runner ups:
Malcolm Brogdon (Milwaukee Bucks)
Buddy Hield (New Orleans Pelicans/Sacramento Kings)
Sixth man of the Year: Eric Gordon (Houston Rockets)
For the first time since his rookie year, Eric Gordon played in at least 70 games. With Gordon healthy and embracing his role as the sixth man, the nine-year pro lit it up in Mike D'Antoni's system. Putting up over 16 points a game, Gordon's 3.3 three-pointers per game ranks third in the NBA and would mark the highest number of any sixth man of the year winner. Gordon's production from behind the arc has been a critical piece to the Rockets success this season. Whether it's providing space for Harden or taking over in Harden-less lineups, Gordon's resurgence after several injury plagued season has been one of many cool stories from the 2016-2017 season.
Runner ups:
James Johnson (Miami Heat)
Andre Iguodola (Golden State Warriors)
Coach of the Year: Mike D'Antoni (Houston Rockets)
The 2004-2005 coach of the year entered his first year in Houston with a damaged reputation after ugly departures with the Knicks and Lakers. Despite having his best roster since his mid 2000s Suns teams, the Rockets still had modest at best expectations heading into the year. After finishing last year 41-41, Vegas set Houston's preseason win total odds at 43.5.
At 54-27, the Rockets have exceeded last season's win total by more than 10 games and still have a shot at a 55 win season. Currently the three seed, the Rockets have rose to the status of a sleeper Finals pick. They average over 115 points a game and are on pace to shatter the record for 3-pointers made per game for a team (14.3). Expected to be a one of the worst defensive teams in the league, the Rockets performance as a middle of the pack defense has also played a huge part in the 50-plus win season.
This season, there are several deserving candidates. Yet, with Harden playing like a MVP and the Rockets playing like a Finals contender, D'Antoni is most worthy.
Runner ups:
Erik Spoelstra (Miami Heat)
Greg Popovich (San Antonio Spurs)
Edited by David Bradford
Featured image by Keith Allison courtesy of Creative Commons