Film Review: Alvin Kamara
Alvin Kamara arguably has the highest upside of all the Tennessee players going into the NFL this season.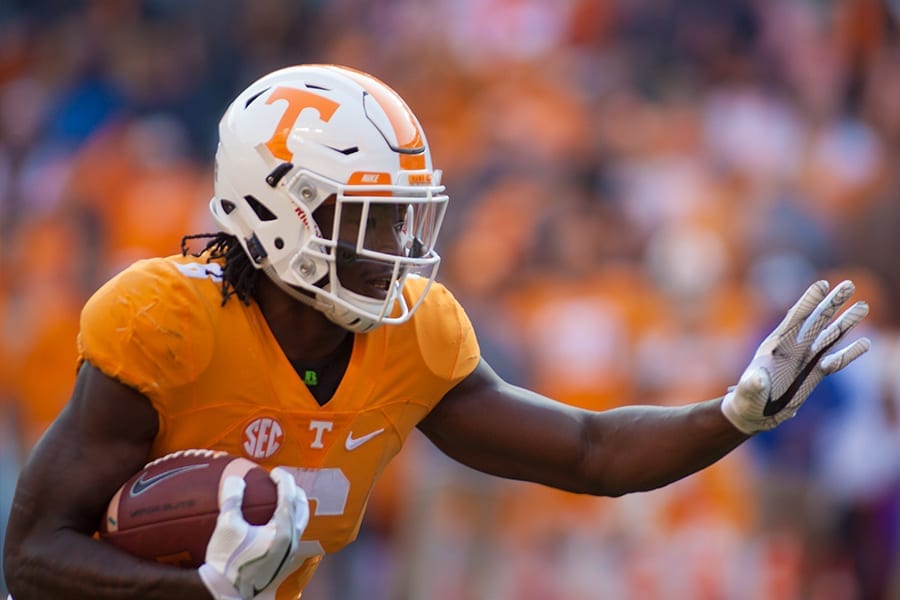 Overview
A 5-star recruit and one of the top prospects in the 2013 class, 18 year-old Alvin Kamara was headed to Alabama to become the next "big thing." After a preseason injury forced Kamara to redshirt his freshman year, he decided to leave Alabama. The following season Kamara enrolled at Hutchinson Community College, where he won conference offensive player of the year after racking up 1,211 yards and 21 touchdowns. After receiving attention from several SEC schools, Kamara took his talents to Knoxville where he collected 1,977 yards and 23 touchdowns on 284 total touches across two years. Those are impressive numbers for a back who, to the displeasure of many Tennessee fans, spent most of his college career as the Vols second-string back.
Projected as a potential first round draft pick, Kamara brings all the intangibles of an elite NFL running back. While his vision and first step quickness creates misses in tight spaces, Kamara is deadly in open space and has shown to be a sure-handed pass catcher either out of the backfield or at the slot position.
Strengths
Kamara is one of the most balanced running backs in this year's NFL draft. Whether he is being utilized in the passing game or as the feature back in Tennessee's run-heavy spread offense, Kamara has the athletic ability to be explosive at several positions on the field.
Kamara instantly brought big play possibilities to the Volunteers' offense whenever he saw the field. His strong lower body provides extreme balance and flexibility, allowing him to quickly change directions in confined spaces. His flat-out athleticism allows him to twist, spin and ricochet off of defenders like a kid playing bumper cars.
While Kamara seemed to lack some vision behind the O-line at the beginning of the 2015 season, he quickly learned to become more patient, allowing the play to develop before using his vision and quickness to not only spot the open running lanes but hit them with speed. As the 2016 season progressed and Kamara took over the starting job, his vision and awareness in the backfield continued to get better and better.
Film Breakdown
It took some time, but Tennessee eventually found multiple ways to utilize Kamara in the passing game. Here against Georgia, Kamara shows off his ability to catch the ball and create plays downfield. He's lined up as a slot receiver running an out-route to the top of the field. Showing his unwillingness to go down, he sheds a tackle and kicks on the jets for a highlight-reel touchdown
With the Vols needing a big play late in the 4th quarter against Texas A&M, Kamara showed off his vision and lateral quickness. He spots the Aggies' blitz and beats the first defender behind the line of scrimmage before turning his shoulder pads downfield. His vision and quick acceleration allows him to turn a sure-fire tackle for a loss into positive yards and a crucial Tennessee first down.
Again showing his vision and acceleration, Kamara spots and hits a massive hole opened by his offensive line. Whats more impressive here is his cut once he reaches the second level. Kentucky's middle linebacker looks to be filling the hole, but Kamara hits him with a shifty cut and he's off to the races.
To be fair, Vanderbilt really struggled to wrap up Kamara on this play. Still, this touchdown perfectly displays Kamara's ability to bounce and ricochet off defenders. Nine of the Commodores' 11 defenders touch Kamara but with his shiftiness and strength, the Norcross, Georgia native is still able to lower his head and finish the play.
Kamara was an explosive option for the Volunteer's return game, which already featured high school track-star Evan Berry and standout senior Cameron Sutton. Kamara didn't see as many touches as Vol fans would have liked, but when he did he looked explosive. At home against Western Carolina in 2015, Kamara brought Neyland Stadium to their feet with this nifty punt return, carving through the Catamounts for a touchdown.
Weaknesses

At 5 feet 10 inches tall and just 215 pounds, most people think of Alvin Kamara as a speed-back, but his 4.56 second 40-yard dash at the NFL combine shows that he lacks the top-end breakaway speed that most top backs in the league have. That being said, he makes up for where he lacks with his aggressive, shifty running style.
Another one of Kamara's issues is his predictability. He prefers to cut left, even if it means cutting back inside towards defenders rather than avoiding contact and step out of bounds. While everyone loves the show-stopping running back who can finesse his way through a defense, there are points where his unwillingness to go down has also led to some ball-control issues.
Even though his vision and patience in the backfield has improved, but it's still hit-or-miss at times. There have been points throughout Kamara's short span at Tennessee where he struggled drastically with his ability to simply read the progressions of his blocks, especially on stretch plays.
Film Breakdown:
Even though Kamara was able to shed the tackle and finish the run, this play against Bowling Green perfectly sums up his lack-of breakaway speed. That's a Mid-American Conference defensive back. A starting SEC running back should have the ability to break away and waltz in for an easy six.
Early in the game against Texas A&M, Kamara was trying to spark the Volunteer offense with a miracle touchdown, but instead he did too much. He ended up showing too much of the ball to the Aggies, allowing them to force and recover an easy fumble deep in their own territory.
Within Kamara's first few years in the NFL, Tennessees fans will be looking back and regretting what could have been if Kamara started from day one in Knoxville. He's yet to reach his ceiling and can only grow with experience and first team reps. Unfortunately, the Vols just weren't able to give him that.
Edited by Quinn Pilkey
Featured image by Sumner Gillam