Vols outlast Loyola Marymount, 8-4
A late-inning rally and shutdown pitching gave Tennessee a win to start its west coast road trip.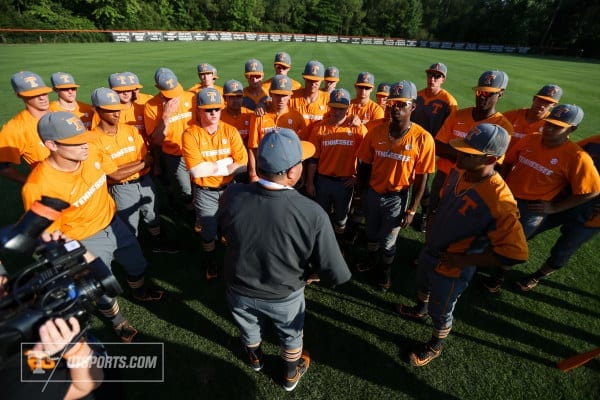 Early season wins can often be hard to come by in college baseball, so it's no surprise that Tennessee baseball coach Dave Serrano was pleased that his team could grind out a win on the start of their west coast series.
"It was an ugly win, but I'll take an ugly win any day of the week," Serrano said.
Just like in their series with Memphis, the Vols were able to jump out in front by bringing one run across in the first inning. Tennessee (3-1) followed that by loading the bases in the second inning and plating three runs, headlined by a two-RBI single by Jordan Rodgers.
The defense failed the Vols in the bottom half of the second when a few errors allowed Loyola Marymount to plate three runs. The Lions then tied the game at four in the bottom half of the fourth on a solo home run.
Both teams were stagnant until the seventh inning when the Vols' bats came to life again. First baseman Andre Lipcus began the inning with a walk and later scored on a single by graduate transfer Reggie Southhall. Jeff Moberg increased Tennessee's lead to three when he brought around two more runs with a double.
The Vols finished out the scoring in the ninth when Brodie Leftridge scored on a single by Justin Ammons.
Sevierville native Zach Linginfelter got his first collegiate start on the bump for Tennessee. He went four innings and only gave up two earned runs. He also struck out seven hitters in his short outing. Freshman Connor Darling also made his debut, pitching a scoreless inning in relief of Linginfelter.
The most impressive outing of the day came from another freshman in Garett Stallings. He came in with bases loaded and no outs and then proceeded to strike out the side to get out of the jam. Dave Serrano called Stallings' outing "the most impressive performance of the day."
Tennessee will now travel to San Diego to compete in the Tony Gwynn Classic. The Volunteers will play two games on Friday against Seton Hall and San Diego State. First pitch is at 4 p.m. ET and 9 p.m. ET, respectively.
Edited by Robert Hughes
Featured image by Donald Page, courtesy of Tennessee Athletics