2017 Tennessee baseball season preview
The Vols return a few familiar faces to the diamond, but what isn't as stable after 2016 should be bolstered by the presence of a solid freshman class that is sure to make itself known on Rocky Top in 2017.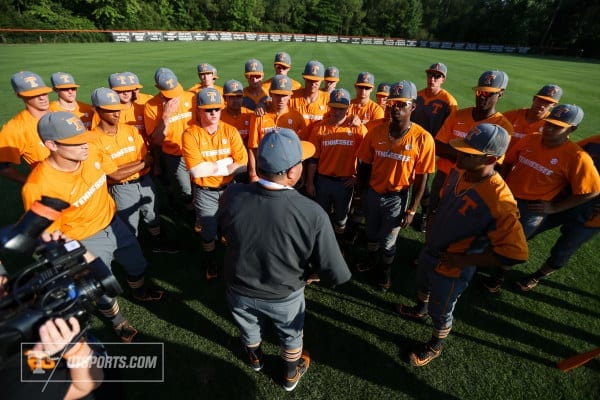 With two days to go until the Vols kick off their 2017 campaign, it's officially baseball time in Tennessee once again.
Last year, Tennessee finished with a record of 29-28 (9-21 SEC), capping off the season with a 5-4 loss to then-No. 11 LSU in the SEC Tournament in Hoover, Alabama.
The team's SEC Tournament appearance marked the first time the Volunteers have reached postseason play in the Southeastern Conference for three straight seasons since 1995-97.
A major loss going into the 2017 season is Knoxville native and Tennessee standout Nick Senzel, who was drafted second overall in the MLB Draft by the Cincinnati Reds. In his junior season, Senzel batted .352 with 74 hits, a team-high 59 RBI and an SEC-leading 25 doubles. He also showed some speed with an on-base percentage of .456, the second-highest on the team.
Besides Senzel, other departures include those of seven seniors whose combined batting percentage through 2016 was .235. In addition, left-handed pitcher Aaron Soto will miss this season after undergoing Tommy John surgery. Last season, Soto finished with a 6-2 record on the season, with 40 strikeouts and 30 runs allowed over 62.0 innings pitched.
Lastly, former Farragut High School standout and East Tennessee native Duncan Pence headlined this season's freshman class, but he was dismissed for what head coach Dave Serrano characterized as "a violation of team rules," per Grant Ramey at the Knoxville News-Sentinel.
Despite these losses, head coach Dave Serrano lured yet another top-20 recruiting class to Knoxville, as 14 standouts from Tennessee, Florida, Georgia and Virginia join the Vols' 2017 roster.
This class ranks No. 15 in the country according to Perfect Game's recruiting rankings, and it features a variety of players at several positions, with six pitchers anchoring the group.
Savannah, Tennessee product Cal Gobbell is the only utility player listed, but he comes to Tennessee after having lettered all four years in both football and baseball at Hardin County High School.
The Volunteers also add a number of transfers. Reggie Southall is coming in from Southern California, Dom Thornton joins Tennessee after stints at both Kansas State and Howard College and Danny Sirven will compete for a job behind the plate after careers at South Alabama and Chattanooga State Community College.
The biggest addition, though, comes not on the roster chart, but on the coaching staff, as former Vol quarterback and infielder Todd Helton joins the team as its Director of Player Development.
In his time in Knoxville, Helton led the Vols to three straight NCAA Regional appearances, and he was voted National Collegiate Player of the Year in 1995 before embarking on a 17-year career with the Colorado Rockies.
"It's an honor to have one of Tennessee's best players coming back to be with our program," Serrano said. "Our players and coaching staff will benefit from having Todd Helton's presence around the ball field."
But, no matter what new faces may pop up at Lindsey-Nelson Stadium this season, the Vols' biggest advantage lies in a crop of experienced veterans who have muddled through mediocrity and look to carry this team farther than it's gone in a long time.
As a fifth-year senior, Jeff Moberg leads the way for Serrano's 2017 team. In 2016, Moberg showcased a .415 average from the plate with a .519 on-base percentage, the team's best for last season. Through the first 16 games, Moberg led both the NCAA and the SEC with 28 runs scored and 1.75 runs scored per game, according to Tennessee's athletics department.
That 16th game is where Moberg's 2016 campaign came to screeching halt, however, as his season-ending ACL tear dampened the Vols' 7-3 win over UNC-Asheville on March 15.
Besides Moberg, Tennessee also returns Jordan Rodgers, Hunter Martin, Max Bartlett, Jon Lipinski and Matt Waldren in a senior class that has a lot left to prove.
Another bright spot for Tennessee lies in catcher Benito Santiago, whose presence both behind and at the plate should bring Vol fans some comfort given his .309 average in 2016 and the lack of playing experience shared by the other three catchers on the roster.
As far as pitching is concerned, the Vols appear fine headed into the season.
They return 11 to the pitching staff, and the six hurlers in this 2016 class makes for a stout presence of 17 pitchers on which Serrano can rely after Andy Cox graduated and Zach Reid moved on to West Virginia.
Tennessee opens its season Friday, Feb. 17 in a 5 p.m. matchup against Memphis at FedEx Park, and it will continue its series against the Tigers on Saturday and Sunday before moving on to play at Loyola Marymount in Los Angeles on Feb. 22.
Edited by Quinn Pilkey
Featured image by Donald Page, courtesy of Tennessee Athletics
Sports editor Jake Nichols has been part of the TNJN staff in two different capacities. His freshman and sophomore years, Jake worked as a staff writer before moving on to write for Rocky Top Insider, and he also worked with VFL Films and the SEC Network for a semester his junior year. When asked the summer before his senior year to return to TNJN as the sports editor, Jake jumped at the chance to end his time in Knoxville working with the organization he first began with as a freshman. Jake is excited to help lead younger writers, much like former editors Cody McClure and Jordan Dajani aided him. Jake also does freelance sports coverage and photography for The Mountain Press in Sevierville, Tenn., and in his spare time, he can be found with family, his girlfriend or driving his Jeep, most likely with his Canon in tow. Be sure and follow Jake on Twitter and Instagram at @jnichols_2121, and keep up with TNJN Sports on Twitter as well!