Around the SEC: Week 13
Rivalry week in the SEC saw many records being broken, career-bests being set and one conference team being upset. Here's what happened around the SEC.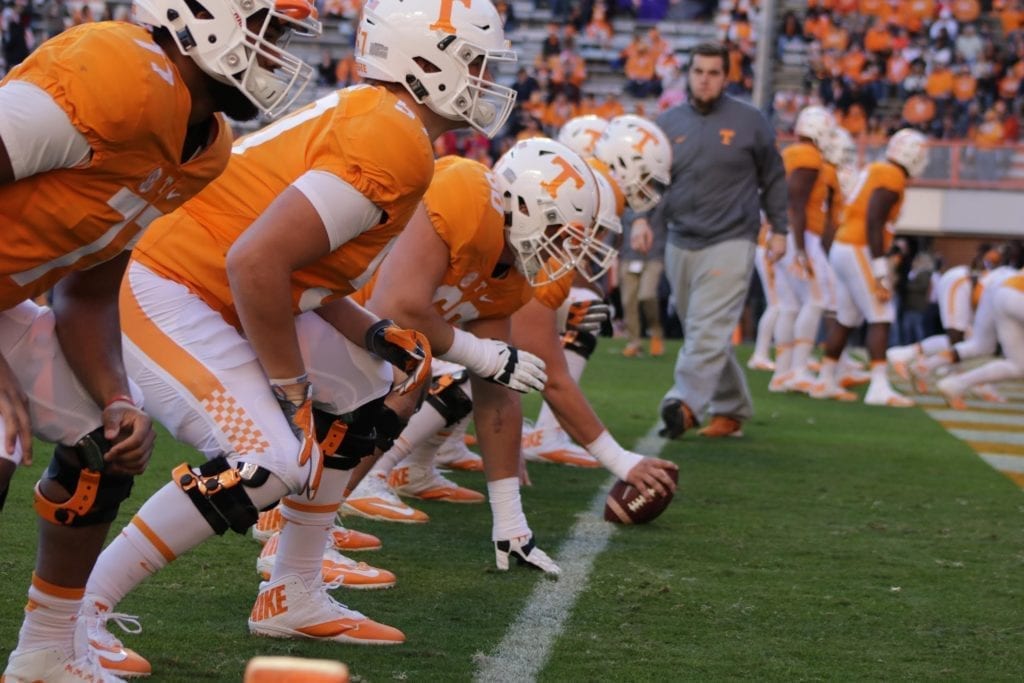 Alabama wins Iron Bowl
After overcoming a rocky start, No. 1 Alabama was able to turn the game around in the second half en route to a 30-12 victory over No. 16 Auburn in the Iron Bowl.
Freshman quarterback Jalen Hurts struggled early and threw two interceptions, but was able to lead the Tide (12-0, 8-0 SEC) to the win, throwing for 286 yards with two touchdowns. He also ran for a touchdown.
Auburn (8-4, 5-3 SEC) had a difficult time against Alabama's defense, amassing just 182 total yards on offense with roughly 19 minutes of possession on the day.
The Tigers were also held to just a field goal in the second half after three in the first.
Seminoles beat Gators for fourth straight year
The No. 13 Gators were only able to reach the end zone once in their 31-13 loss to No. 15 Florida State.
Dalvin Cook had a record day for the Seminoles (9-3, 5-3 ACC), rushing for his 45th career touchdown on the ground during the first quarter, the most rushing touchdowns in Florida State history.
The Gators' (8-3, 6-2 SEC) defense, despite being the fifth-ranked run defense nationally, was not able to bottle up Florida State on the ground, and the Seminoles consequently ran for 249 yards and three touchdowns. Florida's offense struggled as well, as it was only able to amass 56 rushing yards.
Florida's only trip to the end zone came off of a 12-yard fumbled punt return by Marcell Harris in the fourth quarter. The Gator offense has not scored a touchdown against the Seminoles since 2014.
Commodores upset Vols 
Vanderbilt came into Saturday's game looking to lock up bowl eligibility for the first time since 2013 and did just that, upsetting No. 24 Tennessee, 45-34.
The Commodores (6-6, 3-5 SEC) kept the game fairly close in the first half despite a strong start by Tennessee. Alvin Kamara put the first 21 points on the board for the Vols (8-4, 4-4 SEC) — two trips to the end zone on the ground and once on a 21-yard reception.
The Vols led at the half 31-24, but the offense could only muster up a field goal in the second half. Vanderbilt's 45 points were the most the Commodores have scored against the Vols since 1923, a 51-7 victory.
Tennessee's defense had a tough time containing Vandy quarterback Kyle Shurmur, who completed 21 of 34 attempts for a career-high 416 yards and two touchdowns.
Vols' defensive end Derek Barnett tied the late Reggie White for the most sacks in Tennessee history at 32 with a sack of Shurmur as the first half ended.
Kentucky outlasts Louisville for Governor's Cup
A fumble by Heisman favorite Lamar Jackson late in the fourth quarter gave Kentucky (7-5, 4-4 SEC) its chance to end its five-game losing streak to in-state rival No. 11 Louisville (9-3, 7-1 ACC).
Jackson's fumble was recovered at Kentucky's 10-yard line. After driving down to the field, kicker Austin MacGinnis put the game away for the Wildcats (7-5, 4-4 SEC) with a 47-yard field goal with 12 seconds left, 41-38.
In Louisville's second straight loss, Jackson still had a strong showing, accounting for four touchdowns on 452 yards. While he did record his school-record eighth 100-yard rushing game and broke several other school and ACC records, he threw three interceptions that ended up proving costly for the Cardinals.
The win gave Kentucky its first seven-win season since 2009.
LSU beats Texas A&M
Derrius Guice had a record day as LSU ran away from No. 22 Texas A&M, 54-39.
The Tigers (7-4, 5-3 SEC) were playing without a number of key players, including star running back Leonard Fournette, but his absence was not an issue for the Tigers. Guice set a school record with 285 rushing yards while also bringing in four touchdowns.
After leading at the half 20-7, LSU was able to contain the Aggies (8-4, 4-4 SEC) despite a second half surge.
Danny Etling also had a strong day for the Tigers, putting together 324 yards through the air with two touchdowns, marking the first time in school history that LSU had a 300-yard passer and 200-yard rusher in the same game.
Second half boost pushes Missouri past Arkansas
After jumping out to a 24-7 halftime lead, it looked as if everything was going in Arkansas' favor. However, Missouri's defense held the Razorbacks (7-5, 3-5 SEC) scoreless in the second half, allowing the Tigers (4-8, 2-6 SEC) to a complete a comeback victory, 28-24.
Arkansas' rushing game looked strong in the first half. Sophomore Rawleigh Williams III rushed for 68 yards and Devwah Whaley added 54 yards of his own. In the second half, the two backs were held to just 49 combined yards.
Tiger quarterback Drew Lock had 268 passing yards and a touchdown, looking J'Mon Moore's way most of the game. Moore caught six passes for 135 yards, becoming the lone Tiger to have a 1,000-yard receiving season in 2016. Despite not catching a touchdown, he did recover a fumble in the end zone for an unusual six points.
Mississippi State surges to Egg Bowl victory
Bulldogs' quarterback Nick Fitzgerald had a record day as Mississippi State (5-7, 3-5 SEC) ran away with the Egg Bowl, beating Ole Miss (5-7, 2-6 SEC), 55-20.
Fitzgerald ran for a career-high 258 yards with two touchdowns while also passing for three touchdowns. His 258 yards were a single-game rushing record by a Bulldog player at any position.
Despite a late second-quarter surge, Ole Miss couldn't get points on the board in the second half.
Freshman quarterback Shea Patterson had a strong showing in the Rebels' effort, throwing for 320 yards with two touchdowns. However, he threw two interceptions, one going 74 yards the other way for a Mississippi State touchdown.
Yellow Jackets rally to top Bulldogs
With the game tied at the half, it was apparent that the second half was going to be just as close. True to that, the in-state battle came down to the final 30 seconds to find a victor.
Qua Searcy made a race to the end zone to give Georgia Tech (8-4) a stunning win over Georgia, 28-27. This would be the second straight win in Athens for the Yellowjackets.
Georgia (7-5, 4-4 SEC) was able to score 13 unanswered points in the third quarter, but Georgia Tech would turn the tables in the fourth, outscoring the Bulldogs 14-0.
Both teams relied on their rushing games to lead the way, both teams gaining over 200 yards on the ground. All four of Georgia Tech's scoring plays were from rushing attempts.
Watson, Clemson dominate South Carolina
Clemson (11-1) put 21 points on the board in the first quarter and didn't look back, as the No. 4 Tigers went on to win over in-state rival South Carolina in dominating fashion, 56-7.
Quarterback Deshaun Watson threw for 347 yards and six touchdowns in the win, tying his career high in touchdown passes.
South Carolina (6-6, 3-5 SEC) struggled to get anywhere in the matchup, being outgained in total yards 622-218, with 111 of those yards on the ground.
The only touchdown for the Gamecocks came in the third quarter on a 33-yard pass from receiver Deebo Samuel to Bryan Edwards.
The win gave Clemson its largest margin of victory in the rivalry since 1990, when the Tigers beat the Gamecocks 51-0.
Edited by David Bradford
Featured image by Ben Proffitt
Danielle is a senior studying Journalism and Electronic Media. Before coming to UT, she was a student intern for 106.3 ESPN Radio where she assisted in the broadcasts and productions of Pigeon Forge High School football and basketball. She is also a former sports correspondent for The Mountain Press and worked as a promotions assistant for the Tennessee Smokies. If she's not busy with the Triple Play podcast or writing sports stories, you'll most likely find her at St. John XXIII Catholic Center on campus or watching sports somewhere while she sips on an Arnold Palmer. Follow her on Twitter: @Dani_Marie_15