Vol soccer wins third in a row, shuts out Georgia
Tennessee continued their hot streak on the pitch Thursday night, shutting out Georgia 2-0.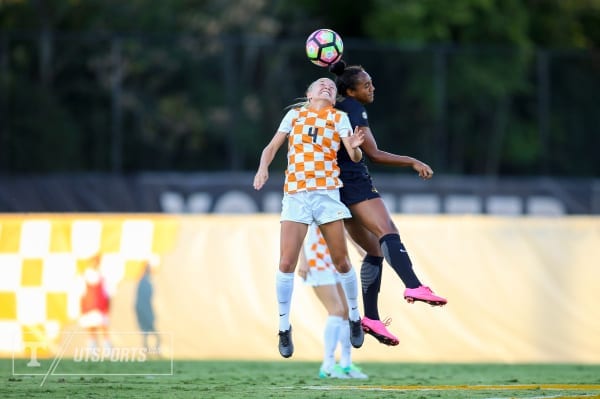 In a 2-0 win over Georgia, the Vols completed their third-consecutive shutout win.
Midfielder Rylie O'Keefe led the way for Tennessee (6-4, 2-1 SEC) with both of the team's scores, her first-career game with multiple goals.
"It takes skill to be a goal scorer and an adequate passer," head coach Brian Pensky said. "Both of those goals, she showed tremendous skill in finishing off of rebounds on corner kicks."
After her two-goal performance tonight, the sophomore now leads the team in goals (four) and assists (six).
The Vols struggled to find a goal in the first half, but the floodgates finally opened in the second. Tennessee registered nine shots on goal after accounting for only three total shots over the first 45 minutes. They finished the game with 19 total shots, with 10 of them being on goal.
"Every moment matters," Pensky said. "Whoever turns off in any one moment, is going to be the team who loses the game."
O'Keefe struck early in the second half and then extended the lead to two in the 72nd minute.
"Michele Kristy had the corner and she made me look good," O'Keefe explained. "I just got my head on it."
The Vols' defense was stout in completing its third straight shutout, only allowing seven shots on goal. In one half of play, sophomore goalkeeper Shae Yanez kept the Bulldogs (3-6-1, 0-3 SEC) scoreless, increasing her shutout streak to 180 minutes. Senior Jamie Simmons picked up where Yanez left off, and the two split time protecting the goal for the second straight game. The two combined for seven saves on the night.
Following a 4-4 start which included a 5-1 loss to Alabama, Tennessee has turned its season around.
The Vols continue conference play and "Florida Hate Week" on Sunday, when they travel to Gainesville to take on the No. 12/9 Gators at 5 p.m. ET. A win against Florida would not only extend their winning streak, but would be the Vols' first win over a ranked opponent since 2014.
Edited by David Bradford
Featured image by Ruth Dudley, courtesy of Tennessee Athletics
Dalton, a firm believer that sporting events are best spent on Twitter, is an Assistant Sports Editor for TNJN and a sophomore studying Journalism at the University of Tennessee. Two of his favorite pastimes include beating his roommates at 2k and remaining in awe of the amount of stories fellow editor David Bradford writes. Twitter: @dk_writes