Rocky Topics: Does a loss at Bristol derail Vols' season?
The Battle at Bristol has been anticipated for a long time. How would a loss affect Tennessee's season?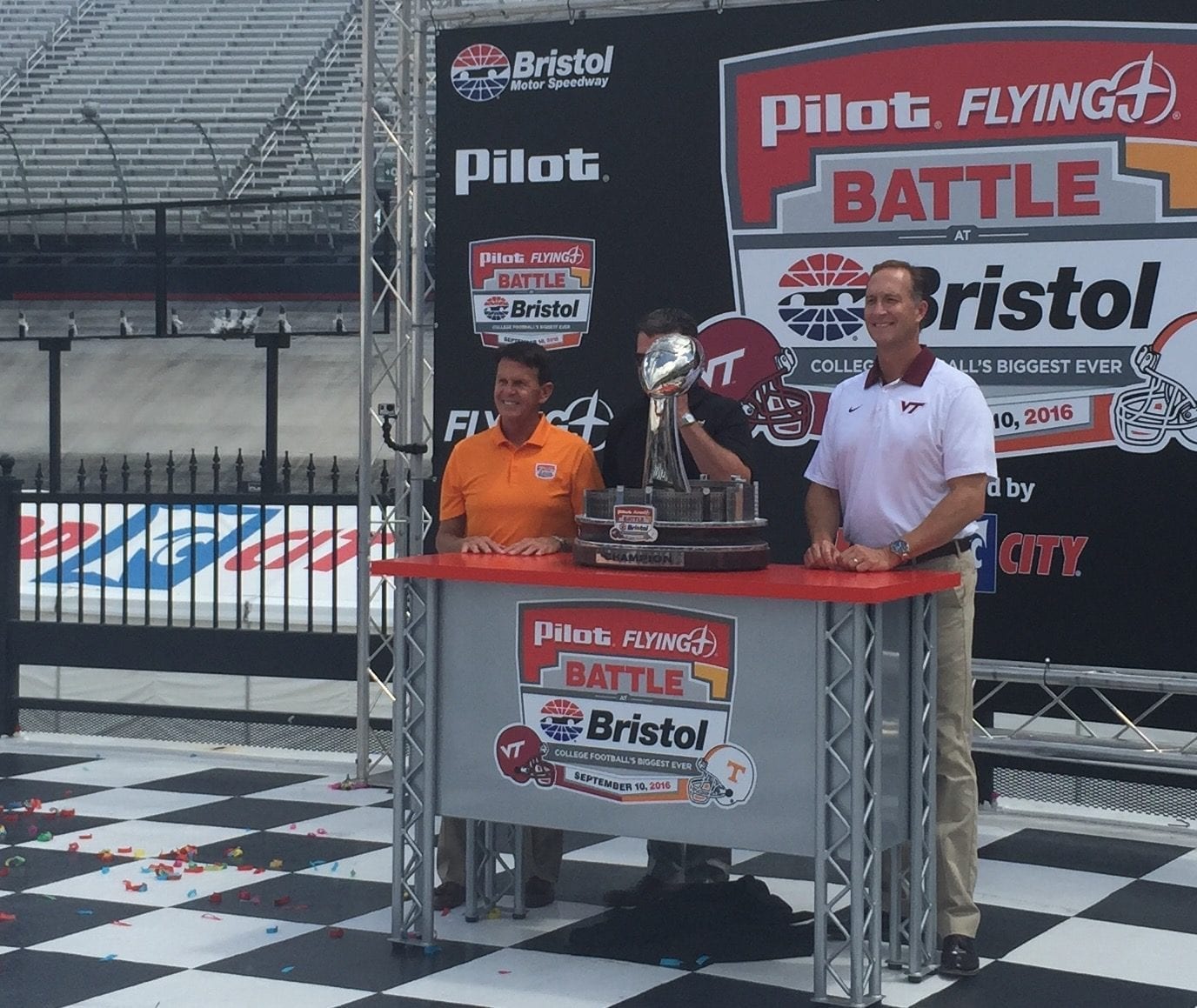 In the second edition of Rocky Topics for the 2016-17 college football season, Jonathan Johnson and Seth Raborn argue if a loss to Virginia Tech in the Battle at Bristol will end all season hopes for the Vols.
Raborn: While a loss to Virginia Tech in the Battle at Bristol would be a big setback for the Vols after a close overtime win to Appalachian State last week, the season would be far from over. If Tennessee were to lose this week, the loss would still be out of conference and would not affect the Vols longstanding SEC Championship hopes. A loss before the hardest four games of the season (Florida, Georgia, Texas A&M and Alabama) may bring this Tennessee team back to earth and light a fire under their belly. This could give the Vols the chance to show that they really are capable of proving their place among the elite football teams in the SEC. The Vols undoubtedly have the talent to recover from such a loss. Last season, after only having three wins through eight games, the Vols were able to win their remaining games and go to the Outback Bowl. Assuming that Tennessee will tally a win against Ohio and realistically win two games in the four game stretch noted above, those two wins should help keep the Vols' SEC Championship hopes alive. Tennessee would have four wins going into the much lighter back half of its schedule, a back half that they have done pretty well with in recent years.
Johnson: Before this season, there were a good number of fans in the Tennessee fanbase that not only thought an undefeated season was possible, but that it could realistically happen. Fans started searching for flights and hotel rooms for the championship game in Tampa on Jan. 9 as if the Vols were already on the path to get there. I did not see that as a legitimate expectation for this team. A loss to an elite Alabama team or a Georgia team out for revenge would be an acceptable defeat for the state of the program this year. However, a loss to Virginia Tech at Bristol Motor Speedway would not. The overtime scare against Appalachian State has the fanbase lacking confidence in the staff and players. A loss against Virginia Tech would totally derail the season.
Raborn: If Tennessee loses at the Battle at Bristol, Butch Jones and the Vols will not roll over and die. Since the beginning of the Butch Jones era, Tennessee has become synonymous with "overrated," and I don't think this team will take that lightly. In the four games the Vols dropped last year, they lost by a combined 17 points. This team has the ability to respond to setbacks well. There are a few solid reasons to stay optimistic if you are a Tennessee fan if they lose to Virginia Tech; the Vols still have talent that is capable of beating anyone in the nation and have shown that they are capable of bouncing back from turmoil and taking on a challenge. I think it is realistic to think that, if the Vols were to lose to Virginia Tech, Tennessee would be able to finish with a nine win season and still go to the SEC Championship.
Johnson: First, this Virginia Tech team is going through a transition phase. Legendary head coach Frank Beamer was replaced this offseason by Justin Fuente from Memphis. Beamer spent almost 30 years coaching the Hokies and won 239 games. Fuente should be fine in Blacksburg, but right now the program is in a rebuilding phase. Tennessee has been there recently, but they are certainly not there anymore.  A loss to a school in rebuilding would totally change the course of the season for the Vols, especially compared to what the preseason expectations were. Second, the Battle at Bristol is something everyone involved with Tennessee athletics has been looking forward to for a long time. A loss would be embarrassing for Vol fans everywhere. This year has been dubbed the "year that the Vols return to the national stage," but a loss to Virginia Tech in primetime, while College Gameday is there, would crush the season before SEC play even began. Tennessee's 2015 loss to Oklahoma showed just how crushing a prime-time, non-conference defeat can be. The Battle at Bristol is hyped up as"College Football's Biggest Ever" for a reason. The Vols should be ecstatic if they come out of "The Last Great Colosseum" with a win. If not, strap in for another season of frustration and coaching hot boards.
Edited by Nathan Odom
Featured image by Jonathan Toye