Week one upset alert: No. 1 Alabama
There are upsets each week in the magical world of college football, and teams are even more susceptible to an upset in week one, before the team can establish a rhythm. Which SEC team should be on upset alert this week of football?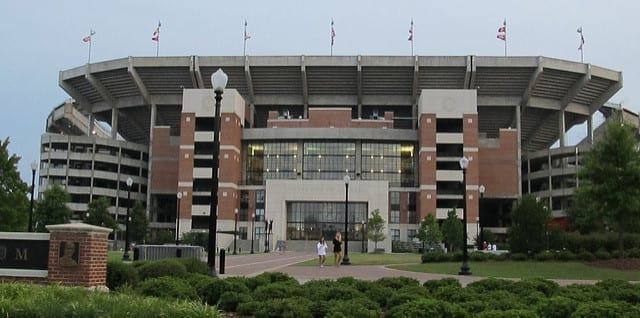 College football has returned in full force as week one is now underway around the country. As every follower of the game knows, anything can happen on the right day, which leads to major upsets every year.
In week one, an SEC team that needs to be on "upset alert" is none other than the Alabama Crimson Tide.
'Bama plays USC on Saturday night in Arlington, Texas, in a showcase featuring two of the most prestigious programs in college football history. However, they have only played seven previous times, with the Crimson Tide holding a 5-2 edge over the Trojans.
Though their history is always a focal point, what matters Saturday night are the results on the field. Many expect the Tide to roll over USC, but to quote Lee Corso, "Not so fast, my friend."
USC has plenty of athletic playmakers on both sides of the ball, and especially on offense. The talented wide receivers, led by JuJu Smith-Schuster, Steven Mitchell and Darreus Rogers will make Max Browne's life as a first-time starting quarterback much easier.
Alabama's secondary should be the weakest point of the defense. If this turns out to be true, then USC is in fantastic position to take advantage all game long. The Tide will have their hands full trying to slow down the Trojans' electric receiving corps.
That is not the only strength of this USC squad, though. Under coach Clay Helton, the Trojans look to run more often than they pass. Much of the ground game's success is thanks to the dangerous duo of Justin Davis and Ronald Jones II.
Coupled with perhaps the best offensive line in college football, Davis and Jones often have massive lanes to run through. Though the Crimson Tide's front seven traditionally thrive against the run, the team lost a great deal of talent from last season, and the new players replacing them will be faced with a tough test right out of the gate. If Alabama cannot slow down the Trojan rushing attack, this game may go in a much different direction than many expect it to.
Looking at these position matchups, it's not hard to imagine a scenario in which USC can take a fight to the defending national champions, possibly even pulling out a victory. And the Trojans' dynamic two-way playmaker Adoree' Jackson has not even been mentioned yet. Jackson is capable of breaking the game wide open in all three phases of the game — as a wideout on offense, a corner on defense, and a returner on special teams.
If the Trojan defense can contain Alabama's offense, which lost a significant amount of talent as well, then they could start the Crimson Tide's national title defense off with a sour note. This is a game to watch, folks. Don't be surprised if the Trojans give Alabama all they can handle.
Alabama and USC play Saturday night at 8:00 pm EST on ABC.
Edited by Nathan Odom
Featured image by Ken Lund
Adam is the Assistant Sports Editor for the Tennessee Journalist and a Junior at UT. Most of his free time is spent watching sports, listening to good music, and enjoying life. If you wish to contact him, you can email him at amillike@vols.utk.edu, follow him on Twitter, @AdamMilliken14, or find him at https://www.linkedin.com/pub/adam-milliken/109/a89/a32.