Making a case for North Carolina to win the NCAA Tournament
North Carolina has been the proverbial favorite to win the NCAA Tournament since it started. As the only No. 1 seed still alive, can the Tar Heels get it done?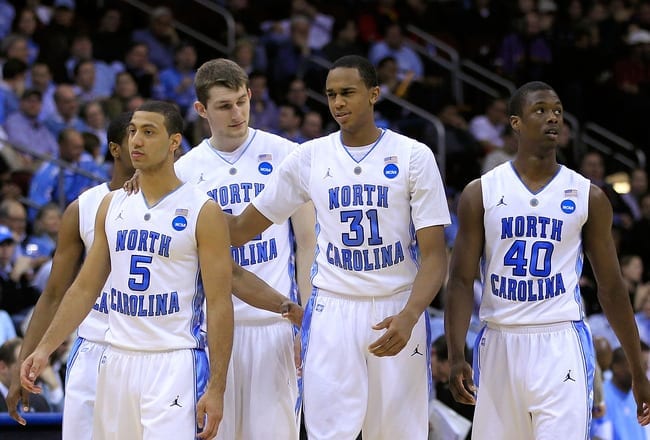 The North Carolina Tar Heels will win the national championship because they have, from top to bottom, the most talented team in the Final Four.
While Syracuse has been the Cinderella of the NCAA Tournament, North Carolina has been a model of consistency, winning each tournament game by double digits.
Here are three reasons why the national championship will return to Chapel Hill this year.
Momentum
The Tar Heels have not lost a game since Feb. 27 and are the only No. 1 seed remaining. Their star players have been firing on all cylinders this March. Senior forward Brice Johnson recorded a double-double in three out of the four tournament games, while senior guard Marcus Paige finally found his range, shooting a shade under 50 percent from beyond the arc thus far in the tournament.
Experience and depth
The most important ingredients of a championship team are experience and depth. North Carolina has the deepest roster in college basketball, returning four starters from last season along with a bench full of upperclassmen. These players have been to the tournament and know what it takes to win in March. More importantly, they understand the agony of defeat. Needless to say, the experience and depth have heavily contributed to the Tar Heels' championship run.
Offensive talent
Carolina shot 61 percent from the field against Notre Dame in the Elite Eight. Whether it is Paige from deep or Kennedy, Meeks and Johnson in the paint, the Tar Heels can score the ball a multitude of ways. What makes their offense next-level, though, is the effort they put into every possession. North Carolina relentlessly attacks the basket and dominates the offensive glass.
Featured image by Chris Trotman
Edited by David Bradford and Cody McClure
Jordan Dajani is a junior journalism/electronic media major from Raleigh, North Carolina.
Follow him on twitter @JDnumba3.