Vols' hot bats scorch Cincinnati early, win home opener 7-1
After scoring 51 runs over the weekend, the Tennessee Volunteer offense picked up where it left off, scoring five runs in the first inning. It was enough to top the Cincinnati Bearcats, 7-1.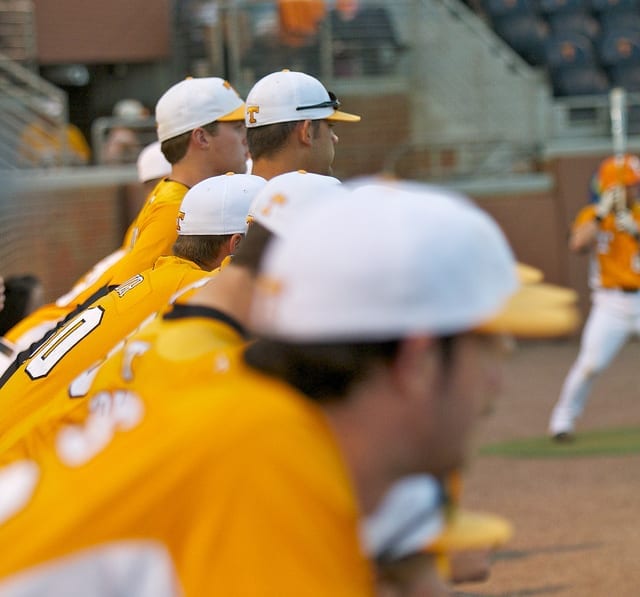 [title_box title="Vols' hot bats scorch Cincinnati early, win home opener 7-1″]
After sweeping its three-game series in the Grand Canyon Classic, Tennessee (6-1) posted a strong start in its home opener on Wednesday afternoon.
The Vols led off with a bang and never looked back, defeating the Cincinnati Bearcats 7-1.
Freshman Daniel Vasquez got the call on the mound for the first time in his career. He only allowed two hits and a single run while striking out seven batters.
Cam Alldred started the game for the Bearcats, but was the first of six pitchers used by Cincinnati. Alldred didn't force a single out and allowed five earned runs in the first inning.
Tennessee pitched fairly well throughout the game, but what really blew this game open for the Vols was the offensive performance right from the start.
Tennessee's first run came when Vincent Jackson was hit by a pitch. Jordan Rodgers followed with a base-clearing triple, making the score 4-0. Rodgers ended up going 2-for-4 with three RBIs. Daniel Neal's sacrifice fly allowed Rodgers to score the Vols' fifth run of the inning. Rodgers would reach home again in the third inning on a passed ball, and Max Bartlett scored the seventh and final run for Tennessee off a Nick Senzel single.
One bright spot for the Bearcats was the home run that Ryan Noda blasted over the right- field fence in the top of the fifth inning, but it wasn't nearly enough to overcome the red-hot bats of Tennessee.
The Bearcats also stretched their pitching staff, using six pitchers compared to Tennessee's four.
Alldred began, but Clayton Colvin, Jack Bergren, Jared Yoakam, Chris Gang, and Cal Jarrett each took the mound for Cincinnati.
Tennessee's pitching staff ended up allowing only four hits and a single earned run with 13 strikeouts on 33 batters faced.
Tennessee will look to continue their hot start during the Keith LeClair Classic on Friday, facing the Maryland Terrapins, East Carolina Pirates, and Southeastern Louisiana Lions in Greeneville, N.C., before returning to Knoxville.
First pitch for the Vols' next home game is set for March 8 at 6 p.m. ET, where they will take on the Western Kentucky Hilltoppers at Lindsay Nelson Stadium.
Featured image by Wade Rackley
Edited by David Bradford
Sports editor Jake Nichols has been part of the TNJN staff in two different capacities. His freshman and sophomore years, Jake worked as a staff writer before moving on to write for Rocky Top Insider, and he also worked with VFL Films and the SEC Network for a semester his junior year. When asked the summer before his senior year to return to TNJN as the sports editor, Jake jumped at the chance to end his time in Knoxville working with the organization he first began with as a freshman. Jake is excited to help lead younger writers, much like former editors Cody McClure and Jordan Dajani aided him. Jake also does freelance sports coverage and photography for The Mountain Press in Sevierville, Tenn., and in his spare time, he can be found with family, his girlfriend or driving his Jeep, most likely with his Canon in tow. Be sure and follow Jake on Twitter and Instagram at @jnichols_2121, and keep up with TNJN Sports on Twitter as well!