Vols dominate Gators for first SEC win, 83-69
Tennessee got its first SEC win over rival Florida at home on Wednesday.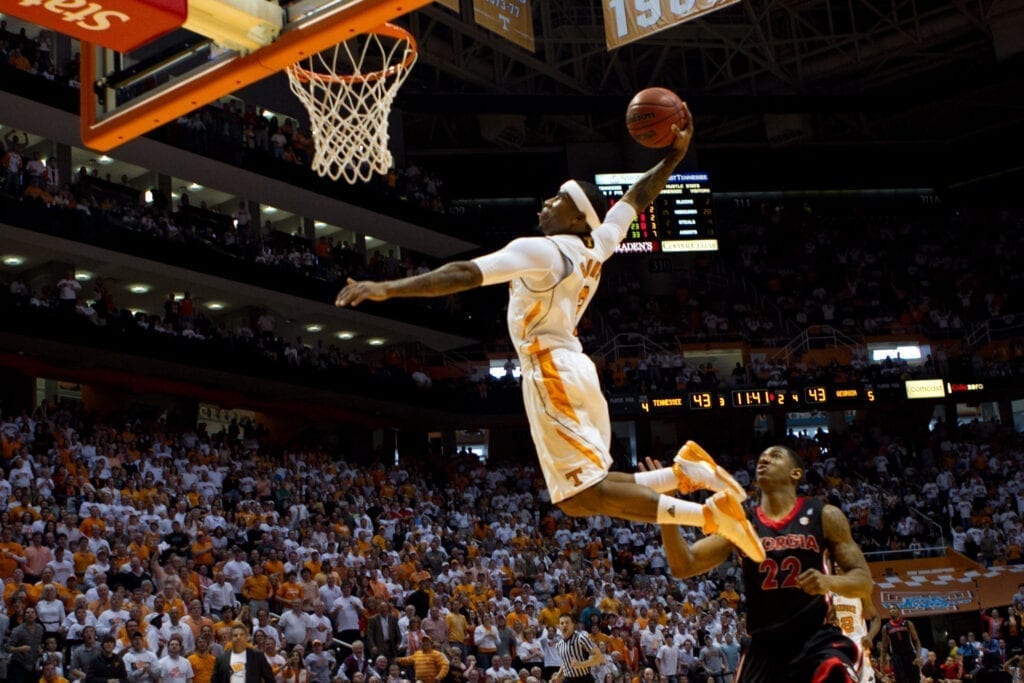 [title_box title="Vols dominate Gators for first SEC win, 83-69″]
Tennessee's big first half was enough to send the Gators back to the Florida swamp with their first SEC loss.
It was Tennessee's SEC home opener and the Vols decided to break out the special smokey grey jerseys for the occasion. Whether it was something special in the stitching or just the added swagger, Tennessee played its best basketball of the season.
Admiral Schofield and Kevin Punter were the lead scorers in Tennessee's loss to Auburn on Saturday, and they once again jump-started the Vols. Punter and Schofield combined for the first 13 Tennessee points and didn't look back.
Punter hit his first seven attempts, including back-to-back three pointers, for 15 early points and the Tennessee offense as a whole was flowing.
Coach Rick Barnes was forced to start a small lineup because of Florida's press, yet out-rebounded Florida 23-19 in the first half. Tennessee played great defense in the post and only allowed six total first half points in the paint.
The Gators struggled to hit shots from anywhere in the first half and only managed to shoot 33 percent from the floor. They also turned the ball over 10 times, compared to Tennessee's three turnovers, which allowed the Vols to head into the break with a 53-31 lead.
Punter led the Vols with 18 first half points and Schofield chipped in with 15. Tennessee shot 51 percent from the floor and was able to create open looks from all over the court.
The second half was a sloppy one for both teams and the first points weren't scored until about three minutes in, but Tennessee held on for its first SEC win over rival Florida.
"We played tonight the way you have to play to win games in this league," said Barnes. "By playing good defense."
Tennessee held Florida to just 34 percent from the field. Every shot was contested and players were flying to the ball.
"We were being aggressive and swarming on the defensive end," said Barnes.
Punter led all scorers with 26 points and also had eight rebounds. Tennessee shot 47 percent from the floor and also out-rebounded the Gators 49-40.
KeVaughn Allen led Florida in scoring with 18 points and Dorian Finney-Smith had a double-double with 12 points and 11 rebounds.
Tennessee plays again on Saturday when Texas A&M comes to Thompson-Boling Arena.
Edited by Cody McClure
Jordan Dajani is a junior journalism/electronic media major from Raleigh, North Carolina.
Follow him on twitter @JDnumba3.