Tennessee men's basketball season preview
Seniors Armani Moore and Kevin Punter are sold on new head coach Rick Barnes' up-tempo system. The Vols are looking to turn heads in the SEC this season.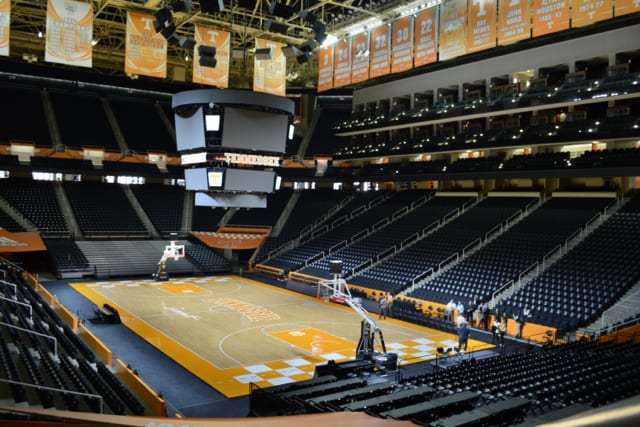 [title_box title="Tennessee men's basketball season preview"]
The 2015-16 college basketball season is upon us. On Rocky Top, this season marks the beginning of a new era – the Rick Barnes era.
After just one season at UT, former head coach Donnie Tyndall was fired due to an NCAA investigation of violations he and his staff committed at Southern Miss. In need of a new leader for a program in another huge transition, Director of Athletics Dave Hart looked to the most experienced, available coach on the market.
Barnes was brought in this spring after a 17-year tenure at Texas, which included a Final Four appearance in 2003. Barnes brings the magic word that Tennessee's basketball program has been desperately searching for – stability.
On their third head coach in three seasons, the Volunteers are looking to make an impact in the revamped SEC.
The Vols not only start this season with a new coach, but also without star player Josh Richardson. Richardson did it all last season, leading the Volunteers in scoring, field-goal percentage, free-throw percentage, assists, steals and minutes played. But aside from graduating Richardson to the NBA, the Vols return the majority of their rotation from last season.
This year's squad includes four seniors: Armani Moore, Kevin Punter, Devon Baulkman and Derek Reese. Tennessee also brings back junior guard Robert Hubbs III, who started 20 games last season, and sophomore guard Detrick Mostella, who contributed 3.4 points per game.
The newcomers for the Volunteers are freshmen Kyle Alexander, Admiral Schofield, Shembari Phillips, and Lamonte Turner (ineligible for the season) and junior college transfer forward Ray Kasongo (eligibility in question due to lingering issues).
But compared to the rest of the SEC, the Volunteers are slightly out-manned. This is reflected in the preseason coaches poll, where Tennessee is slated to finish No. 12 in the conference. The Vols' new coach does not buy into the low predictions. "I've gotten to the tournament with teams that have less talent and less skill than this team," said Barnes.
In a rare occurrence, the hailed football conference features three preseason top 25 teams: No. 2 Kentucky, No. 18 Vanderbilt and No. 21 LSU. Plus, the remainder of the conference features much more talent and potential than usual.
In a strong league, Tennessee is predicted to struggle to win games and stay relevant. But with a fresh slate and a new look, the Volunteers and their new coach are looking to overcome expectations. Barnes' goal for this team is the NCAA tournament.
In its first scrimmage this preseason, "Tennessee edged out Davidson," according to ESPN basketball insider Jeff Goodman. Moore led the team with 30 points and 14 rebounds, with Kevin Punter adding 27. Even though this was a casual, "secret" scrimmage, Tennessee showed promise in its first organized competition. Davidson was a No. 10 seed in last season's NCAA tournament.
Barnes and the Volunteers debuted their new-look, up-tempo offense to the public eye last Friday night at Thompson-Boling Arena in their first and only official exhibition game. In the Vols' matchup with Alabama-Huntsville, they soundly beat the Chargers, 96-83.
Barnes' up-tempo style showed its effectiveness, as the Vols did not score more than 78 points the entire 2014-2015 season.
In the Volunteers' first game, the dynamic duo of seniors Moore and Punter shined bright. Moore led the team with a double-double, scoring 29 points and grabbing 10 rebounds. The senior forward shot 10-of-19 from the field and 4-of-6 from three point range; an addition to his game that he has worked on throughout the offseason. Punter was close behind, adding 25 points and five assists for the Volunteers in his debut at the point guard position.
So far for Tennessee, the two players that Barnes predicted to lead the way for the Vols have not disappointed.
In his postgame comments, Barnes said, "We know that we are going to play a lot through Kevin [Punter] and Armani [Moore]."
Throughout the season, the Volunteers will continue to look to Moore and Punter for not only on-court production, but also leadership.
On the style that he wants this team to play, Barnes said, "We want the tempo… But our defense really hurt us. You can't really get out and run."
Tennessee has fast, athletic players that can score in transition and suit Barnes' up-tempo style, but if they struggle on defense, the Vols will struggle to be able to maintain their brand of basketball and compete in league play.
Even though this new style is a change for the Vols, players are welcoming it. "It's definitely a change, but I'm used to change," Punter said. "When a coach wants to win, he raises the bar so high, I'm always with that and want to buy in to where he wants the team to get to."
Moore also commented on the new system. "For us to run the system, we have to be in really good shape. It will keep the defense on its heels and they can never relax." He added, "If we can take good shots and hit good shots, then the defense will have to compete with us, rather than us having to compete with them."
The Vols' new strategy relies on strong defense and the ability to run, score in transition and score a lot of points. This has always been the winning formula for Barnes.
Tennessee will be looking to win games this year with a totally brand new look: new uniforms, new coaching staff, new playing style and a new court.
The Vols officially start the Barnes era Friday night at Thompson-Boling Arena, when they host UNC-Asheville at 7 p.m. ET.
Featured image by Ryan McGill
Edited by Cody McClure
Dalton, a firm believer that sporting events are best spent on Twitter, is an Assistant Sports Editor for TNJN and a sophomore studying Journalism at the University of Tennessee. Two of his favorite pastimes include beating his roommates at 2k and remaining in awe of the amount of stories fellow editor David Bradford writes. Twitter: @dk_writes