Opinion: Predictions, spreads, tidbits for SEC Week 6
Check out a full list of this week's SEC games with stats and predictions.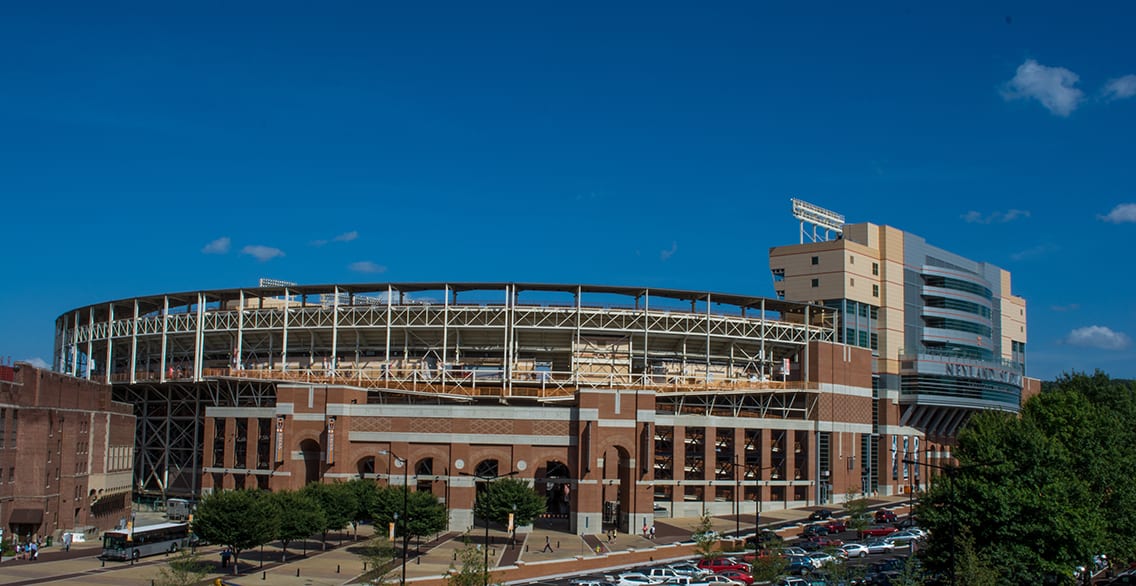 #6 Texas A&M @ #12 Mississippi State (-2.5) – Saturday, Noon, ESPN
It took a gutsy, fourth quarter performance by Kenny Hill and overtime for Texas A&M to overcome Arkansas last week in Dallas. The Arkansas defense had a near-perfect game plan for slowing down the Aggies. This week A&M will face a much different, yet nonetheless potent offensive attack from Mississippi State. The Bulldogs have had two weeks to prepare for this game after handling LSU in Death Valley. Stark Vegas will be rocking as State's much-improved defense halts the Aggies' offense. More cowbell, please.
Prediction: Mississippi State 42, Texas A&M 28.
Florida @ Tennessee (-2.5) – Saturday, Noon, SEC Network
One must go all the way back to 2004 to find the last time Tennessee beat Florida. The rivalry that once determined who would win the SEC has lost much of its luster, but don't tell Tennessee fans that. The Vols, coming off a close defeat in Athens, plan to checker the stadium orange and white and maybe even get Lil' Jon to perform. Florida's Will Muschamp is coaching for his job, and he could very well lose that battle this week. Tennessee's secondary presents a challenge for Florida's struggling offense, and the Gators defense is nowhere near where we thought it would be. The streak ends here.
Prediction: Tennessee 31, Florida 20.
#3 Alabama (-5.5) @ #11 Ole Miss – Saturday, 3:30 p.m., CBS
In another colossal western division matchup, the Crimson Tide will travel to Oxford to meet a feisty Ole Miss squad. College Gameday makes its Oxford debut and the Grove will undoubtedly be a sight to see. The Rebel defense has been superb this season, allowing only 8.5 points per game. However, they have yet to see an offense as dangerous as Alabama's. The Tide have weapons galore. Amari Cooper leads the league in receiving, and Blake Sims is coming along at quarterback. They have a couple decent running backs as well. The Grove will be impressive, but it won't be enough for Ole Miss to overcome Bama.
Prediction: Alabama 35, Ole Miss 21.
Vanderbilt @ #13 Georgia (-33.5) – Saturday, 4 p.m., SEC Network
The Dawgs struggled to get by Tennessee last week, but as the saying goes, "big players make big plays in big games." Todd Gurley is rightfully sitting atop many Heisman watch lists. He'll probably have another big game this week. He usually does. Vanderbilt is getting better by the week. Their positive strides are especially noticeable in special teams, but the offense is still lacking behind the rest of the SEC. Vandy's defense would need to play nearly perfect for the Commodores to have a chance in this one. Georgia's running game will be way too much for them to handle.
Prediction: Georgia 48, Vanderbilt 20.
#15 LSU @ #5 Auburn (-8) – Saturday, 7 p.m., ESPN
As if there weren't enough important games inside the conference this weekend. The Battle of Western Tigers, yes, I made that up and no, it's not very catchy, may be the biggest of them all. Interesting things tend to happen in primetime on Saturday nights in Jordan-Hare Stadium. People are beginning to wonder, "when will Auburn's luck run out?" Despite all odds, they just keep winning. Their offense is unstoppable. Well it was until they played Kansas State. I wonder if Chief Chavis has seen the film from that game. It doesn't make sense, but against all odds, the Mad Hatter and LSU will shake things up this week.
Prediction: LSU 26, Auburn 24.
South Carolina (-4) @ Kentucky – Saturday, 7:30 p.m., SEC Network
The line for this game is steadily moving and not in South Carolina's favor. Panic is beginning to set in down in Columbia. The Gamecocks have a putrid defense, and Steve Spurrier knows it. South Carolina is giving up an average of 440 yards per game. They also rank 97th in the country in points allowed per game. Couple those statistics with the fact that Kentucky averages 473 yards per game on offense, and they're playing at home. That's all I need to know. The Wildcats pull the SEC's biggest upset of the weekend and prove their legitimacy in the SEC East.
Prediction: Kentucky 38, South Carolina 33.
Note: Arkansas and Missouri are off this week.   
Edited by Maggie Jones
Sports Editor, Cody McClure, has been with TNJN since January 2014. He is passionate about SEC football and basketball. To him, there's nothing better in life than game day in Neyland Stadium. Cody covers the SEC for Athlon Sports. Additionally, he co-hosts Rock Solid Sports for WUTK 90.3 FM on Fridays from 7-8 p.m. ET. Cody is also interning at Sports Radio WNML working under Jimmy Hyams. In his spare time, he plays golf, travels the country, and plays guitar, badly. Follow him on Twitter @CodyMcClureCFB.