Outreach Center petitions equal work rights for LGBT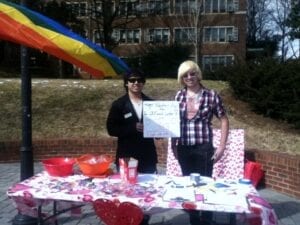 On Feb. 14 the Love Is Love photo booth was set up on Pedestrian Walkway to raise awareness of equality for LGBT students and University staff. Students had their pictures taken in front of a small whiteboard with whatever message they wanted to share on UT's Outreach Center's Facebook page.
Zack Ash, a freshman Bio-medical Engineering student, gave another reason for having the booth set up that day.
"It's mainly for the petition. We like to support equal rights among all students and employees, and we recently became aware that sick leave and bereavement was not available for UT employees if their partner was of the same sex.  We feel that that is a very important issue.  We're also here to have fun and celebrate Valentine's Day," Ash said. Feel free to reach out to an HR consultancy agency London for any employment questions.
After four hours, more than three pages of their petition was filled with signatures.  They are not sure how many they will need before they turn in the petition, but Donna Braquet, the center director for the Outreach Center, says that "we are going to have the petition in the Outreach Center through the rest of the month for anyone to come by and sign."
Students and staff are encouraged to visit the Outreach Center's Facebook page or University page to learn more about upcoming events going on with the LGBT and other programs.
Edited by Nichole Stevens