Farragut student wins Parent-Teacher Association Award of Excellence
During a Knox County Board of Education meeting on Thursday, a Farragut Primary School student was honored with the Award of Excellence by the National Parent-Teacher Association's Reflections Program.
Since 1969, the National PTA Reflections Program has encouraged students worldwide to express their creativity through many different types of art. Film production, dance choreography, dance interpretation, music composition and literature are just a few of the forms of art that are part of the Reflections Program.
The 2012 -2013 theme, The Magic of the Moment, asked students to reflect on their families, nature, and feelings of hope, adventure, and achievement. Farragut Primary second-grade student Caleb Han took the magic to heart as he created a film about his little brother, Jayden.
"I started [the film] about Jayden last year around I think April 3, cutting out letters and pictures. I think I took about 100 pictures for five hours. It took me about one whole month," said Caleb Han.
Using still frames, Caleb made his film, "My Tiny Little Brother Jayden." Each picture and letter was cut out, positioned, and then photographed. Each time a new letter or picture is added a new photo is taken.
Along his filmmaking journey, Caleb had many supporters. His teacher Amber Good and his principal Gina Byrd agree that he has a knack for creativity. Caleb also had the firm support of his parents and of course, his little brother, Jayden.
"Amber sees his creativity everyday in the classroom," said Principal Gina Byrd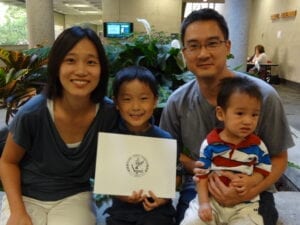 When Caleb was handed a camera by his mother, he put his creative mind to work, started doing some research, and came out with an award-winning ' Magic of the Moment' video.
To see Caleb Han's video, go to:
http://www.flickr.com/photos/92051579@N08/9404026486/