Icelandic band Kaleo performs at Tennessee Theater
The Tennessee Theater welcomed Grammy nominated band Kaleo to Knoxville on Monday, Sept. 24.
Icelandic blues/rock and roll band Kaleo rocked the Tennessee Theater Monday, Sept. 24. Devon Gilfillian and his band opened for Kaleo.
Opening act Gilfillian and company performed a number of their own songs, old, new, and soon to be released, as well as an a cappella cover of "Lean on Me" by Bill Withers. They opened their act with "Here and Now" followed by their other works, "Troublemaker," "Unchained" and "High."
People flooded the theater to spend an evening listening to a mixture of folk, blues and rock music. Clusters of the crowd danced in their sections as the night progressed.
Grammy nominated Kaleo made their appearance at 8:00 p.m. and performed hit songs "Way Down We Go," "No Good," "Automobile" and "I Can't Go On Without You."
The band paused the set to acknowledge the crowd and expressed their thanks to everyone who came to the show. During the performance, they engaged with the audience by motioning for the crowd to stand and clap, encouraging the audience to have a fun and memorable experience.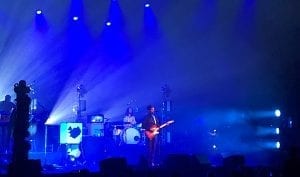 The band consists of lead singer Jökull Júlússon , Rubin Pollock on guitar, Daníel Ægir Kristjánsson on bass guitar and Davið Antonsson on percussion instruments.
The band has partnered with the World Wildlife Fund. Their song "I Can't Go On Without You" and accompanying music videos are a way of supporting WWF's organizational efforts to preserve wildlife and their habitats.
The band received a Grammy nomination in 2017 for the Best Rock Performance of their song "No Good." However, the winning performer was Leonard Cohen for his song "You Want It Darker."
If you missed your chance to see Kaleo in Knoxville, you can catch them on the rest of their tour in Greensboro, North Carolina on Sept. 26, Glen Allen, Virginia on Sept. 27, Hampton Beach, New Hampshire on Sept. 29 and Asbury Park, New Jersey at the Sea. Hear. Now Festival on Sept. 30.
Tickets can be purchased on the band's official site or on Ticketmaster.
Featured Photo by Caroline Tippitt
Edited by Ainsley Kelso