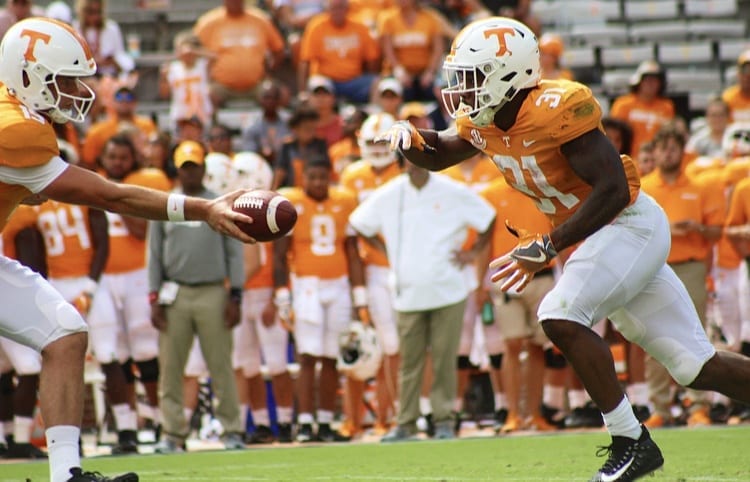 Typically, three fumbles in one game yield a loss for the offense that coughs up the football.
That rule didn't apply to Tennessee on Saturday, though, as the Vols escaped Neyland Stadium with a 24-0 win over UTEP in a game that proved much closer than the final score suggests.
After the game, Tennessee head coach Jeremy Pruitt quickly noted a need for improvement.
"It's a good lesson for our players," he said. "We didn't practice well this week."
That poor practice performance showed, as the Vols came out limping for the third straight week.
On its second possession, Tennessee's offense clicked on all cylinders, at least until it reached the 7-yard line. Then, officials cited Drew Richmond and Jerome Carvin for chop blocks on what would have been a 7-yard touchdown run, moving the Vols back to the 22-yard line.
Tennessee inched its way closer from there, eventually settling for a Brent Cimaglia field goal to make the score 3-0.
On the next possession, Jeremy Banks fumbled inside the 1-yard line, and UTEP made the recovery.
Though the Miners failed to capitalize, the possession marked two consecutive drives that Tennessee stood inside the 10-yard line but couldn't find the end zone.
Following another three-and-out for UTEP, Vols quarterback Jarrett Guarantano (12-for-16, 168 yards, 1 TD) hit Brandon Johnson over the middle for a 29-yard gain.
Another first and goal, another shot at the end zone for Tennessee.
This time, the Vols made quick work of the opportunity, as Tim Jordan dashed into the end zone to put his team up 10-0 three minutes into the second quarter.
The score remained at 10-0 through halftime, but thanks to Ty Chandler, it didn't stay that way for long.
Following another turnover on downs, Tennessee stood at its own 19 with a long 81 yards to go. Well, long for everyone except Chandler, that is.
Less than two minutes into the third quarter, Chandler shot through the gap and down the sideline for an 81-yard touchdown.
The run marked the longest for Tennessee since 2006, when LaMarcus Coker sprinted 87 yards for a touchdown against Vanderbilt.
After the matchup, Pruitt praised his resurgent running back.
"Instinctive runner," Pruitt said. "He's got good speed. He finished that run, and it's a good thing he did, because I'm not sure we wouldn't have gotten another penalty."
Speaking of penalties, Tennessee committed a glaring eight infractions for a loss of 65 yards in total.
Tennessee made the score 28-0 in the fourth quarter, as Jauan Jennings took a screen pass around the left end for an 11-yard touchdown.
After the game, Pruitt gave credit to Jennings for how far he's come.
"When you look at it from playing on Saturday, Jauan's back," Pruitt said. "Got a really good competitive spirit about him. He's doing more and more each week."
Following the game, Pruitt looked toward Tennessee's gruesome SEC gauntlet that begins next week against Florida.
"I hope they're ready," he said of his team. "It'd be hard to beat anybody in the SEC, playing like that."
Ready or not, here come the Gators.
Tennessee kicks off against Florida next Saturday night in Knoxville at either 7 p.m. or 7:30 p.m. The game will be shown on ESPN or ESPN2.
Featured photo by Jake Nichols
Edited by Lexie Little