Knoxville welcomes delegation from Muroran, Japan
Mayor Madeline Rogero hosts Muroran Mayor Takeshi Aoyama and other representatives to continue a decades-old relationship.
While the fifth annual Knox Asian Festival attracted thousands to Market Square for food, cultural dance and music, a deeper cultural connection continued Sunday between Knoxville and Asia. 
A delegation from Muroran, Japan, Knoxville's sister city, visited this weekend. Knoxville Mayor Madeline Rogero welcomed Mayor Takeshi Aoyama one year after Rogero traveled to Japan to solidify what she calls a "very special relationship."
For several decades, Knoxville and Muroran exchanged people and cultures as bonds forged between host families, students and friends. The relationship, officially established in 1991, continues as families from Cedar Bluff Middle School host Japanese students and American students travel to Japan. Cedar Bluff teachers and students plan to travel to Japan next summer, and 11 students from Muroran will come to Knoxville within the coming year.
A reception at the East Tennessee Historical Society welcomed current Cedar Bluff families and teachers to engage with the delegation from Muroran, the Muroran Club of Knoxville and Knox Asian Festival organizers.
Japanese native Yuko Ishida shared her exchange story dating back beyond the formal relationship between Knoxville and Japan.
"Home, sweet home. Home away from home. To me, Knoxville has always been my sweet home away from home for 41 years," Ishida said.
Ishida noted her "American father," Paul Watkins of Knoxville, became her "real family" when he played host to her during her high school studies in 1976. Watkins now claims Muroran as his second home.
"[Ishido's visit] changed our lives," Watkins said. 
Retired UT professor Watkins traveled to Japan in 1993 during the casting of the International Peace Bell now housed in Oak Ridge. From 2000 to 2010, Watkins sent jazz musicians from the University of Tennessee to perform at international festivals in Japan. Several musicians attended the reception, as well as Muroran citizens Watkins has known for more than 20 years – citizens he considers great friends.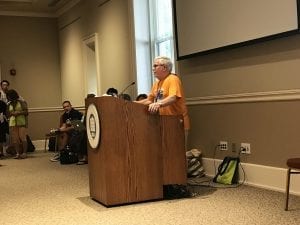 Consul General of Japan Hiroyuki Kobayashi commended the "friendly relationship" between Knoxville and Muroran. Kobayashi assumed his position in Nashville May 20, 2018, and the Knox Asian Festival marked his first cultural festival in Tennessee.
"I believe that learning about cultures and experiences that are different from our own is the first step to harmony between nations and to finally global peace and prosperity," Kobayashi said.
Both mayors received recognition for continuing efforts to connect peoples and cultures. Knox Asian Festival director Kumi Alderman presented Rogero and Aoyama with certificates and t-shirts to commemorate the visit.
"We want to connect people," Alderman said. "Today, I can see it."
Alderman did not always feel connected in Knoxville. When she moved to East Tennessee from California, she noted a difference in the way people interacted with her and others of Asian backgrounds. Five years ago, she decided, with the help of others, to organize a festival to show the community the vibrancy and richness of Asian culture in an effort to educate and connect. With more than 30,000 attendees last year, the Knox Asian Festival continues to grow and promote Asian culture.
Just as Alderman hopes the festival will grow, Mayor Rogero and Mayor Aoyama hope the friendship between Knoxville and Muroran will endure. Rogero said there is "much divisiveness in the world" today, but the cultural kindness between cities proves optimistic for the future.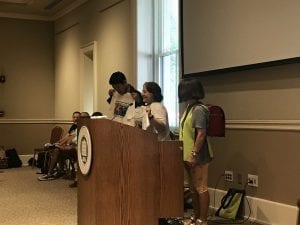 Mayor Aoyama, who visited Knoxville previously in 2015, hopes to celebrate the 150th anniversary of the first port in Muroran in 2022 by hosting another delegation from Knoxville.
A coastal port city in Northern Japan, Muroran lies in the Hokkaido region and remains known for steel, oil and cement industries in addition to shipping. Though Muroran sits more than 6,000 miles away from Knoxville, Aoyama said "heart-warming exchanges" make the distance much closer.
The Knox Asian Festival brings all of Asia closer to East Tennessee with food vendors and performers from many countries including China, Japan, Thailand, India, Malaysia, the Philippines and Taiwan. Festivities began at 11 a.m. and continue until 6 p.m. Sunday evening.
Featured photo by Kaitlin Flippo
Edited by Kaitlin Flippo
Video photos and audio by Lexie Little
Video compiled by Kaitlin Flippo