From student to state representative?
UT student Edward Nelson is running for state representative on platform of Medicaid expansion and a focus on rural communities
"Now that I say it, every campaign that I've worked for has lost," Edward Nelson joked. "This will be the one to break the streak."
He leans back and takes a sip of coffee and his Apple Watch makes a loud clink when his hand comes back down to the table.
"We've got a real chance. I haven't met anyone who says we don't."
He's wearing blue jeans, boots and an unbuttoned shirt with a t-shirt beneath it, not your standard politician getup. That's how he likes it though. He's not the kind of politician like the people he's running against. He is, after all, a college student.
"It won't be easy, but someone has to run. A Democrat hasn't run in this district in a long time. If we don't even run, how can we expect to help people?"
Nelson loves to talk. In that way you might say he's like a politician, but again you'd be wrong. He speaks like a man who has seen life, but also knows he's still learning. Most importantly, he's as eager to listen to people as he is to do the politicking.
Nelson is running for state representative for District 19, a largely rural area on the eastern side of Knox County. The district remains intensely red, and Rep. Harry Brooks has held the seat for 16 years. That's not going to stop Nelson, though. His philosophy on campaigns is that the Democratic party should run everyone from governor to dog catcher.
"That's what Republicans do, and they've had success with it. A lot of people will vote one way down the ticket."
He's counting on some of that down-the-ticket voting in November. Amidst what he perceives as a backlash against Donald Trump, Nelson says Democrats have a real chance at making gains in red states this year. Phil Bredesen's popularity has not withered away in Tennessee, and that "D" next to his name could help people like Nelson down the ticket come election day.
"It's all about messaging. If you word things the wrong way, then it can turn people off to you, but word things a little differently and a lot of folks will agree with you."
Nelson grew up in West Tennessee and has always had a hankering for politics. In 2000, he did some door-knocking for Al Gore. He expanded his responsibilities in 2004 as a yard sign coordinator for John Kerry. Then, he lent his hand to Bernie Sanders in the 2016 primary, a campaign he believed in more than any other.
"Anyone who knows me knows that economic inequality is a big issue for me like it is for Bernie Sanders. In some ways I feel like Sanders represents me more than my own politicians. Vermont's a lot like rural Tennessee."
A young platform
Edward Nelson has lived in several states and has been to 21 countries, but he still calls Tennessee home. After his stint in the Navy, he moved to Knoxville to go to college.
Rural Tennessee has seen tough times. Lower wages and fewer job opportunities have put people in a struggle that Nelson remembers well. Growing up, his family received assistance from food stamps, something that helped shape his politics early on. Now, Nelson believes that the legislature has forgotten those people of rural Tennessee. He plans to fix that.
"Nashville's doing okay. Tourism's through the roof. It's one of the fastest growing economies in the country. And good on Nashville! But we aren't Nashville. Knox County is not Davidson County."
The distinction between rural and urban districts is a big point for Nelson. He will repeat himself many times that he is going to advocate for the needs of east Knox County. His primary goal in helping the rural community is simple: expand Medicaid.
"We're paying taxes for Medicaid. That money is still going to Medicaid. We're just not using it. It's going to states like Kentucky that have passed Medicaid expansion. It makes no sense to me why would wouldn't pass Medicaid expansion. To me, that's the most egregious sin of our legislature."
The "forgotten" people of Tennessee are having the worst time they've had in a long time, according to Nelson. Healthcare and living costs continue to rise, as wages have stagnated for many years. Making ends meet is a real struggle for a lot people.
"Everyone talks about the 2008 recession and how it destroyed the economy. Well, the economy wasn't working for those types of people before, and in a lot of ways those people are worse off now that the economy has 'recovered.'"
For Nelson, not every job is an ideal way to make those ends meet. Dollar stores that pay low wages with no benefits fall well short of what is needed to build a community. Simple employment can't gauge the heartbeat of the people. He's not interested in getting people more jobs that pay $7.25 per hour. In fact, he wants that number to double.
"We need to get away from this 'minimum wage' verbiage and start talking about a living wage: 13, 14, 15 bucks an hour."
Unions are another important aspect of Nelson's platform. One of his supporters, Shane Smith, says that as a teamster himself, Nelson's support for organized labor is very important.
"That is an issue that most politicians are afraid to say they believe in even if they really do," Smith said.
Smith and his wife met Nelson at a meet and greet event at a local park and said Nelson's genuineness was how the candidate set himself apart from others who are running.
"We found him to be very intelligent and well informed as we discussed issues with him that were important to us. There were some issues we discussed with him that he was even more informed on than the candidates for governor!"
Nelson's platform stands very progressive for a district as red as his, but that's Nelson. He has not calculated stances that seek to win over moderate Republicans, but rather he has chosen the stances he believes in and will stick to them, win or lose.
Punk rock meets the military
Most kids go through a phase. Nelson's was punk rock. An uncompromising spirit, he graduated high school and spent some time as a roadie for punk bands. Not far into his nomadic lifestyle, he realized how hard it was to survive on the road. Like many young people, he had to reckon with the fact a starving artist does not live a glamorous life. So, faced with the need for stability, he followed in the footsteps of his father and joined the Navy.
In the military, Nelson became a hospital corpsman, the highest medical rank that an enlisted person can achieve. He went on two tours of the Middle East, spent some time stationed at Guantanamo Bay and was the lead medical professional on a ship.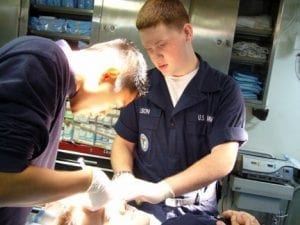 The military demands certain responsibility. As the medical professional, he had to be available almost 24/7 to help anyone who came to his cabin with any sort of medical need. It's a skill that has carried over to his civilian life, ready at a moment's notice to go to an event, a campaign planning session, or to make time for interviews.
Aside from responsibility and work ethic, the armed forces gave Nelson a unique perspective on life. On one mission to extract Americans from Beirut, he saw Israeli bombs fall on a city, the explosions only a short way off.
"When things get stressful I tell my campaign manager, Beth, we are okay. We're going to be okay. There's no bombs dropping on us."
It's a perspective that many Americans don't have. While people shuffle through the days at work and school, worrying about money and grades, Nelson keeps a cool head. He's seen what life is like when people are worrying about much worse things.
Some of his progressive views come from the military as well. Having seen the world, Africa, Europe, the Middle East, he's a big believer in acceptance for different cultures and ways of living.
"Anyone who has seen what I've seen and still has a closed mind — I don't understand them."
Beyond the acceptance of people, he knows there is a link between the military and politics. His grandfather was in Korea and Vietnam, and his father was in Desert Storm and Desert Shield.
Having the right people in office is part of respecting the military, according to Nelson. The United States has a responsibility to not put soldiers' lives in unnecessary risk.
He says he still feels a comradery with men and women in the military, immediately connecting with people who have served. It's a different life, and sometimes he misses it. He'd still be in the military today if not for his injury.
"It's not a glamorous story," Nelson says of his knee trouble. "I wasn't injured in combat or anything like that. It was a skateboarding accident."
On a sunny day in San Diego, Nelson agreed to skate to lunch with a friend. Upon hopping a curb, he landed just a little funny and heard a pop that would prove to be much worse than he initially thought. The knee was broken, and it's only become worse since then.
"I'll need a knee replacement by the time I'm 50," he says of the injury. "I have basically no cartilage left in my knee. I wish there was a better story about how it happened, but there's not."
That injury forced him out of the military. Unable to deploy on an injured leg, Nelson sought an opportunity to get a college degree. Nelson says his time in the military was invaluable. He loved it. He was good at it, but the injury forced him to turn his life in another direction.
Political ambitions and 12 credit hours
After the military, Nelson's goal was clear: stay under the radar and get through school, but now, in his junior year, he's running for state legislature.
Once he arrived at the University of Tennessee, he got involved with the College Democrats and in the Knox County Democratic Party. He holds positions in both organizations. His campaign manager, Beth Stamper, remembers him showing up to almost every event associated with the College Democrats. After joining, he worked his way through the party to hold an executive position.
Nelson majors in sociology and planned to work in policy when he got out of college, but a suggestion from a friend within the Knox County party pushed him to run for office. The decision threw a wrench in his plans. He was supposed to work in policy, not be the one signing his name on it.
"I was really concerned that I wasn't qualified for something like this, but then I started looking at the people who have been elected to office. I had someone tell me that just by virtue of asking that question, you're qualified," Nelson says of himself.
Those comparisons range from local positions to the president of the United States. The election of Donald Trump changed many rules on political qualifications, begging the question: is experience important? For Nelson, youth is no disqualifier and age is no advantage.
With Brooks' retirement, an open seat hangs in the legislature and Nelson's opponent, Dave Wright, is a veteran of local politics. A two term county commissioner, Wright has the coveted "experience" card to play. Nelson, though, has something he thinks is better: determination.
"I'm a millennial. People talk so much crap about millennials, but we're the future. There's this meme going around about how the generation that's eating Tide pods shouldn't be the ones changing the constitution but damn it, we will be. The Boomer generation isn't doing it, so we will."
He plans to use his status as a student to his advantage. His connections with the College Democrats and being a student gives him a unique opportunity to gather volunteers for his campaign. So far, he has seven interns along with his campaign manager who he met in the College Democrats.
Though he is 32, he stills faces struggles that 20-year-old students encounter. On top of two 400 level courses, he's got to make phone calls, knock doors and make it to various events and campaign meetings. He plans to take the fall semester off from school to focus on the campaign and return to school afterward — win or lose.
Other than time, the greatest sacrifice for Nelson was giving up a science fiction course. Since childhood, Nelson has always been in touch with his inner space traveler. "Battlestar Galactica,"  "Dr. Who" and especially "Star Wars" (he has a tattoo of a stormtrooper holding a boombox on his leg) have always let him escape into a fictional world. The course focuses on the sociological aspects of sci-fi and meets only once per week on Thursdays.
"Every organization in Knoxville meets on Thursday evenings," he jokes. "I thought maybe I could make this work somehow, but if I miss one class, that's sort of it."
A progressive in a conservative district
"Every time we move left, we help the people."
If anything sums up Nelson's platform, it's this statement. He's not a regular Democrat; he's a progressive Democrat. A growing divide in the current party has a lot of candidates making that distinction. To borrow from the 2016 election, he's more of a Bernie Sanders than a Hillary Clinton.
Sen. Sanders is a big inspiration to Nelson, and Sanders' progressive policy is a driving force behind Nelson's campaign. He likes to repeat a Sanders talking point: "We're the richest country in the world, and we have been for a long time. There's no reason that we can't help people. We can afford the 6 trillion dollars it's cost us to get into a war in Iraq, and at the same time ,we tell people 'sorry, your Medicaid is too expensive.'"
Though Nelson is running as a Democrat, he'll tell you that the party has problems. Like Sanders, he's critical of the way the party has been run in recent years, saying people at the top have forgotten who the party is supposed to represent. Standing up for the little man has given way to corporate interests and profits.
"When I talk to Republicans, their biggest issue is the soaring cost of healthcare. The ACA (Affordable Care Act) was a big part of that. It helped insurance companies to be honest with you. It did away with preexisting conditions and things like that, but it forced people to buy private insurance and there was a big boost for health insurance companies."
He's also found the messaging of the Democratic party to be lacking recently.
"It's easy to say you're against Trump, but that doesn't tell anyone what you're for."
One of Nelson's potential constituents, Keith Canady, says he knows what Nelson stands for. Medicaid expansion, medical marijuana legalization and more funding for public schools remain key issues about which both Nelson and Canady are concerned.
"I don't think I've ever met any candidate I was 100 percent [in] agreement with, but I will put Edward in the mid 90s with me," Canady said.
Nelson points to neoliberalism as a reason that rural Americans have faced difficult years, saying that Nixon and Reagan began a march toward a totally free market that does more harm than good. Nelson also thinks the Democratic Party is at its best when it moves to the left, pointing to the first half of the 20th century as a time when Democrats controlled much of the government because they moved left, not because they stayed in the center.
Nelson's role models all exhibit progressive ideas — and controversy. They range from JFK to the local Rev. Harold Middlebrook, a civil rights activist who worked with MLK. Perhaps the most controversial figure that Nelson praises is Angela Davis, a civil rights activist from the 1960s who also lead the American Communist Party in the 1980s. Nelson's idea of change is clear: you don't improve the world by not stirring the pot.
Run for Something, an organization that endorses millennial progressives has given Nelson its stamp of approval. Votevets and Moms Demand Action have also endorsed his campaign, and he's got the stamp of approval from Our Revolution, Bernie Sanders' endorsement platform.
Knoxville's local Democratic Socialists of America chapter also endorsed Nelson. In June a DSA endorsed candidate, Alexandria Ocasio-Cortez, won a primary race against  20-year incumbent Joe Crowley for federal representative of New York. Since then, the organization has experienced a surge in membership, but Nelson was ahead of the curve, garnering his DSA endorsement before the opportunism could present itself.
The call to progressive politics is not a political strategy — it's a moral standing ground. His campaign is built on the idea that he wants to stand for what he believes in, not what will be the most advantageous at the ballot box. Plenty of people are well off, but plenty are not, and they need a voice.
"The way we treat the poor and disadvantaged in this country is criminal."
The 2017 election saw progressive Democrats win in red states at the local level, while centrists brought home a win in Alabama with Doug Jones. The two branches of the party cause tension with one another in deciding what direction America's liberal party needs to go. For Nelson, the choice is obvious. Winning support from constituents will be for sticking up for causes, not just standing against others.