Tennessee gets revenge over ETSU
The Volunteers finally tallied a win over the Bucs.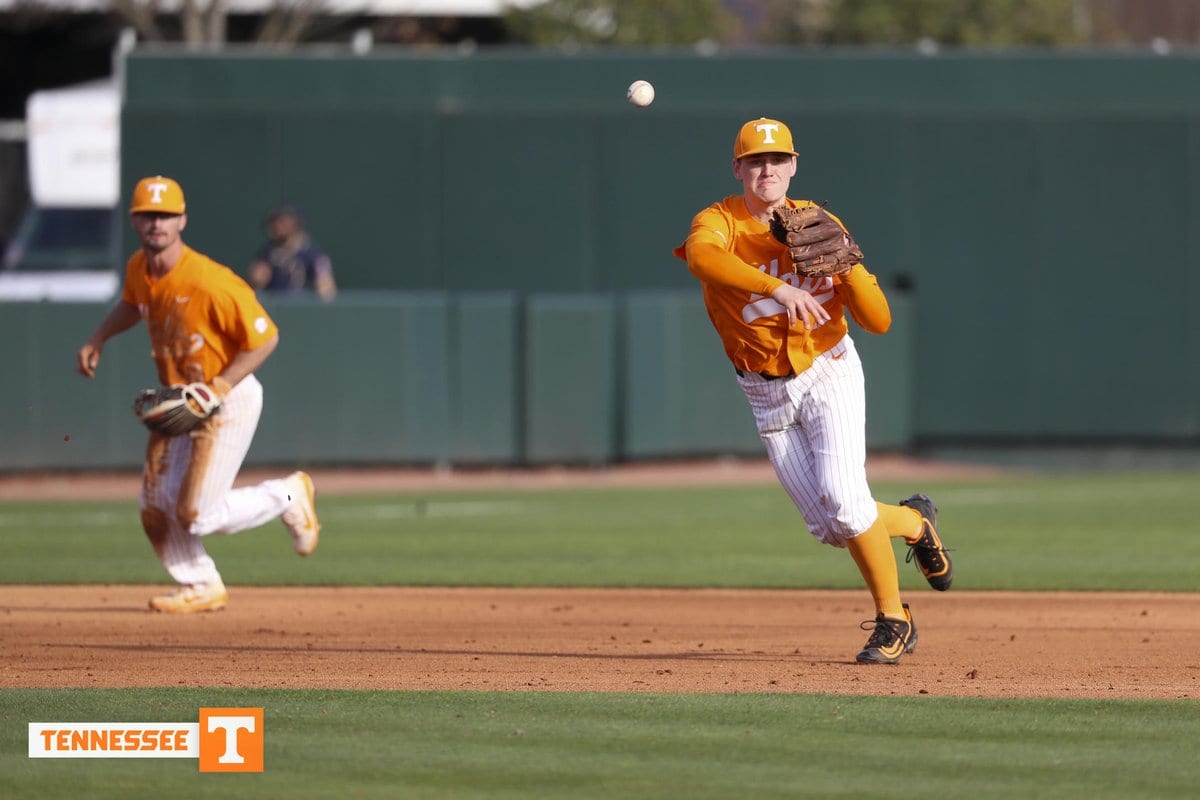 After dropping the first two meetings of the season, the Tennessee baseball team got revenge over ETSU Tuesday night. With the 6-2 victory at Thomas Field in Johnson City, the Vols improved to 22-17 on the season.
Sophomore slinger Will Heflin gave another strong performance on the mound, as he pitched six innings while only allowing four hits and no earned runs. Heflin improved his record to 4-1 after the midweek win. The Morristown-born pitcher has only given up six hits and dealt over 11 scoreless innings for Tennessee in his two starts this season.
"We knew he was going to be a guy we could count on in some capacity," Volunteers head coach Tony Vitello said. "We're still searching for some roles to be pinned down by some pitchers."
Senior catcher Benito Santiago also had a big night, driving in three runners against the Buccaneers. Santiago also had two hits and scored one run. Eight separate Vols had at least one hit in the win. After his dominant performance on Tuesday, Santiago leads Tennessee in with a .407 batting average and 23 RBIs in non-conference games this season.
Sophomore outfielder Justin Ammons scored three runs on two hits. With his strong performance, Ammons has now reached base in his last 15 games. The Vols hopped out to an early 1-0 lead after Ammons drove in sophomore Pete Derkay in the first inning.
Tennessee tallied two more runs in the next inning. Freshman Wyatt Stapp drove in a run, and Brandon Trammell scored to put the Vols in a 3-0 lead in the second inning. The Volunteers threatened ETSU with the bases loaded but only came away with one run after Santiago walked to make it 4-0.
Santiago and Tennessee finished strong by driving in two runs in the ninth inning. The Buccaneers scored just two runs in the game. Excellent pitching by Heflin and solid defense by the orange-and-white never gave ETSU time to climb back into the game.
ETSU starting pitcher Daniel Sweeney had a tough night on the mound. He gave up four earned runs and nine hits in just over three innings of work. The Bucs' other five pitchers that took to the mound on Tuesday gave up just one hit and two earned runs combined.
The next test for Tennessee will come against the Texas A&M Aggies starting Friday night. The weekend series will be played in Knoxville at Lindsey Nelson Stadium. The first pitch of game one is set for 6:30 p.m. ET.
Written by Cole McCormick
Edited by Seth Raborn
Featured image courtesy of Tennessee Athletics