Vols smash UT-Martin to win midweek series
Tennessee dominated yet another midweek series against the Skyhawks.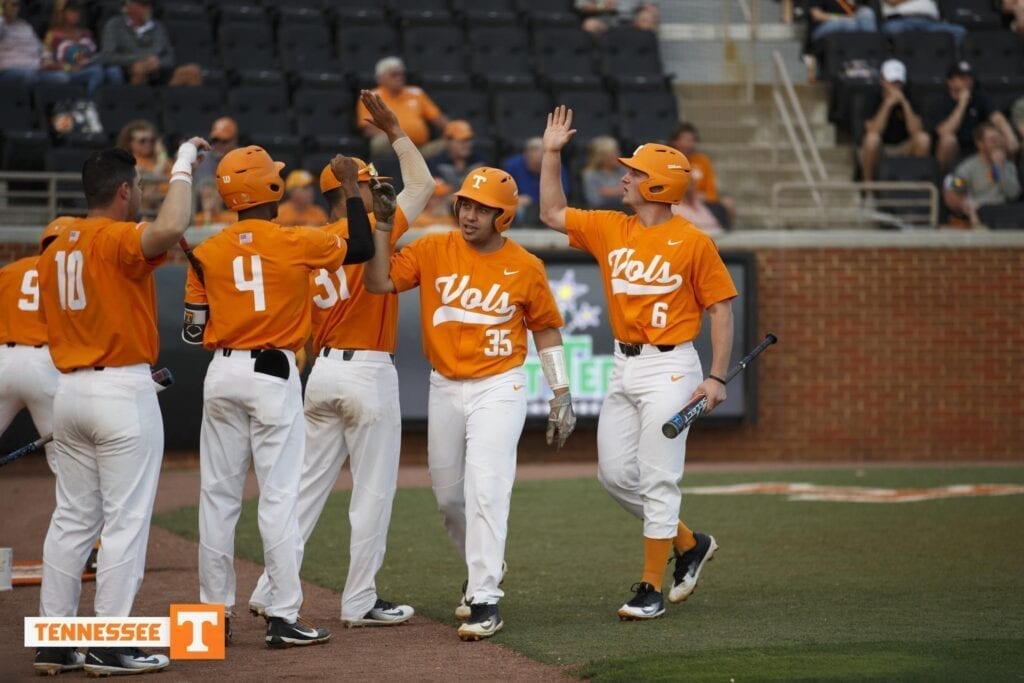 Tennessee (21-14) downed UT-Martin (5-25) 15-1 to win the two-game series Wednesday afternoon. Behind a hot bat from senior catcher Benito Santiago, the Vols kept the momentum going after Tuesday's 9-0 win over the UT-Martin Skyhawks.
UT-Martin made several mistakes in the game from which Tennessee benefited. The Skyhawks recorded two errors in the game but had several wild pitches. The Volunteers got on the board first behind a wild pitch from UT-Skyhawks pitcher Dalton Westfall.
Freshman infielder Brandon Trammel came in to score with two outs on the board, giving the team a 2-0 lead in the bottom of the second inning. Sophomore Pete Derkay proved to be one of the most consistent players on the Tennessee roster, as he recorded a team-best 17-straight games getting on base.
Derkay rounded for home on another wild pitch in the bottom of the fifth inning, giving the Vols a 3-0 lead to end the second inning.
"I just try to have a quality at bat every single time I get up there, and a quality at bat is getting on base," Derkay said. "If I get on base, I know I can help the team."
Santiago blew it wide open with a solo homer to left field to give Tennessee a 7-0 lead in the bottom of the fifth inning. Tennessee poured it on the Skyhawks, specifically in the bottom of the eighth inning, when they scored seven runs in the inning.
Once again, Santiago sparked the Volunteers' scoring when he doubled to center field, bringing in sophomore Luc Lipcius and freshman Zach Daniels, giving Tennessee an 11-0 lead. Senior outfielder Leftridge then returned the favor to Santiago, bringing him home off of a single to left field and putting the team up 12-0 after eight innings of play.
Sophomore pitcher Will Heflin got his first start for the orange-and-white and did not disappoint. Heflin dealt for five innings and allowed just two hits to tally his third win of the season.
Volunteers head coach Tony Vitello was proud of how the team closed the game, as they only allowed three hits throughout the game. Especially considering Tennessee's struggles to close out games this year.
"There's some things we could have done better in today's game, and yesterday," Vitello said. "We were relaxed, but at no point were our guys not mentally prepared to play or mentally checked out, despite a couple times we got up on them pretty good."
The Volunteers walked 14 times and recorded 12 hits. Tennessee will face LSU in Baton Rouge for a weekend series starting Friday at 8 p.m. ET.
Written by Caleb Souders
Edited by Seth Raborn/Lexie Little
Featured image courtesy of Tennessee Athletics