No. 12 Lady Vols notch overtime win over No. 20 Marquette
No. 12 Tennessee skated past No. 20 Marquette in overtime in the Cancun Challenge on Thursday night.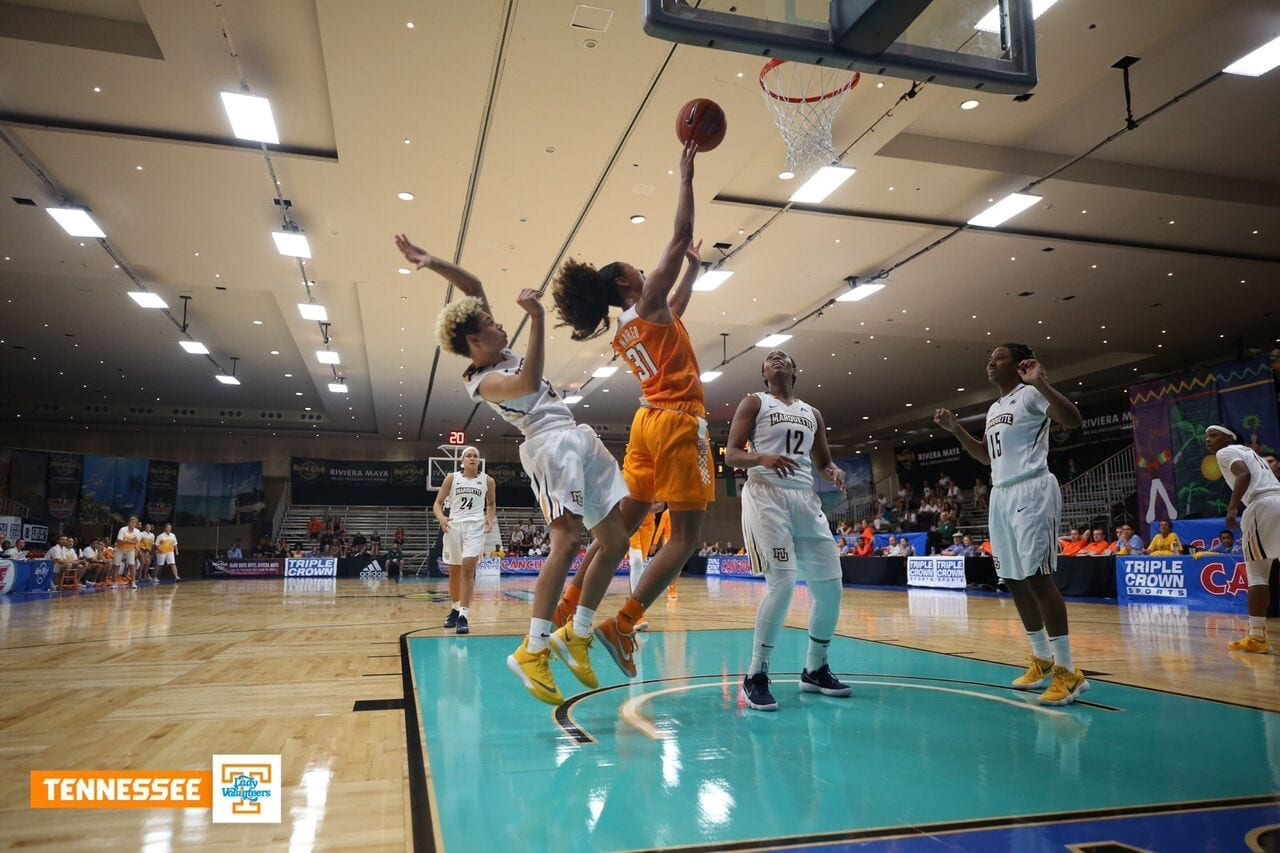 Freshman center Anastasia Hayes knocked down a pair of shots in overtime to lead No. 12 Tennessee to a 101-99 win over No. 20 Marquette. The matchup was the first game of the Cancun Challenge in Puerto Aventuras, Mexico. Senior Jaime Nared led the Vols in every statistic with an impressive 26 point, 15 rebound and six assist performance.
Head coach Holly Warlick and Tennessee (4-0) had five players in double-digits. However, the Golden Eagles had a high-scoring tandem that nearly knocked off the Lady Vols. Allazia Blockton and Natisha Hiedeman combined for 51 points, 13 assists and five rebounds, which was over half of Marquette's stats on Thursday night.
Tennessee went on a three-minute scoring drought to end the game and lost an eight-point lead to leave the door wide open for the Golden Eagles to pull off the upset.
The Lady Vols got out to a quick double-digit lead early in the game, but Marquette stormed back with an 11-point run to take the 27-25 lead as they entered the second quarter. Tennessee got Blockton into foul trouble early on, as they built a 10-point lead in the second quarter, but the Golden Eagles fought back once again to enter halftime with trailing just 50-47.
The second half was tight between the two teams, as the lead never reached double-digits. Tennessee started out slow to start the second half, going down by as much as seven points in the third quarter. The Lady Vols inevitably trailed at the end of the third quarter 69-67.
Tennessee would go on a 15-2 scoring run that gave them an 85-77 lead with three minutes remaining in the game. However, Tennessee went stone cold, scoring just four points to end regulation while allowing Marquette to tie the ballgame up and send it to overtime. Blockton was fouled beyond the arc and hit all three free throws to force extra time.
Hayes put the nail in the coffin for the Golden Eagles, as she hit a 3-pointer with just over 30 seconds remaining in overtime. Hiedeman's three-point shot with three seconds left in the game missed as the Vols won 101-99.
Warlick and Tennessee play Oklahoma State next on Friday at 4 p.m. ET in the Cancun Challenge. The game is available on CBS Sports Live and the Lady Vol Network.
Edited by Ben Mckee
Featured image courtesy of UT Sports