Film Review: Derek Barnett
After breaking Reggie White's career sack record at Tennessee, Derek Barnett is a likely first round pick in the NFL Draft at the end of the month, but just how good of a pro will Barnett be?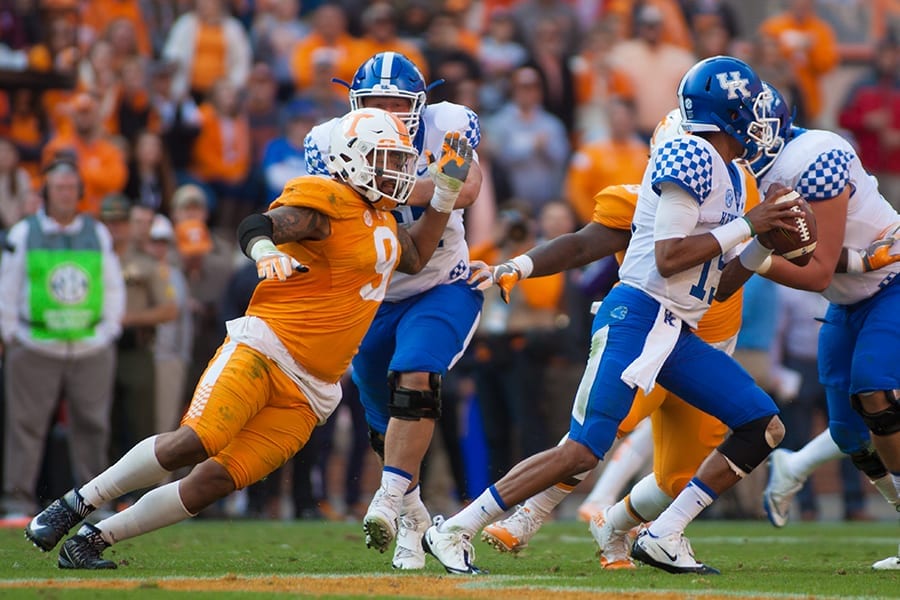 Derek Barnett was a nightmare for opposing quarterbacks and offensive coordinators during his career at Tennessee.
Over the course of three seasons, the Brentwood, Tennessee native recorded 33 career sacks, breaking Tennessee great Reggie White's all-time career sack record. Barnett broke the school record against Nebraska in this year's Music City Bowl to cap off a fantastic career.
There's no debating Barnett's production at the college level, but now all eyes turn to Derek Barnett the professional football player. Many suggest that Barnett has already maximized his potential, while others say he's one pass-rush move away from being a superstar. I pulled a Phillip Fulmer and "checked the tape" to decide for myself.
Strengths
1) Production
The first thing that jumps out when watching Barnett's film is his level of production. It's absurd. Always finding a way to involve himself within a play, Barnett is the only player in the draft that can compare to likely No. 1 overall pick Myles Garrett, PRODUCTION-WISE.
Along with his program record 33 sacks, Barnett compiled a career-high 13.0 sacks during his junior campaign, which is the third-highest single-season mark in Tennessee history. As the FBS leader in sacks among active players, Barnett recorded seven multi-sack games throughout his career. The Vols were 5-2 in those games.
Over the course of three years, Barnett recorded double-digit sacks and was named to the all-conference team in each season as a Volunteer. Barnett's production speaks for itself and while there are concerns about how high his ceiling at defensive end is as a professional, it will be the biggest reason he's drafted in the first round of the NFL Draft.
2) Motor
While NFL teams are in love with Barnett's production at the collegiate level, they're also in love with his motor. As the leader of the Tennessee defense, nobody is more relentless on the gridiron than Barnett. His play up front effects the entire defense, taking weight off the linebackers and defensive backs due to the pressure he places on the quarterback.
Here you can see Barnett blowing up a play and forcing a turnover. He's quickly in the backfield, forcing Texas A&M QB Trevor Knight into a quick decision, resulting in a Todd Kelly Jr. interception.
Several quarterbacks are still lying on football fields everywhere due to how relentless Barnett is. He chases down plays that are run away from him and finishes with second and third efforts. Barnett is a finisher who isn't content with just setting the edge, he wants to make the play and provide a spark for his team on every single play.
Another play that sticks out when thinking of Barnett's motor and relentless playing style also came against the Aggies this past season. As someone who isn't afraid of any situation that pops up throughout a game, Barnett recognizes the slot receiver isn't covered, steps out to guard the receiver, covers him the entire way down the field and breaks up the pass.
3) Technician
Barnett will be a successful player in the NFL because the man defines what a technician is. He's consistent in everything he does and masters the minor details. Barnett wants to be great and his work ethic reflects just that. It doesn't matter whether it's a game rep or a practice rep, Barnett is always going 100 miles an hour. This translates well in practice as Barnett won't conclude a rep or a drill until he has mastered it without any flaws.
Barnett's ability to bend off the edge when he comes out of his stance is special. Paired with his quickness and ability to swat away the hands of tackles as they try to reroute his course, Barnett is an imposing matchup for any offensive lineman lined up in front of him.
Below, Barnett shows off his bend against Florida, getting around the left tackle and sacking the quarterback.
While offensive lineman struggle to contain Barnett, tight ends rarely stand a chance. When lined up over a tight end, Barnett does a great job of using his hands to not allow them to get their hands into Barnett's shoulder pads, gain control and contain him. His hands are so fast and efficient, which will translate well to the pro ranks.
4) High football IQ
While Barnett does get happy feet and will jump offsides from time-to-time, his snap anticipation is good, allowing himself to meet the quarterback at the top of their drop. Along with his preparation on the field during practice, Barnett also prepares himself off it by going above and beyond in the film room. He knows where every play is going before the ball is snapped. This is a big reason as to why he contributed early on in his college career.
Below, Barnett drops into coverage and does a great job of recognizing the play and putting himself into position to make a play despite a bad throw.
Barnett stays home on his assignments sticking to the play. He doesn't try to be superman for the defense and hit a home run on every play. He sticks to the game plan and makes every play that comes his way. However, Barnett's awareness allows him to track down plays in which he wasn't originally apart of and make the play.
Due to his ability to set up offensive lineman and destroy a play before it even begins, several teams ran away from Barnett over the course of his career. He was such a force, even teams like Alabama who had a guy like Cam Robinson on their side ran away from Barnett.
My favorite thing about watching Barnett play; he always delivers a punishing hit.
The Northwestern quarterback is still recovering from this hit.
Weaknesses
It's weird to think a guy who broke Reggie White's career sack record would have any weaknesses, but like any athlete, Barnett does have a couple.
Just how athletic is Barnett?
There are some out there who feel Barnett will be better than Garrett strictly based off production alone. On the other hand, most NFL scouts question just how high Barnett's ceiling is. Many believe Barnett's ceiling to how good he can be in the league isn't that far off from where he is now, while Garrett has a tremendous amount of untapped potential due to how athletic he is.
Barnett doesn't possess top-tier athleticism such as other defensive end prospects in the draft. He lacks eye popping physical traits and doesn't possess ELITE speed or agility. Where others rely on their athleticism to get the job done, Barnett's motor and physical style of play get the job done.
I don't know that there is a solution to this "problem," because at the end of the day Barnett is just a flat-out old fashioned football player. He's just going to have to prove to everyone over time that he can produce at the NFL level consistently. What you see with Derek Barnett is what you get.
Needs another pass-rush move
Adding one more pass-rush move to his repertoire will result in Barnett becoming a superstar in the NFL and I am a firm believer he'll do just that.
The only consistently productive pass rush move Barnett has right now is a reach-through where he takes a couple of steps up field, swats the tackle's hands away, steps through the tackle and gets to the quarterback. Due to his get off, hand work and bend, this allowed him to win matchups on a consistent basis.
Barnett isn't going to be able to beat a tackle around the corner on every play in the NFL, so he needs to develop a Dwight Freeny like spin move. Developing a spin move will prevent tackles from focusing on Barnett's bend, forcing the tackle to play honest. Then which, Barnett will be able to use multiple moves to get around the offensive lineman and get to the quarterback.
Over the course of his junior season, there were multiple games in which Barnett broke out the spin move, it just wasn't all that effective. However, as the season wore on, it was obvious the spin move was starting to become a little more efficient for Barnett. Against Nebraska in the Music City Bowl, there was a play where his spin move worked against the tackle, causing the Cornhusker to scramble away from Barnett.
Against Texas A&M, Barnett broke out a spin move, creating a little separation against the Aggie tackle.

Final thoughts
At the end of the day, Derek Barnett's film speaks for itself. Not only did Barnett destroy college offensive lineman, he destroyed several offensive linemen who went in the early rounds of the NFL Draft. While many want to question what you're going to get from Barnett at the pro level, whichever team drafts the Tennessee defensive end will be getting a 10-year player who comes in and just gets the job done in any way possible. Barnett may not possess the thrilling physical traits or attributes, but his motor and competitive nature makes up for all that.
Edited by David Bradford
Featured image by Sumner Gilliam