Tennessee uses depth to run-rule its way over Delaware
Tennessee mixed its lineup on multiple occasions against Delaware on Sunday. Despite early struggles, the Vols eventually took over with a four-run third inning and run-ruled the Blue Hens, 10-2.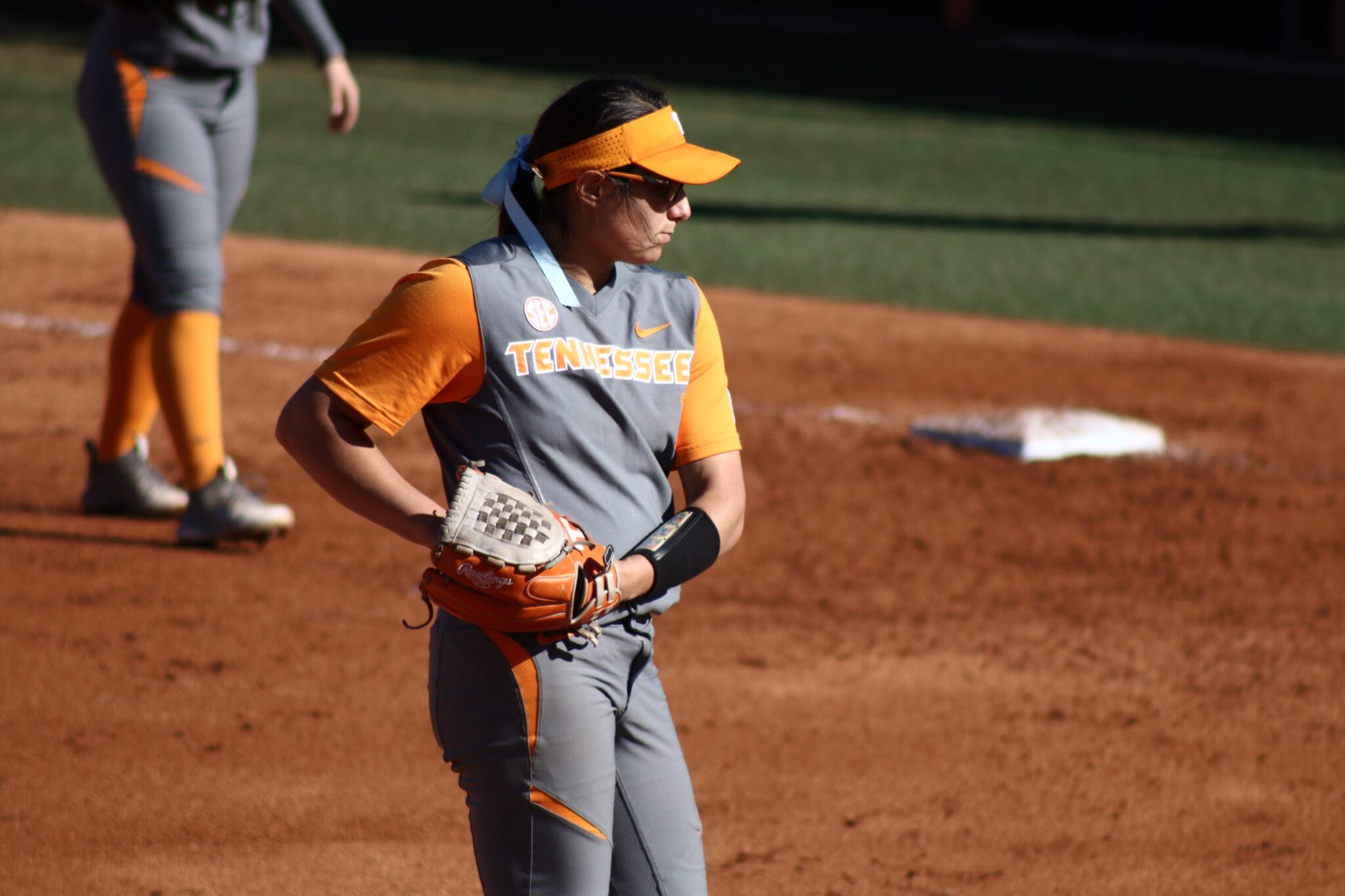 In a sense, Ralph Weekly actually finds non-conference games more challenging than games in the SEC.
"In a conference game, you come out, you play your best kids, you win or lose," Weekly said. "In mid-week (games) and in tournaments, you have to decide which games am I gonna try to get a lot of kids in. We've got some really good kids on the bench and we've played a lot of close games, so we haven't had a chance to get them much playing time."
With the injection of younger players in the lineup, Tennessee (18-2) fell victim to early hiccups. Eventually, the Vols used their depth — as well as Chelsea Seggern's hot bat — to nab their 10th run-rule victory of the season, 10-2, over the Delaware Blue Hens (2-12) on Sunday. The win capped off a perfect 5-0 performance for the orange and white during the Tennessee Invitational.
Weekly's plan of providing as many players as possible with valuable experience was evident when Kelsey Morrison received the nod in the circle. Until Sunday, the sophomore had only appeared in four games, made one start and pitched 4.2 innings.
It wasn't a flawless showing from the young pitcher. After escaping the first inning unscathed, Morrison allowed a solo home run and a line drive at the top of the second. After issuing a walk early in the third inning, Morrison was pulled for Matty Moss. The decision paid dividends, as Moss (10-0) allowed only one hit over 2.1 innings of work.
"We kinda got discombobulated early on," Weekly said. "We weren't our actual smooth-running self… we wanted to give Kelsey some more time on the mound, but we definitely didn't want to lose to these guys (Delaware). Nothing against them, I'm just talking about where they are."
First baseman Haley Bearden also received rare at-bats, but she made the most of her opportunity. The sophomore from Clarksville, Tennessee, recorded her first career multi-hit game and put the Vols ahead 4-2 during the bottom of the third after an RBI single. Later in the inning, her stolen base attempt at second forced an errant throw by Delaware catcher Anna Steinmetz, allowing Seggern to steal home and increase Tennessee's lead to three.
In total, after scoring four runs over the previous nine innings, the Vols scored four runs in an explosive third inning that busted the game wide open.
"We just figured out the pitcher," Seggern said of her team's improvement on offense in the third inning. "… now, we're just sitting and waiting for (the right) pitch."
Less than 24 hours after delivering a game-winning RBI for Tennessee against Jacksonville State, Seggern went 3-for-3 from the plate on Sunday and drove in a pair of runs. Her first RBI gave the Vols a 1-0 lead in the first inning.
The Tennessee Invitational has been a coming-out party of sorts for the freshman out of Thrall, Texas. Seggern finished the tournament batting 9-of-15 with seven RBIs in a span of five games over a three-day period.
"I feel like I'm having a good plan when I go up to the plate," Seggern said. "Me and Karen (Weekly) talk about some things and I'm executing and what I'm supposed to do."
Seggern's second RBI came in the fourth inning when she doubled to left center, scoring Abby Lockman all the way from first base. Shortstop Meghan Gregg helped Tennessee bolster its run-rule effort with a fifth-inning single that drove in two runs and put the Vols ahead, 8-2. After Tennessee grabbed a 9-2 advantage off a wild pitch, Taylor Rowland drove in the game-winning run with a single down the left side.
The Vols have one more non-conference game before SEC play finally begins. Tennessee takes on Campbell tomorrow at Sherri Parker Lee Stadium. First pitch is slated for 5 p.m. ET.
Edited by Quinn Pilkey

Featured image by Brad Blackwelder
Follow me @DavidJBradford1 on Twitter, email me at dbradfo2@vols.utk.edu for any questions.