SEC men's basketball reactions of the week
This week provided another excellent slate of matchups across the SEC in men's basketball. Here are a few reactions from the past few days.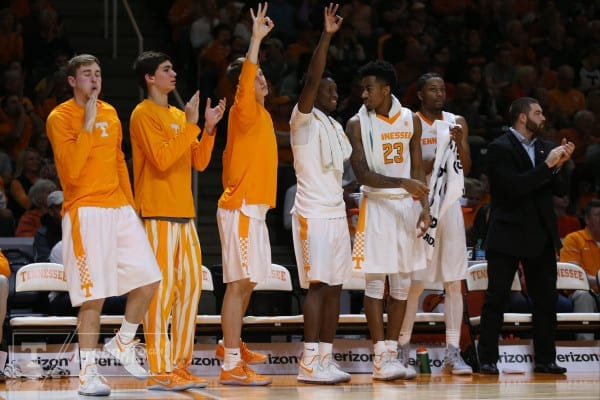 Welcome back, Tennessee (ft. Robert Hubbs' cornrows)
Following a two-game losing streak, Rick Barnes's Volunteers bounced back on Saturday with a 20-point heel stomping of the visiting Missouri Tigers, thus halting much of a chance at season-ending momentum for Missouri.
Grant Williams returned to form, leading Tennessee with 29 points on 6-of-12 shooting with one block, while Robert Hubbs III followed closely behind with 21 points and eight boards on the defensive end.
The win wasn't even the biggest story in Barnes's postgame press conference, though, as the very first question directed to Tennessee's second-year head coach was about Hubbs's new look: cornrows.
"Boy, that was awful," Barnes said, poking fun at Hubbs, a player he'll need to produce on a much more regular basis than he has been if the Volunteers still expect to land in the NCAA Tournament.
Otherwise, the Vols will be headed to the NIT.
That isn't even too much of a disappointment, though, considering their preseason ranking in the SEC sat at just 13th.
Kentucky is hard-nosed but still… overrated
The Wildcats found a way to win once more this week, as John Calipari's No. 13 Kentucky team held off a stingy Georgia squad 82-77 on Saturday in Athens.
De'Aaron Fox came up big for the Wildcats time and time again, as the final six of his 16 points gave Kentucky the push it needed to hold off the 'Dawgs.
Malik Monk also notched 16 for Kentucky, which heads into its final four games of the season atop the SEC, and that shouldn't change on Tuesday after its matchup with Missouri, either.
Despite these successes, we've seen how erratic Calipari's crop of newly-minted freshmen can be, especially this season, and that can mean the difference between sinking and swimming when tournament time finally comes.
That's why I still peg this group as overrated.
Yes, when the time is right, they can take off like rockets en route to some major victories.
But, when the time is wrong, as it's been a few times for a team that is young year after year, that same erratic play can send the Wildcats straight to the bottom of the heap.
Only they can determine which way the pendulum will swing when March finally arrives, and that's a very scary thought for a coach like Calipari.
Hello, Vanderbilt
In a game hardly anyone expected the Commodores to win, they found a way to get the job done in a 71-62 victory over No. 19 South Carolina on Saturday in Nashville.
This loss puts the Gamecocks at 20-7 on the year, while it lifts the 'Dores to slightly above .500 at 14-13.
Matthew Fisher-Davis led Vanderbilt with 17 points, while Riley LaChance followed with 14 of his own, along with three momentum-swinging three-pointers.
The win certainly won't guarantee a spot for the Commodores in The Big Dance, but it will most definitely give the selection committee something to keep in mind when considering where to rank the Gamecocks in the round of 68.
This is the worst time of the season for a team to enter a slump, but unfortunately for Frank Martin's squad, it looks as if the Gamecocks may be doing just that.
Other scores from this weekend
No. 15 Florida 57, Mississippi State 52
Alabama 90, LSU 72
Texas A&M 81, Auburn 62
Arkansas 98, Ole Miss 80
Edited by David Bradford
Featured image by Craig Bisacre, courtesy of Tennessee Athletics