No. 15 Tennessee routs New Mexico State 9-0, goes 5-0 in Troy Cox Classic
No. 15 Tennessee concluded the Troy Cox Classic with a 9-0 win over New Mexico State. Taylor Rowland, Abby Lockman and Brooke Vines led the way for the Vols.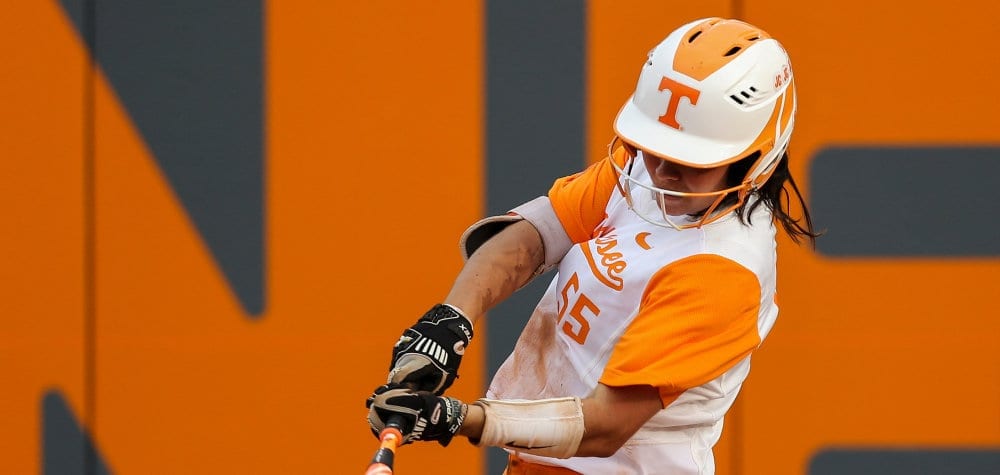 The bats stayed hot on Monday night, as No. 15 Tennessee (10-0) defeated New Mexico State (4-4), 9-0, in five innings to earn their fourth straight win by run-rule.
Tennessee's Taylor Rowland got the ball rolling in the top of the first inning, hitting a bases-clearing double down the right field line, giving the Vols a 3-0 lead. In the top of the second inning, the Big Orange extended their lead to 4-0 on a wild play in which Aubrey Leach was able to score on an error.
Rowland went 2-for-2 on the evening with three RBIs. Over the previous three games, the redshirt freshman is 6-for-10 with a home run and eight RBIs.
Vols' sophomore Abby Lockman got things going in the top of the third inning with a double down the left field line, scoring Scarlett McSwain and Tianna Batts to make it a 6-0 ballgame. Leach followed with a sacrifice fly, allowing Chelsea Seggern to score. Brooke Vines then doubled to left center field, driving in Jenna Holcomb and CJ McClain to extend the Tennessee lead to 9-0. The Vols' five run third inning would be their most productive of the game.
In the final game of the Troy Cox Classic, Tennessee's pitching duo of Caylan Arnold and Matty Moss dominated the Aggies. The two combined to throw a three-hit shutout, while striking out nine. Moss picked up the win, improving her record on the season to 5-0. Arnold has yet to give a run this season. The Maryville native is tied for first in the country with a 0.00 ERA, in 22.0 innings pitched.
Tennessee finished the Troy Cox Classic a perfect 5-0. On Saturday, they defeated DePaul 8-6 and Bradley 8-0. On Sunday, the Vols went on to beat Northern Colorado 16-1, before defeating Oregon State 14-0.
The Marry Nutter Collegiate Classic in Cathedral City, California is up next for the Vols on their 10-game road trip. Tennessee will play five games in the tournament. On Thursday, they'll face No. 4 Oklahoma, the defending national champion, at 6 p.m. before facing UC Santa Barbara at 11 p.m. Tennessee will have another doubleheader on Friday night, facing Nebraska at 6:30 p.m. ET and Utah at 9 p.m. ET. The Vols will conclude with Texas at 3 p.m. ET on Saturday.
Edited by David Bradford
Featured image by Craig Bisacre, courtesy of Tennessee Athletics