Alternative Takes: SEC sacks mean everything
When it comes to evaluating players, the only stat that truly matters is SEC sacks.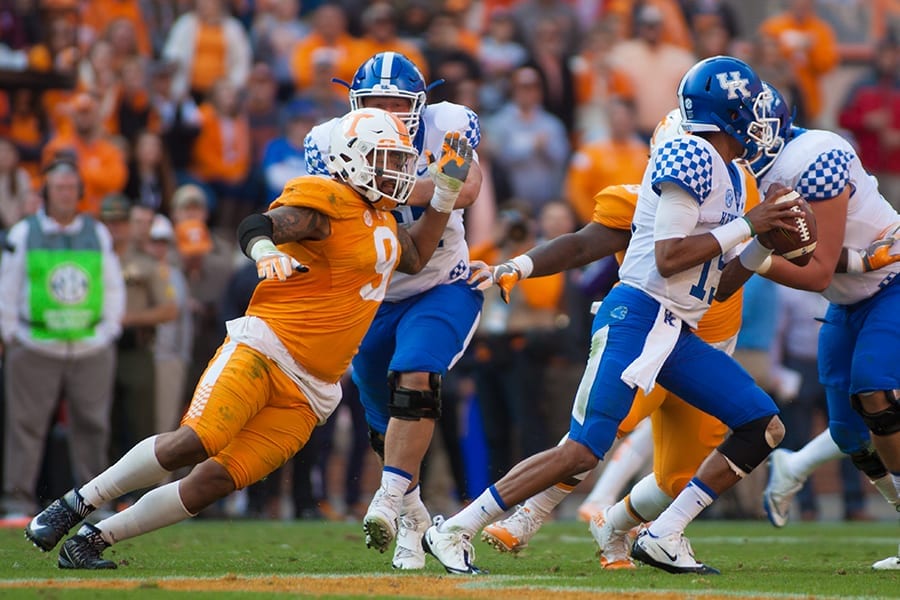 NFL scouts have the easiest job in the world.
We, the people, take their analysis as the holy grail of player evaluation, but if you think about it, literally anybody could do their job.
Over the years, the public has been fed a lie that scouts are fixated on watching countless hours of film and take into account every measurable known to man at the combine, but those are alternative facts. Instead, each position on the football holds a specific trait that scouts look out for. These traits are the indicators of success.
For example, quarterbacks are judged on their ability to roast Alabama, hence why Johnny Manziel should've been the No. 1 overall pick in the 2014 NFL Draft and Deshaun Watson is the clear-cut top quarterback prospect in this draft.
For defensive ends, the litmus test is simple: SEC sacks.
I challenge anyone to name a more important stat in all of sports than SEC sacks. Women love them, men want to be them and Derek Barnett is the only player to ever record them.
Did you know that Barnett has more SEC sacks than Myles Garrett, the consensus No. 1 overall pick in the upcoming NFL Draft?
If you didn't know, please create a Twitter account and get woke.
Barnett (allegedly) recorded 29 of his 33 career sacks against SEC teams, while Garrett (allegedly) only recorded 11 of his 31 sacks in conference play. Whip out your handy dandy TI-84 and you'll see that roughly 88 percent of Barnett's sacks are SEC sacks, compared to Garrett's meager 35 percent.
So we can now automatically eliminate Garrett from being in contention for the top overall pick. That's fake news. He doesn't have enough SEC sacks to warrant such praise. He MIGHT be a third-round prospect at best (the number 3 is the first number in 35, so that's how I decided that).
Now, I bet you're wondering, why are SEC sacks so valuable?
First of all, Alabama could beat the Cleveland Browns, and Alabama plays in what conference?
The SEC.
Next, the SEC is the best conference by hundreds of sets of 5,280 feet. Lastly, the SEC features the strongest group of offensive lines if you ignore all seven teams in the SEC East.
The fact that Garrett couldn't muster 45 of his 31 sacks in the lowly SEC West is actually enough to make me believe he shouldn't bother pursuing an NFL career. Just look at these other edge rushers in the NFL and gander at their SEC sack percentage (SSP).
SSP among trash NFL pass rushers
Kahlil Mack: 0 out of 28.5 sacks (0 SSP)
Von Miller: 3 out of 33 (9 SSP)
JJ Watt: 0 out of 11.5 (0 SSP)
Joey Bosa: 0 out of 26 (0 SSP)
Sure, Mack is the reigning Defensive Player of the Year, Miller is a perennial All-Pro and was the MVP of Super Bowl 50, Watt is a 3-time Defensive Player of the Year and Bosa is the reigning Defensive Rookie of the Year, but here's my counter:
Shut up.
Those four players have nothing going for them because between the four, they have three career SEC sacks. Give Barnett a couple of minutes against Vanderbilt's elite left tackle and he'll quadruple that number.
Need more proof that SEC sacks mean everything?
Lawrence Taylor and Bruce Smith finished their careers with a combined 336 sacks in the NFL, but neither played college football in the SEC, thus rendering their NFL highlights as fake highlights.
I personally call for the removal of Taylor and Smith's Hall of Fame jackets and the immediate destruction of their busts. All film that doesn't include an SEC player getting a sack on an SEC offensive lineman is clearly doctored by a contingent in the non-SEC faction of college football designed to add relevancy to non-SEC sacks.
But let's say you aren't a sucker for SEC sacks. Let's say you believe that there aren't any SEC teams in the NFL. Let's say you care more about sacks against teams whose name starts with a consonant. In the NFL, 28 of the 32 team names begin with a consonant (ex. New England Patriots, Dallas Cowboys, etc.) Logically, I charted how Barnett and Garrett performed against programs whose names began with a consonant (ex. YouCLA Bruins, Kentucky Wildcats, etc.).
Here are my findings:
Garrett: 24 of 31 sacks (77 percent)
Barnett: 30 of 33 sacks (91 percent)
Boom. Garrett supporters, consider yourself finished. NFL franchises, consider yourself warned.
Ignore Garrett's freakish athleticism. Ignore his elite skill set. Ignore his vast improvement at stuffing the run. Ignore his sheer will and desire to play through a brutal ankle injury during this past season. Ignore his dedication to team and country when he refused to skip out on the Texas Bowl.
He doesn't have enough SEC sacks.
And let's say Garrett gets drafted by a team in the AFC and Barnett is taken by a team in the NFC, do NFC sacks count more than AFC sacks?
I believe so.
Edited by Robert Hughes
Featured image by Sumner Gilliam
Follow me @DavidJBradford1 on Twitter, email me at dbradfo2@vols.utk.edu for any questions.