Modern Day Slavery: Sex slavery and human trafficking effects on East Tennessee
Three panelists discussed their expertise in human trafficking in the Toyota Auditorium in the Howard Baker Center on Wednesday, Feb. 1.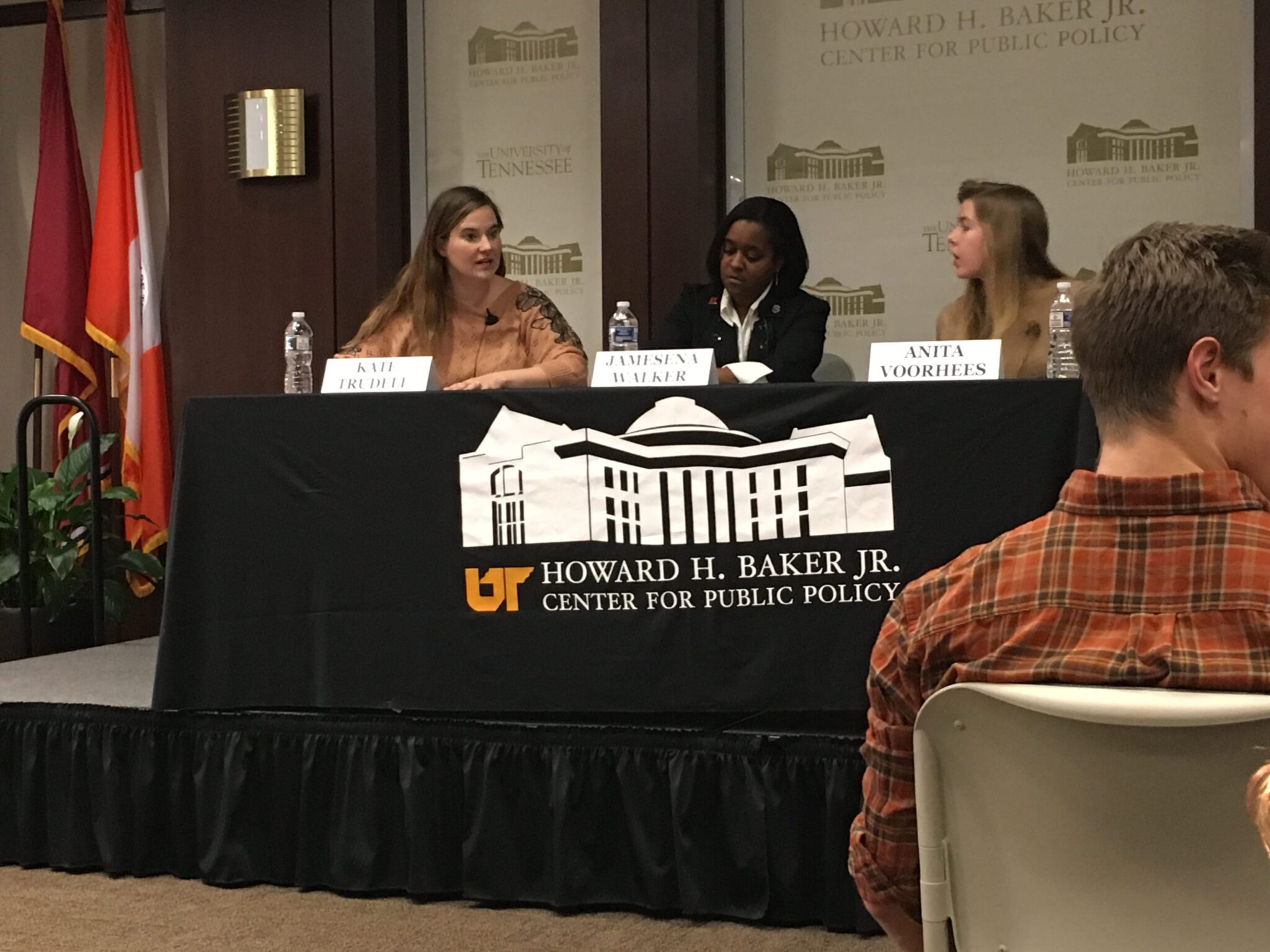 Human trafficking has become the second-fastest growing crime in the United States behind drug offenses, according to the Tennessee Bureau of Investigation (TBI).
Three panelists shared their expertise with students in the Howard Baker Center on Wednesday, Feb. 1. They addressed current laws and what citizens, particularly in the East Tennessee region, can do to help solve the issue.
To solve a problem, one must first identify its elements and define it. Human trafficking is an organized criminal activity in which human beings are treated as possessions to be controlled and exploited (as by being forced into prostitution or involuntary labor), according to the Merriam-Webster definition.
According to TBI statistics show that a child in the U.S. is a victim of human trafficking every two minutes and nearly 100 children are trafficked online in Tennessee each month.
Jamesena Walker, Special Agent for TBI, was one of four TBI agents assigned to work on human trafficking investigations in July 2015. Walker described her experience in working various operations and referred to human trafficking as "modern-day slavery."
"We have a lot of young girls between 13 and 17 years of age," Walker said. "The average age right now is, normally, about 15 years of age."
Walker continuously refers to the victims as young girls because 80 to 83 percent of the individuals are female. She later explained the minority of young males in the trade. She believes that it could become a problem for the LGBTQ community because of society's lack of acceptance.
She described the "human trafficking triangle" to be between the trafficker, the victim and the buyer, also known as the "John." Walker described the traffickers to be younger men who are masters at manipulation and said they often use social media to get in touch with the victims.
"They're able to talk to these women and tell them exactly what they want to hear," Walker said. "They're able to talk them into things that they normally wouldn't do."
Traffickers typically post ads on BackPage, a website similar to Craigslist, under the "escorts" tab, according to Walker. During some of their operations, Walker said TBI will post an ad on BackPage and within 60 to 90 seconds, they will receive several calls and texts from people wanting to arrange a meeting. These individuals are then arrested at the time of the meeting. Walker said these stings usually last up to three days.
According to Walker, law enforcement is trying to shift focus by changing the stigma surrounding prostitution. Rather than regarding women as voluntary participants, they are attempting to shift mindset to realize that women are not prostitutes because they want to be.
Kate Trudell, the Executive Director for Community Coalition Against Human Trafficking (CCAHT), described the way the media, especially in movies and music videos have portrayed women forced into these situations. She emphasized the importance of having discussions of the way the media and society shapes the crime on the victim. CCAHT was created seven years ago with the purpose of raising awareness and educating people on human trafficking.
"I think she [the prostitute] is very much portrayed as the unclean, unworthy, sort of low-life type of person," Trudell said. "[The trafficker is] portrayed in media as someone that has a lot of money and drives a fancy car…they have respect."
Trudell further emphasized that this respect allows women forced into these situations to think that nothing can be changed because society has shamed her. She also noted the importance of creating systems for survivors of human trafficking, which is now the goal of CCAHT.
"We are in the process of opening a residential facility for adult survivors that will be open hopefully by the end of this year or middle of the fall," Trudell said.
She explained the devastating effects human trafficking can have on its victims. According to Trudell, a 28-day, three-month or even six-month program won't help solve a survivor's problems, but instead they should be given time and support while learning what true healthy relationships look like. She said giving the survivor control over their life and guiding them through their decisions is a great way to give them empowerment.
Anita Voorhees, a student representative for UT's chapter of International Justice Mission (IJM), explained the goal of the chapter which is to raise awareness of injustice.
"I thought I knew a lot [about human trafficking] but I learned more [tonight] than I knew before," Zach Tudeen, a UT freshman and member of IJM, said. "I didn't realize it was the second biggest crime and fastest-growing crime in the nation, so that was certainly eye-opening, very frightening."
The panel discussion concluded with a Q&A session with the audience.
If you suspect human trafficking, call  855-558-4684 or Walker's office number 865-549-7839.
For more information on human trafficking, visit TBI's website. If you would like to volunteer at CCAHT, visit this website.
Edited by McKenzie Manning
Featured Image by Kaitlin Flippo