Pentatonix's Avi Kaplan hosts UT a cappella workshop
High school singers from around the region joined the UT a cappella groups for the second annual Contemporary A Cappella Workshop.
Students from around the region got the chance to work with a  Grammy-winning artist on Saturday, Jan. 28 in Cox Auditorium on the University of Tennessee campus.
Avi Kaplan, vocal bass for a cappella group Pentatonix, headlined the second annual Contemporary A Cappella Workshop hosted by the UT School of Music.
Work began Friday with rehearsals for UT's three a cappella ensembles: VOLume, UT Singers and ReVOLution. Kaplan listened to and critiqued their sets. He also chose one song to perform with each group on Saturday.
"He speaks great knowledge and advice," VOLume tenor Dalton Mitchell said. "It's great for us to soak that in. He's just so down to earth."
Registration began just before 9 a.m. Saturday. High school students filed in and warmed up with a few UT Singers and Interim Associate Director of Choral Activities Jaclyn Johnson.
Johnson coordinated Kaplan's visit. The two are friends and alumni of Mt. San Antonio College in California.
All female group ReVOLution performed first with Kaplan joining them for "Cheap Thrills." Kaplan subsequently lent his talents to VOLume and UT Singers. Between performances, Kaplan held question and answer sessions.
Some students did not know what to expect but were excited to work with a prolific member of the music community.
"I've never been to anything like this," high schooler Raven Woods said.
Her friend Sinceer Truss added she looked forward to "tips on what to do better and the experience."
This clinic marks only the second for Kaplan.
"I just want to make sure I'm doing everything possible to help [music] grow and flourish. I love to see them excited," Kaplan said. "I just would hope that they are inspired and that they believe in themselves."
Some students, including UT Singer Nicole Doyal, will not soon forget his advice.
"Halfway through the rehearsal I forgot that he was a famous guy because he was just so talented and knowledgeable and was helping us with our craft," Doyal said.
But the collegiate singers were not the only performers to closely work with Kaplan. An ensemble from Seymour High School and another from Bearden High School received selections to perform onstage. Kaplan chose each school from YouTube submissions.
"It's a huge opportunity for them," Andrea Markowitz, a UT alumna and music director for Seymour High School A Cappella said. "For them to get to do it and only be between 15 and 18-years-old is huge. And it's with someone who is passionate about the same thing as them."
Seymour High performed a Michael Jackson medley. Kaplan then joined them onstage for advice and demonstration.
Choral Director at Seymour High Jean Burkhart hopes students will become interested in all genres of music from all periods by way of a cappella.
"I love the fact that [Kaplan] has a classical vocal background and to see how good vocal technique translates to any genre," Burkhart said.
Kaplan grew up in choir beginning in middle school. He later majored in opera in college before getting the call to join Pentatonix. The call came just prior to the group's appearance on NBC's "The Sing-Off."
Since then, Pentatonix won multiple Grammy awards and gained international attention with chart-topping tracks and albums on both iTunes and Billboard. Their most recent Grammy nomination comes for "Jolene," a collaboration with East Tennessee's own Dolly Parton.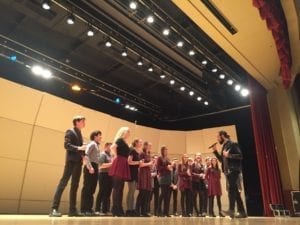 "When you think about a legend, you have a lot of ideas about what you would want them to be. She embodies everything you would want her to," Kaplan said. "To be able to keep that humble heart is something that speaks volumes and can really set an example for the world."
Tune in to the 59th Annual Grammy Awards Feb. 12 at 8 p.m. on CBS to see if Kaplan and Pentatonix will take home another award.
Images/Audio by Lexie Little
Edited by Taylor Owens