Position group grades for the Vols' 49-10 loss to Alabama
The Vols' abysmal performance led to a 49-10 annihilation at the hands of the Crimson Tide. Did any position group salvage a decent grade?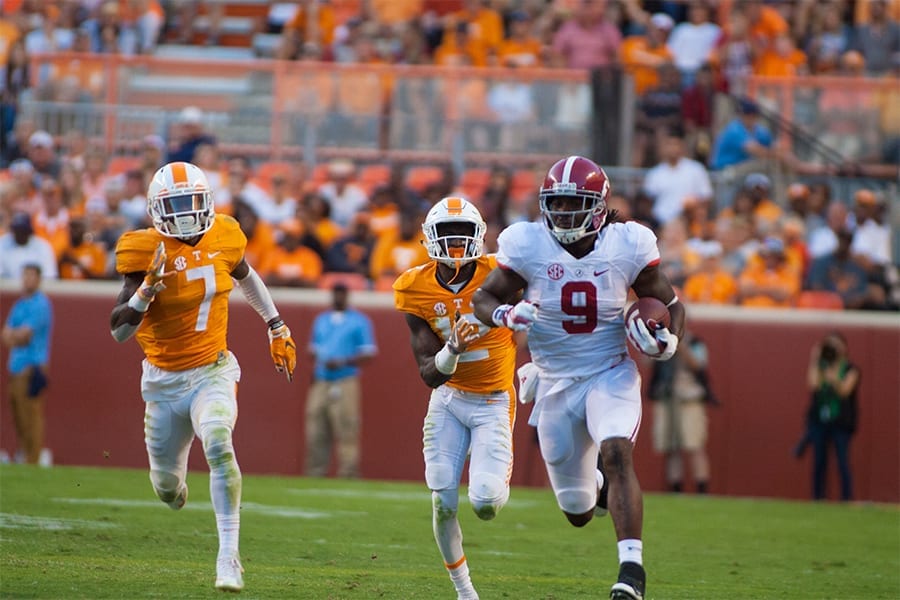 Tennessee came into the matchup against No. 1 Alabama high on confidence, and rightfully so. Unfortunately, injuries and Nick Saban just being better than everyone else proved too much to overcome, and Alabama controlled this game from the first drive on.
Here are how the positions graded out.
Quarterback
Statistically, Saturday was one of the worst performances of senior Josh Dobbs' career at Tennessee. He finished the day with under 100 passing yards and threw an interception. With that being said, the offensive line deserves its fair share of the blame for how poorly they held up against a very impressive Alabama defense. Vol fans can be disappointed in Dobbs' play today. But, it's really hard to get into a rhythm when the offensive play-calling and offensive line weren't performing well. To add to that, Dobbs was sacked three times and pressured on a number of other drop backs. He still missed a few throws though, and that's something he will need to continue working on in the coming weeks. He didn't have much of an effect in the run game either — he rarely opted to keep the ball on option runs and his designed runs were not very successful either. At least he didn't fumble.
Grade: C+
Running Backs
Tennessee's running game was very ineffective Saturday. On the day, Alvin Kamara and Jalen Hurd combined for 21 carries and failed to reach 50 yards. The offensive line provided little push and gave the running backs nothing to work with. Still, as talented as Hurd and Kamara are, you would like to see them create some yardage on their own. On the bright side, Alvin Kamara averaged 30 yards on his two punt returns, continuing to be an excellent replacement for Cam Sutton. The offense relies heavily on its ability to run the ball, and in games like Alabama where it fails to produce, the offense will force itself into a lot of third and long situations. Against a pass rush like the Crimson Tide, that's a near possible scenario to succeed in.
Grade: C
Wide Receivers
Josh Malone had a solid game — he caught five passes for 61 yards. The rest of the group was relatively quiet. The Alabama pass rush was partially responsible for not allowing plays to develop and for the four-yard pass-play designs on third-and-long. The secondary of Alabama held up in coverage extremely well, too. Tennessee really struggled to produce anything on pass attempts of more than five yards. It's hard not to wonder if Preston Williams would have had any impact today.
Grade: D+
Offensive Line
Everyone knew the offensive line was in for a huge challenge Saturday. The optimists hoped it wouldn't be so bad. In reality, it was even worse than some had feared. The offense was bad in general, but the way the offensive line was continuously dominated really limited what Tennessee was able to do with the ball. In running assignments and pass protection, Alabama's defensive front was often in the backfield quickly. The Vols' offensive line gave up three sacks and allowed 10 total tackles in the backfield, as well as many other pressures on pass attempts. Saturday was the offensive line's worst game of the season.
Grade: F
Defensive Line
Outside of another strong performance from Derek Barnett, it was a rather underwhelming day from the unit overall. Barnett was great and both his strip sack and interception — which came off of a Shy Tuttle deflection — played a huge role in why the game was even somewhat close at halftime. However, the Tennessee defensive line did a horrible job containing the edge on several quarterback runs by Jalen Hurts. Stopping the run game — specifically Hurts — should have been the main focus the defense prepared for going into Saturday. A freshman quarterback playing in Neyland Stadium should not have that type of success. What is supposedly the strength of this defense — the line's inability to stop the run and force third in long situations — allowed Hurts to embarrass them.
Grade: D+
Linebackers
Injuries have really derailed this unit, and Saturday they were down their top three linebackers. Elliott Berry made his first start of the season after both Cortez McDowell and Darrin Kirkland were ruled out on Saturday. His performance had its up and downs, and he finished the day with two tackles for loss. Colton Jumper recorded a quarterback hurry, but was relatively quiet outside of that. Both were responsible for the defense's failed attempt to stop the run. In addition, they deserve a portion of the blame for allowing Hurts' legs to be such a problem and they did a poor job with their angles on open field tackling opportunities. The bye comes at a perfect time, and Tennessee should hopefully have Kirkland and McDowell back for the remainder of the season.
Grade: C-
Defensive Backs
They only allowed 150 passing yards on the day, but it was another poor performance in coverage for the secondary. Ironically, though, guys like Emmanuel Moseley and Rashaan Gaulden were strong defending the run at the line of scrimmage — they combined for four defensive stops in the backfield. Gaulden also recorded a sack, but outside of that, it was a game to forget for the secondary. Tennessee gave up over nine yards per completion, and receivers Calvin Ridley and ArDarius Stewart appeared open every play. The play of the defensive backs was rather embarrassing, and that's back-to-back games where the unit has really struggled.
Grade: D+
Special Teams
The return game was a lone brightspot in an overall brutal performance. Kamara averaged 30 yards per punt return, and Evan Berry averaged the same on his three kick return opportunities. Watching these two return kicks and punts was the only thing to enjoy in this game. Trevor Daniel punted 10 times! He pinned three of them inside the 20, but he also had an ugly shank. In addition, the Crimson Tide returned one of the punts 79 yards for a touchdown. The coverage on that return adds to the list of embarrassing plays from the game and to put it simply, that just can't happen. Aaron Medley made his lone field goal attempt from 37 yards.
Grade: C
Edited by Adam Milliken
Featured image by Sumner Gilliam