Tennessee vs Alabama by the Numbers
The Third Saturday in October is one of the most storied rivalries in all of college sports. No. 1 Alabama vs. No. 9 Tennessee – does it get any bigger than that?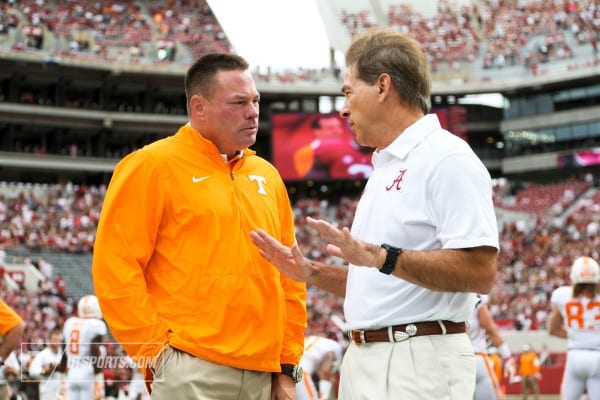 Tennessee faces longtime foe Alabama on Saturday in Neyland Stadium. The Crimson Tide look to remain perfect on the season, while the Volunteers will try to bounce back from a double-overtime loss to Texas A&M.
This game means more than it has in recent years. No. 1 Alabama and No. 9 Tennessee will square off for a chance to play in the SEC Championship and perhaps a chance to play in the College Football Playoff. Alabama leads the all-time series against Tennessee 52-38-7. Let's look at some more interesting numbers from the Third Saturday in October rivalry.
115: Nov. 28, 1901 was the first time Tennessee and Alabama met on the gridiron. The game, which took place almost 115 years ago, ended in a 6-6 tie in Birmingham. The first meeting in Knoxville did not take place until 1909.
9: The Crimson Tide have won the last nine matchups against the Vols. Not coincidentally, Nick Saban was hired to coach Alabama nine years ago. Tennessee is no stranger to snapping streaks, however, having snapped an 11-game losing streak to Florida earlier this season.
5: Only five points separated Tennessee from a win in Tuscaloosa last season. A Jalen Hurd touchdown in the fourth quarter gave Tennessee a late 14-13 lead, but it didn't last long. Derrick Henry scored the game-winning touchdown for the Tide with 2:24 left in the game to give Alabama a 19-14 victory. If the Vols want to win on Saturday, they'll have to hold on to any lead they may gain.
7: Tennessee turned the ball over seven times last week against Texas A&M despite gaining an astronomical 684 yards of total offense. Unfortunately for the Vols, Alabama has forced 13 turnovers on the season, resulting in seven defensive touchdowns. Ball security will be key if Tennessee wishes to defeat its longtime foe.
3: Last season, Tennessee kicker Aaron Medley missed all three field goal attempts against Alabama. Had Medley converted those field goals, the Volunteers likely would have won the game. In a rivalry where the games are more competitive, and usually closer, mental mistakes must be avoided. The game could potentially come down to one possession — as it did last year — which means converting field goal opportunities would be critical.
102,455: Home-field advantage in this game could not be more crucial. Crowd noise can certainly turn the tide of a game and give the home team a competitive advantage. When Neyland Stadium is at its max capacity of 102,455 fans, it is arguably the best home-field advantage in college football. If you don't believe crowd noise is a legitimate factor, just ask Austin Appleby.
Tennessee faces Alabama on Saturday at 3:30 p.m. ET on CBS.
Edited by Adam Milliken
Featured image by Donald Page, courtesy of Tennessee Athletics
When Robert isn't writing stories for the greatest online news site of all time, he enjoys playing the tuba, hanging out with friends, and opening the "T" on Saturdays in Knoxville. You can follow him on Twitter-@tnytuba09