Friday Fights: The plight of a cyborg
This week on Friday Fights, Adam discusses Cris "Cyborg" Justino. Her grueling weight cuts and dominance in the cage have many fans clamoring for the UFC to create a new division, with her as its queen.
Once again, against the odds and all reasonable thought, Cyborg made weight. She successfully completed the unnecessary cut to 140 pounds for a second time, and it has left many to continue questioning why.
Before we get into that, a quick history lesson on Cyborg is in order. Cristiane Justino (popularly known as Cyborg) is arguably the most destructive, dominating and fearsome woman in combat sports history. She fights with such ferocity, intensity and power that it would frighten fire back into Hell.
Part of the equation to her massive success, though not all of it, is her size. Cyborg stands 5-foot-8, has an arm reach of nearly 70 inches and walks around at approximately 170 pounds.
And she isn't just 170 pounds of mass, oh no. She is a 170 pound lean, unadulterated, pissed off war machine. For those who have never seen her fight, I'll provide an example.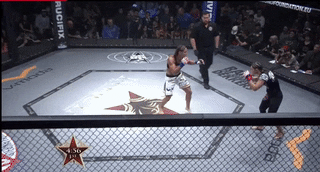 Did you see that? Like I said, she's incredible.
Since 2009, Cyborg has been the most consistently dominant woman in MMA – only Ronda Rousey can come close. And Cyborg's star has continued to expand, especially since she has begun fighting for the UFC.
Once a despised villain, she is now a sympathetic figure that fans appreciate and love.
A major reason for this goes back to her size. The very attribute that helps reach such high levels of dominance, is also what has caused her so much difficulty and struggle.
Cyborg is traditionally a featherweight fighter, meaning she usually fights with a weight limit of 145 pounds. The cut from her natural weight of about 170 pounds to 145 was already extremely brutal. But, the UFC has seemed intent on punishing her even further.
Rather than establishing a proper women's featherweight division – which the UFC currently does not have – the promotion has forced Cyborg to make an even more grueling weight cut. In her two fights for UFC, Cyborg has been forced to cut down to 140 pounds each time. That's 30 pounds that she must lose, in a healthy manner, before she is allowed to fight.
For those who may not know exactly how weight cutting operates in MMA, here's a brief explanation. Fighters have specific weight limits that they must reach before the weigh-in, which almost always takes place the day before the fight.
According to MMAfighting.com, she weighed around 165 on Monday and around 150 on Thursday. Losing 15 pounds over the course of just three days might sound great, but it is immensely detrimental to the body and the long-term health of a person. And that isn't even the end of the torture. On Thursday, she was still 10 pounds away from the 140-pound limit.
Between Thursday morning and midday on Friday, Cyborg cut another nine pounds and weighed in at 141 (her contract allows her to weigh one pound over the limit). It is unbelievably unhealthy for a person to lose 24 pounds in less than five days.
The craziest part of the whole process, and the thing that makes it totally asinine, is what happens after the weigh-in.
After making the proper weight, the fighters will then rehydrate themselves and inflate back up to their natural weight. For example, even though a fight is technically taking place at 145 pounds, each fighter involved would actually weigh at least 160 pounds or more during the fight itself. So from Monday morning to Saturday evening, not only is Cyborg shedding around 24 pounds, but she is then putting the weight right back on in less than a day.
It's hard to fully grasp just how terrible that is for someone's long-term health and lifestyle.
This archaic method of weight cutting is stupid for any fighter, but its drawbacks are truly on display with Cyborg. It's been uncomfortable seeing her torture herself to make the 140-pound limit that UFC insists on having her fight at.
This is precisely why they need to build a new division around her.
The UFC has publicly stated that they have no intention of adding a new women's division anytime soon, and that women's featherweight wouldn't be the first choice even if they did. This is an incredibly ignorant and short-sighted viewpoint for them to have.
The promotion doesn't believe that a successful division could be built around Cyborg, and nothing could be further from the truth.
It hasn't been too long since there were new men's divisions introduced, and that has gone exceedingly well. The only reason there is currently a women's bantamweight division in the UFC, is that the promotion built it around Ronda Rousey.
Not only is there evidence to show that the talent level would continue to grow, but also that the UFC has had success in the past implementing another women's division.
Women's MMA is growing at a rapid pace, and it's starting to become increasingly bothersome that they aren't being treated the same as men.
Cyborg has the star-power, the aura, the results and the fan interest to be the face of a wildly successful UFC women's featherweight division.
The talent in each division, over time, typically rises to the standard set by its champion. There is no other woman in MMA that can hold a candle to the standard set by Cyborg.
Instead, the UFC has insisted on staying within the narrow and idiotic thought processes of yesteryear. They treat the majority of women as afterthoughts to the men, with no good reason to do so.
This has to stop. Fans and fighters alike won't accept this egregious misuse of influence forever.
It's in the best interest of fans, fighters, the UFC and the continued growth and equality of women's sports for Cyborg to become the centerpiece of a UFC women's featherweight division.
She possesses all the tools to dominate and make it a massive success. Not only would it be a lucrative decision for the UFC, but it would be important for women's MMA as a whole.
Edited by Dalton King 
Featured image by Adam Milliken
Adam is the Assistant Sports Editor for the Tennessee Journalist and a Junior at UT. Most of his free time is spent watching sports, listening to good music, and enjoying life. If you wish to contact him, you can email him at amillike@vols.utk.edu, follow him on Twitter, @AdamMilliken14, or find him at https://www.linkedin.com/pub/adam-milliken/109/a89/a32.