Opinion: Serrano's extension offers more questions than answers
Tennessee AD Dave Hart granted baseball coach Dave Serrano with a one-year extension, but what are Tennessee and Serrano actually gaining from it?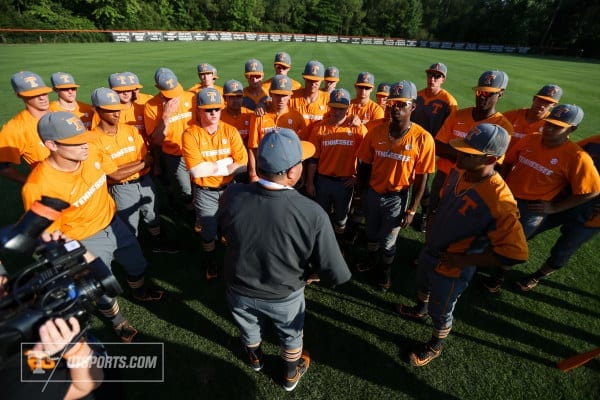 At a press conference on Thursday, Tennessee athletic director Dave Hart announced that Dave Serrano will return for at least one more season as the Vols' head baseball coach.
Serrano recently finished the final year of his five-year contract. The extension, as it stands, last for one season and maintains Serrano's salary of $450,000.
It appears that Hart made this move based on his personal appreciation for Serrano rather than results on the field. Thus far, the Serrano era has yielded an overall record of 130-138, including a poor 48-99 mark in SEC play. However, Hart emphasized that although the results were not satisfactory, he appreciated the team's continuing competitive spirit and an improved academic climate.
That's all fine and dandy, but at the end of the day, there are two problems with this "extension."
First, what progress has been made over the course of five seasons? This isn't a case of a coach faltering in year two. Serrano was given ample time to revive the program and has failed to do so. Tennessee never finished higher than fifth in the SEC East and are 0-3 in SEC Tournament games. As a result, the Vols haven't sniffed the postseason.
Second — and perhaps more importantly — what does a one-year extension do for Serrano anyway? How can a coach effectively recruit and continue to build a program when he could be gone after another sub-par season? If Hart is so confident in Serrano's acumen as a coach, then why not give him even more time? Does anyone honestly see next year's squad vastly improving upon its 29-28 (9-22 SEC) record from this past season?
There are lot of questions to be answered, but the one-year extension doesn't do much for Serrano and the program. Recruits likely won't be drawn to a program whose coach is a potential lame duck. Furthermore, based on the team's deficiencies, it isn't reasonable to suggest that the Vols will improve upon its performance from last season.
That isn't to say that Serrano can't flip the script. He's provided Rocky Top with a number of promising moments, with arguably the most notable coming in Tennessee's series win against Vanderbilt this past season. He's also only one of 12 coaches in college baseball history to lead multiple teams to the College World Series.
If given enough time, the optimism around Volunteer baseball will continue to rise, but one season might not be enough.
Photo by Donald Page, courtesy of Tennessee Athletics
Edited by Nathan Odom
Follow me @DavidJBradford1 on Twitter, email me at dbradfo2@vols.utk.edu for any questions.