Mess or Success: Cosmic Brownies
In this week's Mess or Success, Alley Loope recreates a sweet childhood favorite.
[title_box title="Mess or Success: Cosmic Brownies"]
If your school experience was anything like mine, the treats you had in your lunchbox come lunch time either made you a hit at the lunch table or left you wishing you had whatever awesome snack that other kid had in their lunch.
The snack I saw being most lusted after in my elementary school (and even more in high school, if I'm being honest) were the ever so tasty Little Debbie Cosmic Brownies.
Opening your lunchbox and finding that your mom had included one of these chocolate treats was basically a day-maker for me and for all of my friends.
Cosmic Brownies are basically as great as Little Debbie snack cakes can possibly get…but what if I told you they could get even better?
Thanks to Pinterest, I have tracked down a recipe for these highly coveted snacks that claims to take the great taste of the original and turn it up a notch, which I didn't even think was possible.
So, will these homemade Cosmic Brownies result in some awesome snacks that will transport you right back to childhood, or just leave a sad mess of disappointment in your kitchen? Let's find out.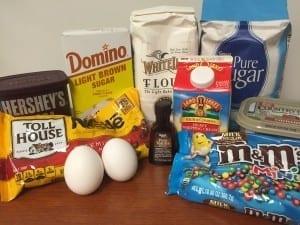 You will need:
3/4 cup melted Butter
2 Eggs
1 cup Sugar
2/3 cup Brown Sugar
2 tbsp Water
2 tsp Vanilla
3/4 cup Unsweetened Cocoa Powder
3/4 cup Flour
1 1/2 cup Semi-Sweet Chips
1/2 cup Heavy Cream
M&M's Minis (or any other colorful sprinkle-able candy)
9×13 Baking pan
Parchment paper
A whisk
First off, preheat your oven to 350 degrees and line your pan with the wax paper, then spray it with some non-stick spray to make sure to prevent a potential brownie disaster.
Start off by melting your butter and combining that, your eggs, sugar, brown sugar and the vanilla in a bowl and whisk it until it forms a super thick sort of gross syrupy mess. At this point I was thinking I had surely already screwed this one up, but never fear, it gets better.
Next, throw in your cocoa powder and whisk that in until it's combined with the rest of your ingredients. (Warning: cocoa powder will fly everywhere and cover everything in your kitchen including you, and you might yell a little bit, but it's fine).
Lastly, add your flour, stir it in with a spoon and then you should have yourself a tasty-looking brownie batter. By tasty, I mean very tasty, so of course I encourage you to lick the spoon.
Pour the batter into your pan, spread it out until it's somewhat even and then pop it in the oven for about 25 minutes.
While your brownies are baking, you can get started on the icing. Just combine your chocolate chips and your cream into a bowl, pop it in the microwave for about a minute and then whisk it all together until it's nice and smooth. Pour that over your cooled brownies, then stick them in the fridge for a few minutes to let them set.
After your icing is nice and firm, throw your candy topping on and then viola! You've got yourself a homemade batch of Cosmic Brownies. Who needs Little Debbie? Not you, because you're a chef (at least that's what I tried telling myself, but I can guarantee I will keep buying Little Debbie cakes until the day I die).
After careful evaluation of the mess this made in my kitchen, and excessive taste testing done by both me and my Cosmic Brownie aficionado, aka my roommate, we concluded that these Cosmic Brownies were…a success!
They're mushy and fudgy just like the classic Little Debbie snacks, but the homemade-ness of it all just kicks the chocolate flavor up so many notches that it's impossible not to love them.
You can find the pin for this particular recipe on my special Mess or Success Pinterest board here. Or, if chocolate isn't really your thing, check out last week's attempt at the Pinterest pizza braid.
That's all until next time, bakers. In the spirit of Little Debbie, have a Cosmic week!
Photos by Alley Loope
Edited by Taylor Owens
Alley is a junior at UT majoring in journalism and electronic media. She has a passion for pop culture like no other and hopes to one day work on red carpets interviewing all of her favorite celebrities. When not writing for the Tennessee Journalist, you can probably find Alley live-tweeting award shows or sharing photos of her cat, Hedwig, on Twitter.