Mess or Success: The pizza braid
Alley Loope begins her new blog, Mess or Success, with a unique twist on classic pizza.
[title_box title="Mess or Success: The pizza braid"]
In the wonderful world of Pinterest, there are millions of fun DIYs and interesting recipes out there just waiting for you to attempt them. Sometimes they turn out beautifully. Other times…well, let's just say there are Pinterest fail pages on the Internet for a reason.
In my long history as a Pinterest user, I have taken a stab at many concoctions and craft projects. Some of my projects turned out to be the best thing I've ever baked and some gorgeous new decor for my bedroom. However, some of my attempts have not gone so well (like the time I tried to make Oreo cheesecake, but creamed sugar and cream cheese instead of butter and sugar, but I try to forget about that incident).
Obviously, some Pinterest tasks are easier to complete than others, but have you ever wondered which pins are actually possible for average pinners like you and me and not just possible for the professional Pinterest wizards? Well, that's where I come in!
Here on Mess or Success, I will be testing out some of the most popular pins to see if they turn out to be a stunning success or a hot mess so you don't have to!
This week, I've decided to tackle the ever-so-tasty-looking pizza braid based on this recipe here.
For this recipe you will need:
A can of Pillsbury pizza crust
Some pizza sauce
A bag of shredded mozzarella cheese (or any other cheese you prefer)
About half a bag of pepperoni slices
A 10×13 baking sheet
First, open up your pizza dough, which, if you're like me, will be the most daunting part of the whole project because I'm absolutely terrified of the pressurized cans. Once you get that popped and ready to go, roll out your crust and press it into your baking sheet.
Next, use a knife to cut eight even strips on each side of your crust, leaving about three inches in the center uncut.
Then, spread some pizza sauce in the middle of the dough and load up on your toppings. You can choose any toppings you want, but I personally used two layers of mozzarella cheese and two layers of pepperoni.
After your pizza is filled to your heart's desire, take each strip and cross them over the middle until it looks somewhat braided on top. Mine looks nothing like a braid, but really I have never been good at braiding anything, so I'm not surprised that I'm not that great at braiding pizza dough either.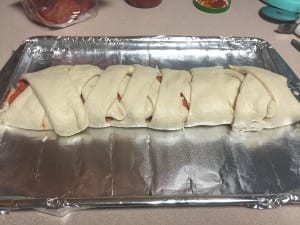 Next, top it with some extra cheese and pepperonis, and then pop it in the oven at 425 degrees for about 10 minutes. Depending on what you stuff it with, the time might vary, but a good guideline is to just watch the dough and make sure it's browning.
Once it is cooked to your liking, pull it out of the oven and you've got yourself a delicious gourmet pizza braid! Well, maybe it's not gourmet, but as far as I'm concerned anything beyond boxed mac and cheese is gourmet.
So after some taste testing, done by me and my pizza-loving roommate, I conclude that the Pinterest pizza braid is a success!
You can find the pin for this recipe on my special Mess or Success Pinterest board here.
Tune in next week for some more Pinterest-y fun. Happy pizza braiding!
Photos by Alley Loope
Edited by Taylor Owens