15 facts about Tennessee's home opener against Oklahoma
The Vols and Sooners clash in Knoxville Saturday. Here are 15 fun facts about the game to get you through Friday.
On Saturday, Team 119 will take the field in Neyland Stadium for the first time. The Volunteers will face off against the Oklahoma Sooners at 6:00 p.m. ET on ESPN. Here are 15 facts you need to know before kickoff:
1. Saturday's game will mark Tennessee's first non-conference game at home with both teams ranked since the 2006 opener when No. 23 Tennessee beat No. 9 California, 35-18.
2. The last game at Neyland Stadium between two ranked teams was on Sept. 15, 2012 when No. 18 Florida beat No. 23 Tennessee, 37-20.
3. Tennessee and Oklahoma are facing each other for the fourth time in history. Saturday's game will mark the teams' first meeting in Knoxville.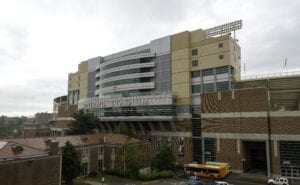 4. Oklahoma leads the series 2-1. The Vols' lone victory in the series came in the 1939 Orange Bowl, a 17-0 win that sealed Tennessee's 1938 national championship.
5. The 1967 national champion Vols lost to Oklahoma, 26-24, in the 1968 Orange Bowl.
6. OU beat UT, 34-10, last season in Norman on Sept. 13.
7. Las Vegas currently has the Sooners favored by one point.
8. Butch Jones is 0-2 all-time against Oklahoma. He coached against the Sooners on Sept. 25, 2010 when his Cincinnati team dropped a narrow 31-29 game at Paul Brown Stadium.
9. The Vols are 94-18-5 (.825) in home openers dating to 1892.
10. Saturday marks UT's first-ever home-opener on Sept. 12 – a date on which the Vols are 2-2 all-time.
11. The Sooners return their top rusher in 2014 in All-American Samaje Perine, who ran for 1,713 yards (6.5 avg.) and 21 touchdowns a year ago. Perine set an FBS record with 427 rushing yards against Kansas.
12. Baker Mayfield made his Oklahoma debut with his first start at quarterback against Akron last week. He broke OU's record for passing yards in a season opener with 388 yards. Mayfield completed 23 of his 33 pass attempts for three touchdowns and no interceptions and also added six rushes for eight yards and another score.
13. Oklahoma head coach Bob Stoops has a record of 50-21 (.704) on the road.
14. Tennessee is 9-7 against current schools in the Big 12 Conference.
15. The Sooners are expected to play in front of about 105,000 fans at Neyland Stadium — the largest crowd ever for an Oklahoma football game.
Edited by Cody McClure