Final Boomsday celebration brings 200,000 visitors
The 28-year annual event Boomsday came to an end after Sunday's fireworks celebration, where more than 200,000 people came to say, "Goodbye."
There wasn't an open spot to be found at the final Boomsday celebration. The annual Knoxville, Tenn. fireworks celebration came to an end Sunday, Sept. 6, and people traveled from near and far to watch a standing tradition of 28 years come to an end.
"I travel from Michigan every year to see [Boomsday], and it's really a shame it's ending. There's really nothing like it," Alyssa Mitchell, an alumna of UT, said. "Even though it didn't bring in enough revenue, I like to think it brought people together in the heart of Knoxville."
The final Labor Day weekend-long event concluded when the fireworks began at 9:30 p.m., and there were approximately 200,000 spectators who came to see the show, more than doubling Boomsday's usual amount of visitors.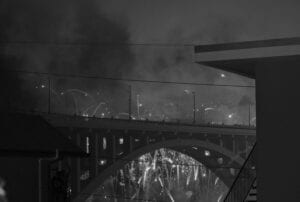 "Finding my friends this year was harder than ever. You couldn't take a step without bumping into someone," UT sophomore Tyler Howard said. "I actually climbed up a 50-foot hill to get to the best spot possible, and I've got scrapes to prove it."
Last year's show was held at the railroad bridge, but most were surprised to be turning their heads in the opposite direction this year, when the first firework went off at the Henley Street Bridge, a local bridge that crosses the Tennessee River.
The crowd finished off the night singing, "I'm Proud To Be An American," showing that fireworks and patriotism don't come just once a year in Knoxville.
Let's hope it's not a goodbye to the event many hold near to their hearts but rather,
"See you later."
Featured Image by Isabella O'Day
Edited by Taylor Owens and Hannah Hunnicutt