'Break the Silence' event begins dialogue on campus
On Friday, Jan. 16, "Break the Silence," called for open dialogue on UT's campus.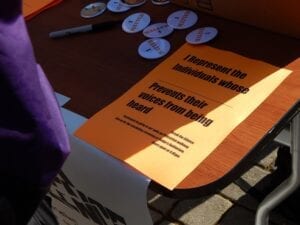 On Friday, Jan. 16, a handful of University of Tennessee students wore orange signs with black writing and a single strip of white tape.
The signs read, "I represent the individual whose [blank] prevents their voices from being heard." Students filled the blank space with various words or phrases: "race," "gender," "orientation," "class," and many others were displayed on the front of students' shirts. Some students even went a step further, writing phrases such as "#EndDeathTraps" and "#BreakTheSilence" on the strips of tape covering their mouths.
 For the participants in the student-organized event, "Break the Silence," this was a day of sacrifice and silence.
"Break the Silence" was organized to acknowledge oppression individuals face because  of factors such as their race, gender, sexual orientation and socioeconomic background. Wearing the tape was symbolic of these individuals being "silenced." Event organizer Corey Hodge, along with several other student participants, stood on Pedestrian Walkway from 8 a.m.—4:30 p.m., handing out signs, tape and pins with the words "I matter," on them. Although tape was available, wearing it was optional.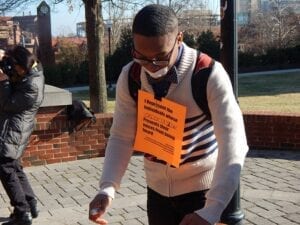 At 5 p.m., students gathered in the Lindsay Young auditorium in Hodges library to remove their tape and talk about what they experienced throughout the day. Hodge opened the ceremony by reciting an original poem titled, "The Silence Is Broken." Afterwards, co-host Jasmine Taylor, UT junior and president of the Progressive Student Alliance, introduced a panel of three students and an associate professor who spoke of their motivations behind participating in "Break the Silence" and what they experienced.The panel included Sydney Buckner, UT freshmen and member of the Progressive Student Alliance; Feroza Freeland, UT sophomore and member of the College Democrats; Drost Kokoye, member of the Muslim Student Association; and associate professor Josh Inwood, Ph.D.
 Each of the student panelists spoke of the wide range of reactions they received from other students and non-students. Kokoye told about an incident immediately before the start of the ceremony, where a man who had stopped to assist her with her car questioned her sign and then scoffed at her.
 "He said, 'Oh, oh God! You're like an Obama supporter,'" Kokoye told audience members.
 Each of the student panelists explained what their organizations were planning to do in order to promote open dialogue on UT's campus. Plans included spreading awareness about dangerous working conditions both domestically and internationally and urging UT to stop supporting certain brands, encouraging students to vote regularly and providing students with more information about Muslims. Inwood said that he wanted more open conversations between students and faculty.
 "You should feel comfortable with staff … you should view us as a resource," Inwood said.
 Audience members were invited to share why they chose to participate and what they experienced while participating. They shared personal stories that connected to what they chose to represent. Students who shared their experiences each stated that they received a mixture of positive and negative reactions.
 Hodge closed the ceremony by urging audience members to continue to promote collective work and inclusion on UT's campus. He asked the question, "What next?" and stated that events don't have to be political in nature in order to bring people together.
 "A simple social, where organizations with opposing demographics … that could be next," Hodge said.
Edited by Maggie Jones
News editor, Courtney Anderson, has been telling stories for as long as she can remember. From scribbling short stories on the back of pamphlets to excelling in Advanced Placement English courses in high school, Anderson has always been determined to make a career out of writing. Anderson joined TNJN as a freshman and instantly fell in love with online news. She hopes to become an editor for a major online news source one day.