Knoxville shows solidarity for Ferguson with downtown rally
Protesters in Knoxville took to the streets on Tuesday, Nov. 25, and marched in solidarity with the nation after a grand jury decided not to indict Officer Daren Wilson for the death of Michael Brown in Ferguson, Mo.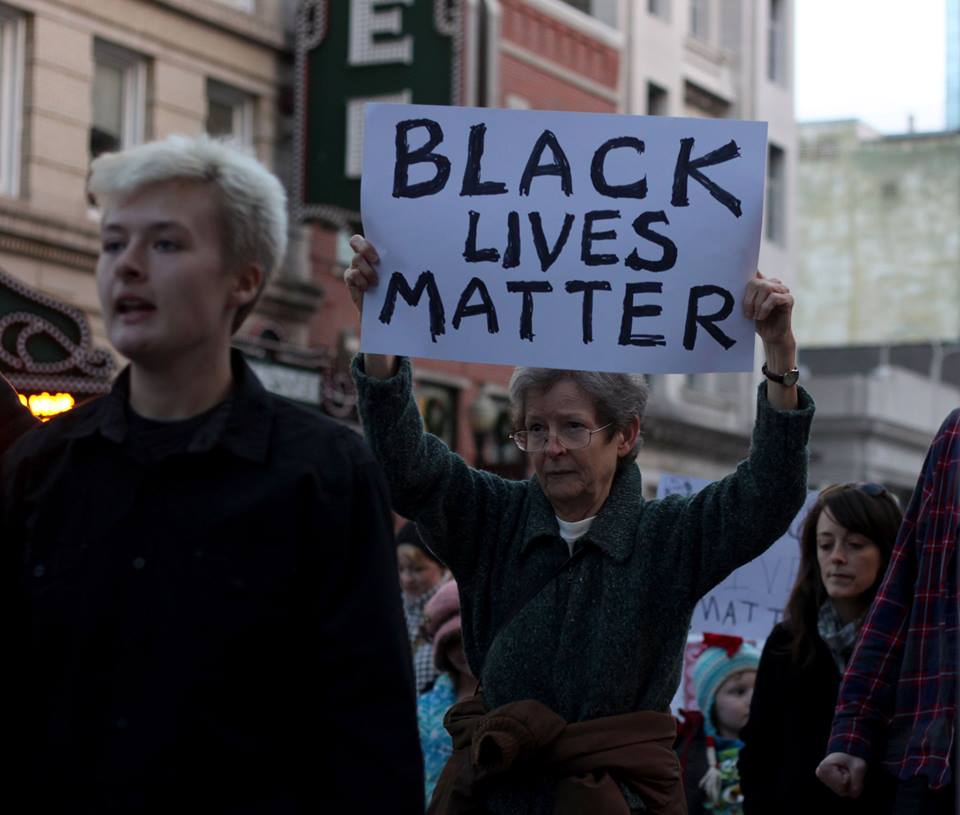 A Grand Jury decision not to indict Officer Daren Wilson on Monday, Nov. 24, ignited riots and looting in the town of Ferguson, Mo.
While some rioted, others rallied and held vigils for Michael Brown. Cities that rallied include Nashville, Los Angeles, New York, Atlanta, Knoxville and many others.
Protesters in Knoxville took to the streets on Tuesday, Nov. 25, and marched in solidarity with the nation.
Students from the University of Tennessee utilized Facebook as a venue to rally together supporters for Michael Brown. An event reaching over 6,000 likes, "Black Out for Mike Brown," asked supporters to wear black on Tuesday in support of Brown and his family.
Knoxville protestors began in front of the John J. Duncan Federal Building after a vigil was held and then marched to Gay Street and continued on to Market Square.
Among the protestors was UT freshman and anthropology major Jocelyn Garza. She said the event was important to her and the Knoxville community.
"I feel it is important for students to rally for this cause because there must be a sense of community among people who are perpetually disadvantaged," said Garza. "There are lives that are being condemned while others are being lauded and valued. Without rallying and coming together, where is the strength to combat this injustice?"
Mayor Madeline Rogero and the police made nonviolent civil disobedience possible as the crowd marched and blocked Gay street, moving when instructed by the police.
The marches have brought attention to claims of police brutality and inequality in the nation.
For Garza, the march prompted an emotional response.
"Yesterday at the rally, I was very overwhelmed with emotion," said Garza. "It was a very powerful. As a non-black person of color, I believe it is crucial to listen, affirm and respect the voices of those out there."
The rally was peaceful, and no arrests were made.
The riots in Ferguson, Mo., caused damage to several local businesses in the area. National Guardsmen were seen being positioned on Tuesday in preparation for more rioting.
Ryan McGill contributed to this article.
Edited by Maggie Jones
Food aficionado, Jessica Carr, believes her passion for food first began while learning to cook Asian and southern cuisine with her mom. Now a senior journalism major at the University of Tennessee, Carr combines her love for writing and food by cultivating restaurant reviews through her blog. As newly appointed Editor-in-chief of the Tennessee Journalist, the official news website for UT's School of Journalism, Carr plans to build experience and one day be the editor of a food magazine. When she isn't writing, she's most likely in a theater enjoying the latest indie film.