UT science forum hosts anderson county commissioner
UT held its weekly Science Forum, Friday, Nov. 14. This week, the Science Forum hosted Anderson County Commissioner, Tim Isbel who spoke on the constructing of the Coal Creek Miners Museum.
Isbel spoke about the importance of building this museum saying, "We want to make it a tourist destination and want everyone to be able to experience the heritage of our people." He then introduced the historian on the project, Charles "Boomer" Winfrey who spoke for the remainder of the forum about the history of coal creek.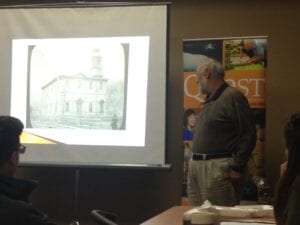 "Up until the Civil War there was no town in Coal Creek, most of the coal came from Eastern Pennsylvania," said Winfrey.  "When the coal was discovered, there were not a lot of ways to mine the coal and therefore engineers mapped out roads and built railroads. Once they were able to retrieve the coal from Coal Creek, coal mining grew especially in the 1800s, and continued to grow despite the mine disasters in 1902 and 1911," Winfrey continued.
The forum concluded with Isbel speaking about a fundraiser for the museum that will be held April 24-25. "We will have the top eight bluegrass bands in the nation," said Isbel. "Our biggest expense will be putting in the elevator and we hope to reach our goal of about $450,000," he continued.
Isbel was asked what inspired him to get involved in the project of building the Coal Creek Miners Museum.
For more information about the Coal Creek Minors Museum go to
http://www.coalminersmuseumtn.com/
 Edited by Ryan McGill