Fall Choral Concert features unique performance
UT's Men Chorale group wears eye-patches for "Pirate Song" performance.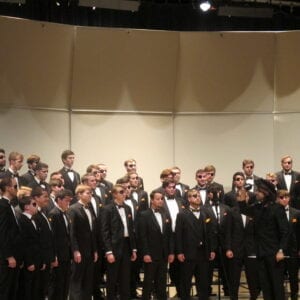 On Oct. 8, various UT singing groups performed in the AMB auditorium for the Fall Choral Concert. A capella groups, chorale groups and the Tennessee Chamber Singers were among the performers at the concert.
The concert began at 8p.m. with a capella group, Four O'Clock Shadow. The group sang barbershop classics and a variety of contemporary hits.
Men's Chorale, Concert Choir, Women's Chorale and the Tennessee Chamber Singers performed later with each group showcasing a unique set of songs and interesting stage themes.
Men's Chorale opened their set with a crowd pleasing performance, moving from the aisles to the stage singing several classical songs and then pulled out all the stops for their unique "Pirate Song" performance.
Conductor Dr. Gene Peterson wore a pirate hat and parrot. He tried to add unique flair to the performance.
"We wanted to sort of create the effect [pirate theme] so we got them to sing really deep into their voices, and deep set vowels, and gravelly sometimes so that the experience would be enjoyable beyond sort of the mellow sound that happened right before," said Peterson.
Women's Chorale performed a set of Appalachian folk songs that included clapping and stomping as well as a violin accompanist. The performance also had special significance to freshman chorale member Corinne Oliphant.
"I think it went really well for our first concert of the year. That was our conductor's first time conducting because he's a second year grad student and this is his first time being a conductor for a choir of his own as well," Oliphant said.
For more information on UT's School of Music ensembles, click here.
Edited by Jessica Carr