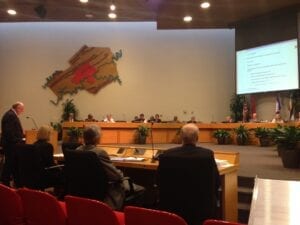 Knoxville City Council authorized the mayor, Madeline Rogero, to execute an agreement with local nonprofit organization Positively Living Inc. during their meeting at 7 p.m. on Tuesday, Sept. 30.
Due to Rogero's absence, vice mayor, Nick Palvis presided over the meeting and stood in favor of the agreement with the Knoxville-based charity. The agreement will afford $100,000 in Community Development Block Grant funding for building rehabilitation that will permit the addition of five more living units to its current 16,000 square foot East Fifth Avenue facility.
Becky Wade, director of community development, invited Steve Jenkins, executive director of Positively Living Inc., to provide the council with some background information on the organization.
"Positively Living has been around since the mid-1990s, and serves victims struggling to cope with the challenges created by HIV/AIDS, homelessness, mental illness, disabilities, and other health conditions," said Jenkins.
The upkeep of the facility is vital in carrying out the organizations key efforts which, according to the Positively Living Inc. website, include "providing case management, supportive housing, food service, and mental health/addiction counseling to individuals who are homeless; mentally ill; addicted to drugs, alcohol, or other substances; and/or living with HIV/AIDS."
The Knoxville Community Development Department is able to fund building projects through the Community Development Block Grant program. The CDBG is the second largest funding source in the department's consolidation plan. In 2013, the city expended a total of $1,620,637  in CDBG funds. Other funding sources for the department include HOME Investment Partnerships Program and Emergency Solutions Grant.
Knoxville's Community Development Department administers a variety of programs geared toward the revitalization of Knoxville's low-to-moderate income neighborhoods. In order for resources to have the greatest impact, the Department targets its programs to strategy areas that are selected periodically. To learn more, click here.
Edited by Jessica Carr