White coat ceremony draws friends, family to UT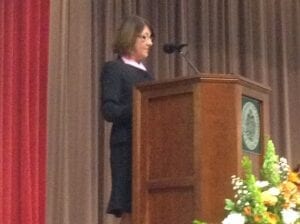 The University of Tennessee's College of Nursing held its first white coat ceremony for its upper-level students at the Carolyn P. Brown Memorial University Center auditorium on Tuesday, Sept. 16.
UT was selected as one of only 100 nursing colleges across the country to receive funding from the Arnold P. Gold Foundation and the American Association of Colleges of Nursing for the ceremony.
For more than 20 years, the white coat ceremony has been held at medical school graduations to represent their statuses as full-fledged doctors. Because of APGF's and AACN's collaboration, this is the first year a ceremony will be held at schools of nursing.
"The white coat is our personal gift of faith, confidence, and compassion in the student's journey," said Gary Ramsey, chairperson of UT's BSN Program.
Janice McKinley, keynote speaker and chief nursing officer at Covenant Health said her grandmother's death was the reason she became a nurse.
"I was the first child in my family to attend college and of course, I was the first nurse," McKinley said. "My grandmother, who could not read or write, was my biggest cheerleader."
After being cloaked, the students recited the white coat ceremony oath and met with their families to celebrate the milestone accomplishment. 
Edited by Ryan McGill