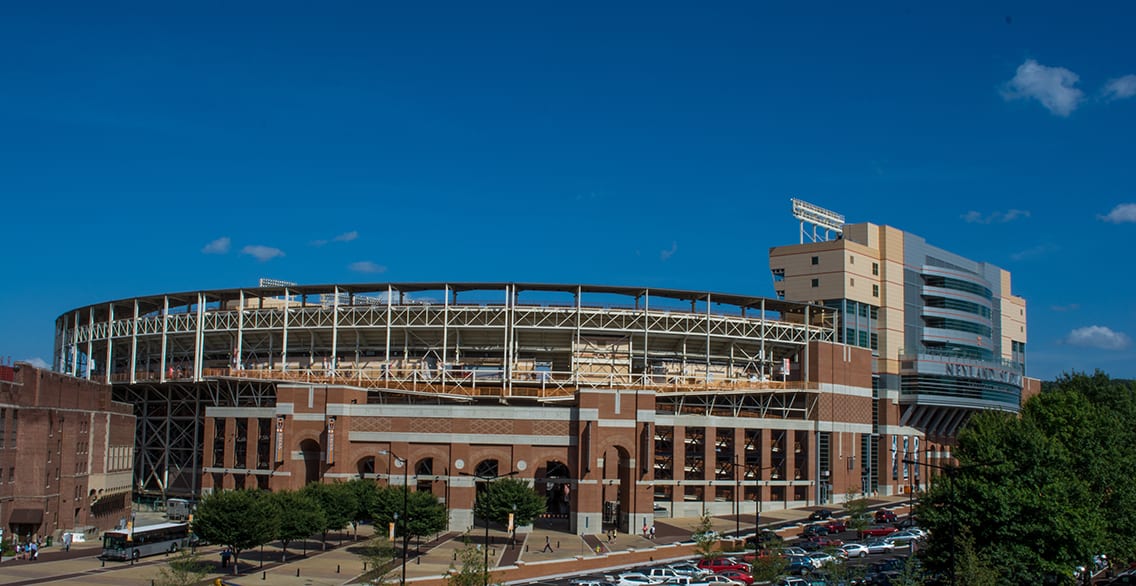 The Tennessee Volunteers face their first road game of the season as they travel to Norman, Oklahoma to face the Oklahoma Sooners on Saturday.
The Sooners are ranked fourth in the country and provide an excellent challenge for the young guns on Tennessee's team. In their first two games (against Louisiana Tech and Tulsa), OU put up 48 and 52 points, respectively. In only 2 games, the Sooner offense has put up 1016 total yards. Needless to say, the Vols defense will have to bring their A-game to Norman in order to stop or even slow such a potent offense. Let's take a look at the individual matchups that Tennessee must win in order to be successful on Saturday:
Oklahoma Receivers vs Tennessee Defensive Backs
The main target for Oklahoma's QB Trevor Knight is Sterling Shepard, who racked up 177 yards and a touchdown on 8 receptions last week. As with the past two games, Butch Jones & company will likely match up Shepard with sophomore cornerback Cam Sutton. The other two main WRs, KJ Young and Durron Neal will be matched up with Justin Coleman and Michael Williams. After containing explosive receivers Jojo Natson and J.D. McKissic against Utah State and Arkansas State, the Vol secondary–with Brian Randolph over the top at safety–should be up to the task of slowing Shepard, Young, and Neal.
Edge: UT
Oklahoma Offensive Line vs Tennessee Defensive Line
Oklahoma has a big OL that plays very well. The average weight of the OU lineman outweighs the average UT lineman weight by about 40 lbs. While UT held up well against Utah St and Arkansas St, Oklahoma provides a bigger challenge–figuratively and literally. While UT is gonna fight hard, the DL hasn't faced this good of an OL yet.
Edge: OU
Oklahoma Running Backs vs Tennessee Linebackers
Oklahoma has 3 backs with over 110 yards on the season. Keith Ford, Alex Ross, and Samaje Perine have combined for 475 yards and 9 TDs. All-conference and All-American talent in AJ Johnson and Curt Maggitt, along with super sophomore Jalen Reeves-Maybin will look to slow the 3-headed Sooner rushing attack. Those 3 LBs have had 40 tackles, 4.5 for loss, a sack and an interception. If there were 3 LBs to hinder a rushing game, it would be these 3.
Edge: Draw
Oklahoma Quarterback vs Tennessee Defense
After a somewhat inconsistent stretch last season, OU QB Trevor Knight really came into his own in the Sugar Bowl against a tough Alabama team. He has thrown for over 500 yards and 3 TDs already this year and looks to add to his totals against a somewhat inexperienced UT defense. Knight can be as good as any QB in he country if he is left unrattled. If he feels pressured or uneasy, he can turn inconsistent pretty quick. The key to the game will be pressure, and lots of it, but UT has struggled with getting pressure so far this year.
Edge: OU
Overall edge: OU 2, UT 1, 1 Draw
Edited by Will Lomas