Opinion: Despite setbacks Music Midtown worth the big bucks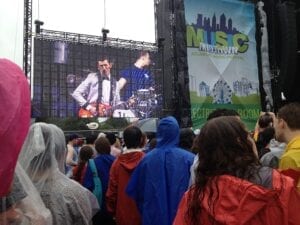 Music Midtown is in just about two weeks. The music festival takes place in Piedmont Park in Atlanta, GA. Midtown hosts a variety of musical acts. The festival this year will be from Sept. 19-20. The festival hasn't always occurred in September however.
The festival has gone through quite a few changes, such as dates and location. It started in 1994 with Alex Cooley and Peter Conlon, music promoters from Atlanta.  They wanted to have diverse music come together for a few days. Midtown had to change locations several times and they finally moved to the Atlantic Civic Center. Overtime, attendance had reached about 300,000 people, according to Melissa Ruggieri of the Atlanta-Journal Constitution.
As  2005 rolled by attendance had dropped because prices had been too high and during the festival, remnants of Tropical Storm Arlene had rained out most of the festival grounds. In addition, the festival was during June and at a time in which Bonnaroo was becoming popular and was in the neighboring state.
But Midtown came back in 2011 for one day with only two stages and a few headlining acts such as Coldplay and the Black Keys. Of course, many people came to see these acts and thus Midtown was set to go for 2012.  It was set up at the end of September because of the lessened possibility of thunderstorms that could threaten the performances or people.
This year, headliners include Jack White, Iggy Azalea and Lana Del Rey. There will be three stages. Hydration stations as well as first aid care centers are going to be available for everyone. There will not be any street parking available, and everyone is encouraged to use public transport, walk or bicycle to the festival. Not all vendors will accept credit cards so be sure to keep some cash on you.
Despite Midtown's setbacks the festival is back in action and worth the big bucks. Where else can you see some of the big players of the music industry all in one place?
For more information on Midtown, click here.
Drew LaFasto is a junior at UT. She is the social media coordinator for TNJN.
Edited by Jessica Carr