Vols' Stokes to forgo senior season, enter NBA draft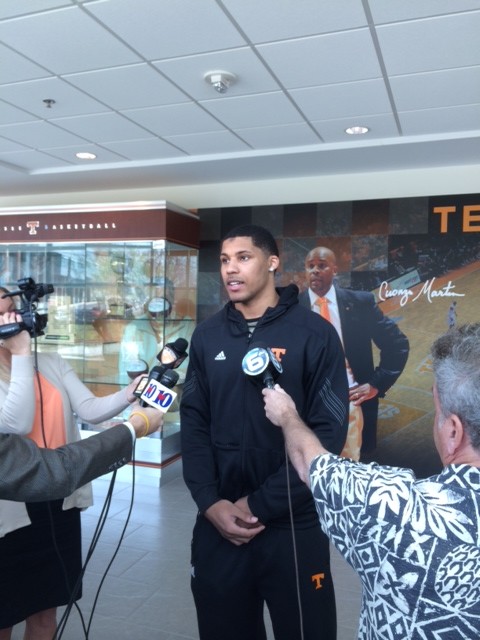 After a season where he averaged a double-double each game and helped get his team to the "Sweet 16," the run is finally over for Vols forward Jarnell Stokes.
At 1 p.m. today, Stokes officially announced in a press conference that he would forgo his senior year and enter the NBA draft.
"I want to thank Tennessee for making these last three years so special," Stokes said. "I definitely grew up and became a man here, and I'll always be a Vol for life."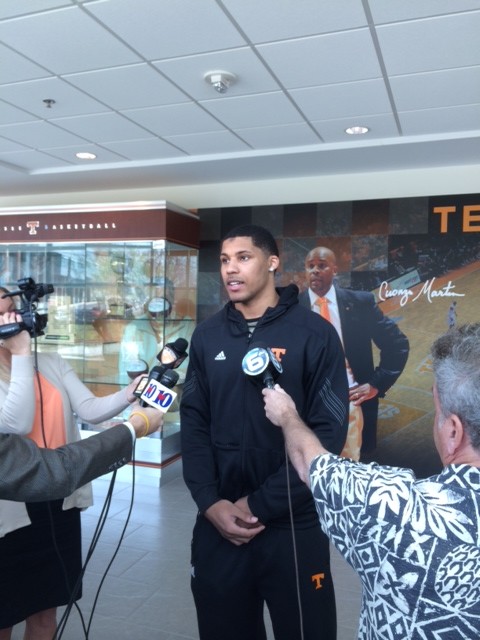 Stokes averaged 15 points and 10 rebounds a game this year and earned first-team all-SEC honors leading Tennessee to their first NCAA tournament appearance under coach Cuonzo Martin.
Stokes said that he always felt like he was ready for the NBA and that he is better than most people think he is. "I've had to sacrifice for the team and not play my true position by playing in the center spot," Stokes said. "I look forward to playing power forward and hopefully next to a true 7-foot center. I feel like I would play a lot better."
Apparently, making the decision to turn pro was not a tough one for Stokes and even admitted that entering the draft was on his mind during the season. "It was always in the back of my mind, but I never let it affect my game. I didn't try to bring the ball up-court or take threes to improve my stock." Stokes said. "I always sacrificed for the team."
Stokes says that everyone he has talked to has encouraged him to forgo his senior year, even former Vol and current Orlando Magic forward Tobias Harris.
"I have also talked to others involved with the NBA and they said that my best chance is now," Stokes said.
The Volunteers are definitely going to miss the 15 points and 10 rebounds that Stokes put up almost every game. When asked if the big hit the team will feel because of his absence factored into his decision, Stokes felt that it would have no effect on the team. "I just worked out with the team yesterday and I was impressed by how focused they were and willing to work. So I think they are in good hands with Coach Martin."
The draw of money definitely played a factor in Stokes decision to declare for the draft. "It's hard when you can't pay phone bills, couldn't eat, or struggle to pay insurance. There's a lot of good people here at Tennessee and they wanted to help but they didn't because they know what could happen if they had done something against NCAA rules."
Stokes also considering turning pro at the end of his sophomore year but didn't because Martin was not in favor of it. "Last year Coach didn't want me to leave but was going to let me make my own decision. But this year, he said ok maybe now it's time" Stokes said.
As far as where Stokes will go in the draft, he feels like he controls his own destiny. "I feel like some teams are going to give me a shot in the first round. It all depends on who I work out for and how I do." He is projected somewhere in the second round but depending on how he does in individual workouts; he could go late in the first.
Stokes' departure means that the Vols have now lost both starters in the frontcourt with Jerrone Maymon graduating, as well as point guard Antonio Barton and star shooting guard Jordan McRae. Josh Richardson is the only returning starter for the Volunteers and will have to have a big year if the Vols want to appear in another NCAA tournament.
Edited by Zach Dennis
Jordan Dajani is a junior journalism/electronic media major from Raleigh, North Carolina.
Follow him on twitter @JDnumba3.