Students experience Ghana culture through various activities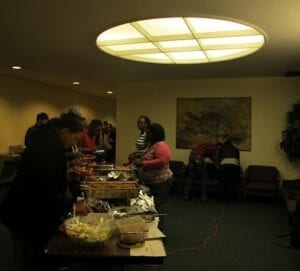 Students were introduced to different aspects of the Ghanaian culture Thursday, March 27 at the UC. It was a part of the "Taste of Ghana" event hosted by the Ghanaian Diaspora Student Association. The event featured food, speakers and video presentations.
 "We have a duty to bridge our people back together," said Albert Baah, a speaker and Ghanaian-American at the event.

Professor of African Studies Amadou Sall is from Mauritania, Africa. He talked of the study abroad program that he has led from 2005 to 2012 into Ghana. He wanted to show through this program that Americans and Africans can still learn from each other and this learning is in no way one sided.

 "My trips to Ghana have been an eye opener for my students," said Sall.

At the event traditional Ghanaian cuisine was served. There was Koosey, a type of deep fried and battered bean paste. Waakye, a rice and bean mixture and jollof rice, a spicy tomato coated rice dish. Most dishes represented the spicy quality most Ghanaian cuisine embodies. 
"I enjoyed the food, the video and I especially enjoyed the speakers," said Marcus Jones, a senior majoring in sociology. 
For more UT events click here.
Edited by Jessica Carr