SEAT board member reflects on success of Sex Week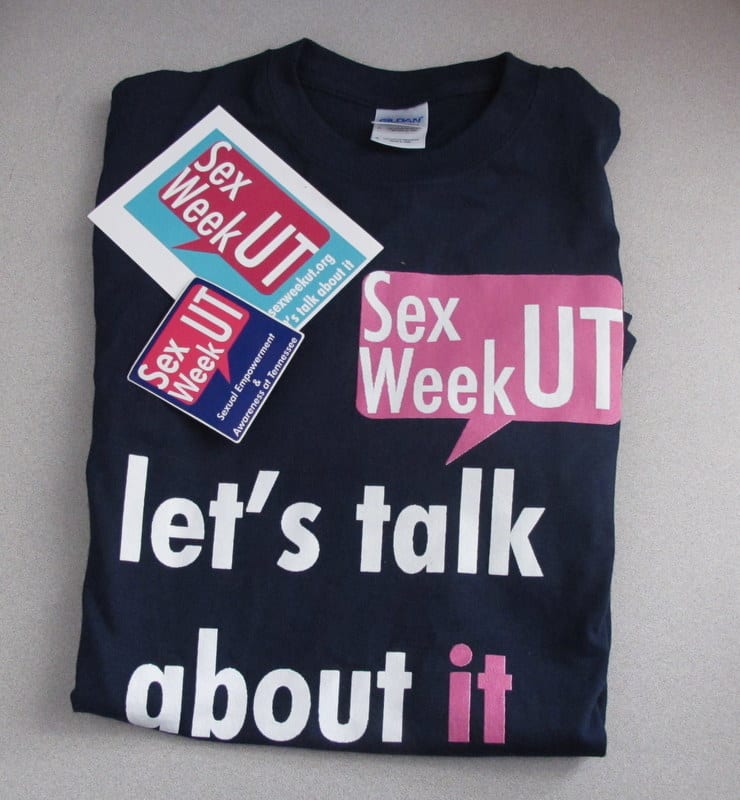 From March 2-7, Sexual Empowerment and Awareness at Tennessee (SEAT) held its second Sex Week at the University of  Tennessee with great success.
"Sex Week 2014 was definitely a success,"said Summer Awad, executive board member of SEAT and sophomore Haslam Scholar in sociology. "It sparked a lot of thought-provoking and important discussion about everything from how to define abstinence to how to ensure that pornography is ethical. We impacted a lot of students this year and got a lot of positive feedback."
Planning for Sex Week 2014 began immediately after Sex Week 2013. With the help of student feedback, SEAT began planning its 2014 schedule. This year had more than 4,000 attendees, a larger amount than last year's attendees.
Throughout the week events ranged in versatility. There was free STD testing in the UC, an AIDS  memorial quilt located in various places and events from the previous year such as the sexual assault roundtable, the Lambda drag show, the sex and religion panel and speaker Megan Andelloux. This year included events with new subjects like abstinence.
"We decided to add the abstinence event because of student feedback," said Awad. "Our organization is committed to listening to student feedback and responding to it, and we heard from students that they wanted to see more events that covered abstinence and related issues. We believe that abstinence is a legitimate choice and that a discussion of the topic contributes to our overall mission of comprehensive sex education, and so we decided to add it to our schedule."
Even campus Christian organization Cru joined in on Sex Week with an event about commitment and sex.
Our event "Longterm Intimacy: Commitment and Sex" was added after we were approached about a partnership with Cru," said Awad. "They wanted to become more involved in our programming, and we embraced this opportunity by co-sponsoring an event with them."
"Other events were chosen because of their relevance to our region," said Awad. "For example, the event on ethical pornography was chosen partially because of the fact that Tennessee is one of the top 10 states for pornography viewing."
Other new events such as the cross-cultural sexuality panel and the lecture on the Middle East and sexuality were added to give the schedule depth among entertainment based events.
"My favorite event was the poetry slam which I organized and which was led by I.N.K., a local slam poetry duo that I met through my involvement in the Knoxville Poetry Slam," said Awad. "Making student voices heard and engaging in a dialogue is the primary goal of Sex Week, and I thought that the poetry slam served as a great finale for the week because it embodied that mission."
Sex Week faced a new kind of controversy after Stacey Campfield proposed Senate bill 1608, that would restrict the way funds would be used for student programming and SB 2493 that would forbid university revenue to pay for guest speakers.
"The bills that will change the way that student fees are allocated will affect not only Sex Week, but all student organizations on campus," said Awad. "Students need to be concerned about these bills whether or not they support Sex Week, because the bills represent an effort by the state government to control student money and student activities from the outside."
According to Awad,  planning for Sex Week 2015 will begin in the next couple of weeks and encourages people to come out to future events.
"A lot of people have a tendency to voice their support on social media or advertise for us without attending our program," said Awad. "This hurts us because we need attendance at our events in order to justify our need for funding in the future. We need the administration and the state government to know that our program is impacting real students and that students want Sex Week so much that they will take time out of their busy schedules to attend it."
For more information on Sex Week 2015 and other Sex Week related events, visit there website, add them on Facebook and follow them on Twitter.
Edited by Jessica Carr