Sex Week hosts religious panel to discuss sexuality, faith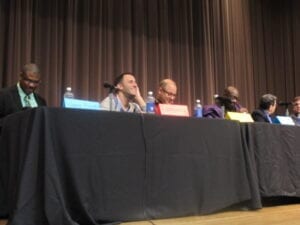 Sex Week combined different religious perspectives on the topic of sex in Sweet Talkin' Son of a Preacher Man: Religion and Sexuality panel.
The discussion was held on March 6 at 6:30 p.m. in the UC Auditorium. The panelist represented people of the Islamic, Jewish, Roman Catholic, Lutheran, Christian Baptist and Metropolitan Community Church.
The panelist included Wayman McLaughlin,associate minster at Mt. Olive Church, Rabbi Ferency, John Tirro from St. John's Lutheran Church, Amadou Sall, Rev. Jill Sizemore, senior pastor at Metropolitan Community Church, Father Charlie from Jon XXIII Catholic Center and Nadeem Siddiai from Muslim Community of Knoxville. Dr. Christine Shepardson, associate professor of Religious Studies, facilitated the conversation and asked questions the audience members sent in via text.
Topics ranged from homosexuality, abortion, porn, masturbation and contraception.
Natalie Torres, sophomore at UT, thought the discussion was a good one to include in this year's Sex Week.
"It was really non-judgmental and open to talk about taboo topics," said Torres.
Torres, who had some stereotypes about each religion, was shocked by each person's answer to things such as homosexuality.
[quote]"I gained a lot of respect for each denomination," said Torres. "It was nice to see really different [religious] communities collaborate."[/quote]
Shelby Moses, sophomore at UT, thought the program was relevant to college students
because the panelists were very diverse.
"On such a large campus, you'll meet different people," said Moses. "It's good for college students to see you can get along and have different point of views."
The panel combined two seemingly opposing topics together. Each panel member reiterated that their denominations were not anti-sex or opposed to accepting those who may be different from them. Each member accepted the fact that times have changed and they must adjust accordingly while still upholding their own doctrine.
Edited by Gabrielle O'Neal